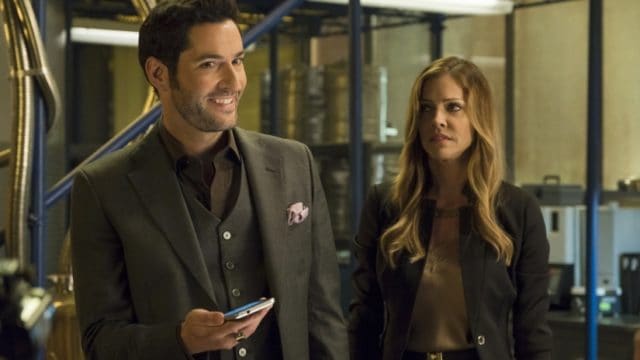 We all have heard of death by chocolate, but have you heard of death by pudding? On tonight's episode of Lucifer, a factory worker falls into a vat of hot pudding, drowning in the mixture. The question is, is it murder or suicide?
When Charlotte Richards entered the scene, I was as paranoid as Lucifer was. Well, for a brief second, of course after realizing that Mama Morningstar is no longer with us. Then again, this little factoid didn't stop our favorite Devil from freaking out. I mean, that scene where Charlotte kissed Lucifer? It's not something that one can unsee. I cringed as I watched the promo video for this episode.
The part where Detective Decker and Lucifer went to question the owner of Heavenly Pudding about Simon's death was an intriguing one. I face-palmed when Lucifer tried to seduce the actresses playing the angels in a fake rendition of Heaven, but he is who he is. The one thing that felt off was Lucifer using his powers on the owner when Detective Decker told him to. This is the second time that this has happened. In previous seasons, Lucifer was the first to jump in to use his persuasive powers to get people to tell him their deepest desires.
As the case progressed, we know that no one had Simon killed. The pudding company that Simon worked for was merging with Heavenly Pudding. Leaving the three suspects with no motive to end Simon's life. Charlotte, however, wasn't having it. She wanted to clear her ledger and redeem herself, so she took matters into her own hands to flush out the killer. Charlotte, I understand that you don't want to go back to Hell, but this isn't the way to redemption. Good thing the attorney listened to Lucifer and gave him the gun she planned to use.
In the end, Simon's death was a suicide. He staged it to look like a homicide so that the police can investigate Pudding Plus. It turns out; the secret pudding formula is a combination of melamine and cyanuric acid. Which was why there were kidney stones the size of golf balls found in Simon's body. Hence, death by pudding. I hope that Detective Espinoza will get himself checked out at the hospital before things get worse. That or switch pudding brands.
The final scene with Lucifer talking with Charlotte shows that even though his Mother was manipulative, the things she did were done out of love. The Devil will miss his Mommy. That much is certain. Oh, and Luci-boy? Keep that promise you made and don't even think about sleeping with Charlotte! She may be herself again, but remember who she used to be! You can be friends with her, but no benefits!
Final Thoughts:
My heart went out to Detective Espinoza when he confronted Charlotte about their time together. The attorney couldn't remember any of it because Mama Morningstar took over her body.
I kinda felt sorry for Charlotte as well. Her husband has gotten custody of their children and denied her visitation rights. Perhaps Mama Morningstar had something to do with it. Maybe she can argue her case? She is a lawyer after all.
I applaud Detective Decker for wanting to teach Trixie not to swear, but no amount of money put into a jar is going to help. Bad words make people feel bad, yes, but she's still going to learn them and say them.
Since when can Ella see people's auras? The lab tech told Charlotte that before the latter was glowing with light. Now, darkness surrounds her.
Photo via FOX
Lucifer Season 3 Episode 5 Review: "Welcome Back, Charlotte Richards"
Summary
We have heard of Death by Chocolate, but we have yet to discover Death by Pudding. Detective Decker and Lucifer investigate as Charlotte Richards makes her return on tonight's Lucifer.