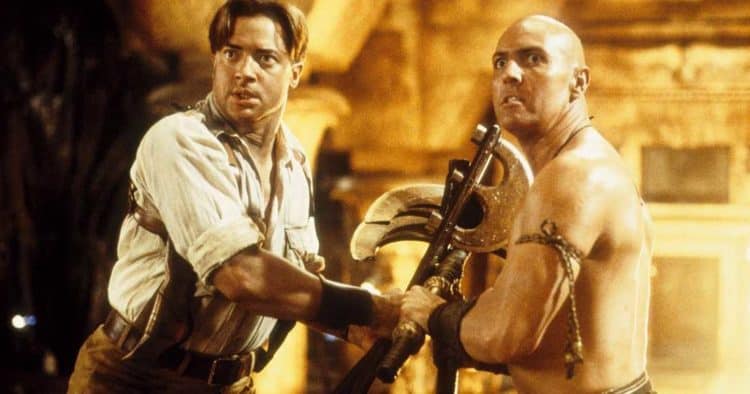 Jungle Cruise, Disney's latest fantasy adventure film, can be described in many different terms. If you've had a chance to watch it, then you know it is entertaining. It's filled with humor and fun scenes. They all come together to deliver everything you desire in a Disney movie. It fits into the addition to the top-grossing films by Dwayne Johnson. Emily Blunt and Dwayne Johnson meet a villain who stands in the way of their adventure as they plan on a cruise into the unknown. We think it's time Brendan Fraser got a role as a villain in Jungle Cruise 2. And no, he's no random choice. There are crucial reasons as to why he deserves this chance to play the villain. His past and present career experience indicates Brendan's potential and why this role is a perfect match!
What is Jungle Cruise Film About?
The Disney fantasy adventure film Jungle Cruise takes us through the search of the tree of life. Up against a hot and humid environment and dangerous creatures, there's a race to find the tree to help in modern medicine. Starring Emily Blunt, Dwayne Johnson, Paul Giamatti, Jesse Plemons, director Jaume Collet-Serra, and John Requa and Glen Ficarra as the story writers, the film offers enough humor, action, and love to all the Disney movie lovers.
Similarities in the Jungle Cruise and The Mummy Plots
With her foppish brother Macgregor (Jack Whitehall), Jungle Cruise takes us on an adventure with the archeologically inclined, learned, quirky Dr. Lily Houghton (Emily Blunt). Using an ancient map, the two team up with a riverboat captain (Johnson). They set off to find the Tree of Life. In addition, they have an arrowhead which is the supposed key that will unlock the tree's powers. Likewise, there is a similarity in the sibling dynamic in The Mummy. Evelyn Carnahan (Rachel Weisz), the lead female character, and her brother head off to find Hamunaptra, a lost city. Here, they also have an ancient map like in Jungle Cruise. They team up with Rick O'Connell (Brendan Fraser), an adventure-type bad boy who guides them. They must use an ancient artifact to access the book and defeat other gangs after the same treasures.
We're Just in Time for the Brendan Fraser Rebirth
Brendan Fraser's career is experiencing a huge comeback, which is one reason he should be cast in Jungle Cruise 2. Brendan enjoys his career rebirth in his role in Killers of the Flower Moon as Martin Scorsese and Darren Aronofsky's adaptation of The Whale. It couldn't be a better time to get the Doom Patrol actor to terrorize Emily Blunt and Dwayne Johnson.
The Villainous Roles are not His Usual Cup of Tea.
While we see Brendan's anti-heroic side in Doom Patrol, where he plays Cliff Steele, we realize he can't play the good guy forever. Should he desire it, Jungle Cruise 2 has the potential to bring out his dark evil phase. Plus, what place would be best to bring in the new chapter of the Brendan Fraser rebirth other than the studio that helped make him?
Having Brendan Fraser Back to His Disney Home Feels Like a Great Idea
Through the live-action adaptation of George of the Jungle and Encino Man, he scored two hits early on in his career. Brendan Fraser, who would eventually swing dance with Alicia Silverstone and fight mummies, has strong ties with Disney. As fate would have it, having him as the Jungle Cruise 2 villain feels like Disney magic. It is akin to the return of Kurt Russell to Disney in Guardians of the Galaxy Vol. 2 and Miracle.
Universal Could Revive the Mummy Movies by Brendan Fraser
You'll need to take note of something interesting: Brendan Fraser is all for returning and that there was almost a fourth movie in the Mummy franchise. It does not look like it will take lots of convincing for him to join the Jungle Cruise 2. Making the film is a clever move because seeing Brendan Fraser play in a similar sandbox as Emily Blunt and Dwayne Johnson is enough barometer for the success of the Mummy legacy.
The Jungle Cruise is a 3-Franchise Cocktail
Once we saw the Jungle Cruise, it seems like the Disney Blockbuster copies its storyline from three franchises. The fun-filled ride by Director Jaume Collet-Serra is an Indiana Jones and Pirates of the Caribbean and the Mummy heady cocktail. Having Brendan Fraser in Jungle Cruise 2 makes something good even better.
It's an Ultimate Full Circle for Dwayne Johnson as a Mummy Alumnus
The Mummy Returns saw Dwayne Johnson bust into his acting career as The Rock, and this had him square it off with Brendan Fraser. As such, people still talk about success with fondness 20 years later. With the switching of roles in the villain/hero dichotomy, a rematch between Fraser and Johnson would bring remarkable success to Jungle Cruise 2 box office prospects. It would be one of the moments Dwayne Johnson is known to smile about. As we can already see, the two clowning the behind-the-scenes footage and Instagram photos would work towards adding more promotional fire. It could be too early to have legitimate development to the story in the film. But it's not too early to have Brendan's name in the movie. It all depends, of course, on whether he's interested in taking part in the film.
If you haven't yet watched the film and need to see why we are rooting for Brendan Fraser, check out the film on Disney+ Premier Access or in the theatres. Make an additional purchase on Disney+ as an addition to the stand-alone subscription. In addition, you can also access the film through the offer on The Disney Bundle that includes ESPN+ and Hulu. Meanwhile, if you are a Fraser fanatic, you can catch Doom Patrol on HBO Max, which has its 3rd season coming up on 23rd September.Doom Patrol
Tell us what's wrong with this post? How could we improve it? :)
Let us improve this post!