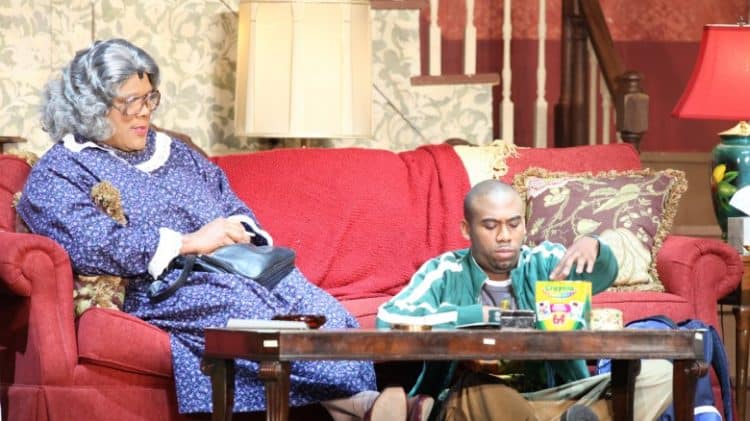 Tyler Perry certainly had a strange idea in mind when he created Madea but it's taken off in a way that some folks might have never imagined since it's become one of the those innovations that many have become genuinely surprised at. The success that Madea has had on screen has been amazing to be honest and to think that an angry black woman could generate such buzz is impressive to say the least. Her story isn't always something you could say is the most interesting but somehow it still comes across as a tale that you can't help but be amazed by. Madea is perhaps one of the most confrontational characters ever created but the methods she uses to get her way and to make her opinion known are more than enough to get her point across and let people know that she's serious in her ways and not about to back down.
Here are the top five grossing Madea movies that have been released.
5. Tyler Perry's Diary of a Mad Black Woman – $73 million
This film seems less about Madea than everyone else but the personality that Tyler Perry brings out in the form of this big, mean-spirited woman is something else. She's trying to help obviously but tends to make things worse when her granddaughter is dumped by her husband for his mistress. Knowing how Madea is, if you've watched the movies, then you can rightfully guess that she goes off the deep end and is subsequently put on house arrest while the story continues. If this didn't paint the kind of picture that was being created concerning Madea then the next several films surely did.
4. Boo! A Madea Halloween – $77 million
Scaring Madea might seem like a hard thing to do, but given the fact that she's a bit superstitious it's not as hard as you might think when using the right methods. A lot of people that have watched Madea might not be used to seeing her run from anything or anyone but in this one she's scared out of her mind for a good part of the film and isn't clued into the fact that it's all a gag until sometime later. You could easily imagine just how mad Madea might be when she figures it out. As movies go this one wasn't too bad but it was kind of a surprise to see Madea run from anyone.
3. Tyler Perry's Madea's Witness Protection – $78 million
At the risk of sounding controversial, putting a white family with Madea and her brother seemed like a bad idea from the word go. But as the movie goes along they do manage to help the family get in touch with themselves on a little more personal level and they inspire them to be better people. When the head of the family decides to take his life back into his own hands however Madea is right there to help out in her own special way. Of course once it's all said and done and the family wants to know if they can come back and visit both Joe and Madea decline since obviously they're not in the habit of keeping an open-door policy.
2. Tyler Perry's Madea's Family Reunion – $89 million
This is the kind of family reunion you really want to avoid if you can since no good tends to come of it until a lot of bad has been aired out and allowed to affect everyone it touches. Madea doesn't have a whole lot to do with the bad that goes on in this movie but she certainly contributes where she can when it comes to her niece's happiness and getting back at a conniving and abusive fiance that gets away with way too much. One thing about Madea, she doesn't always have to step in all the way to really have an effect, but when she does manage to do or say something a lot of people are going to feel it.
1. Tyler Perry's Madea Goes to Jail – $116 million
On the one hand if she was going away for something she did it wouldn't be surprising, but trying to give Madea more time seems like a huge mistake on the part of the person that managed to work up the nerve to do it. Of course if you put Madea in a tough spot that just seems to make her that much tougher, especially when she's being openly challenged in front of everyone. If you don't know by now, Madea doesn't back down if she can see a way out and she certainly doesn't take backtalk from anyone if she can help it. To be quite honest, she'd be one of the biggest, baddest women in many prisons if she was real and had to go wear the colors.
That's one woman that no one could willingly cross.
Tell us what's wrong with this post? How could we improve it? :)
Let us improve this post!