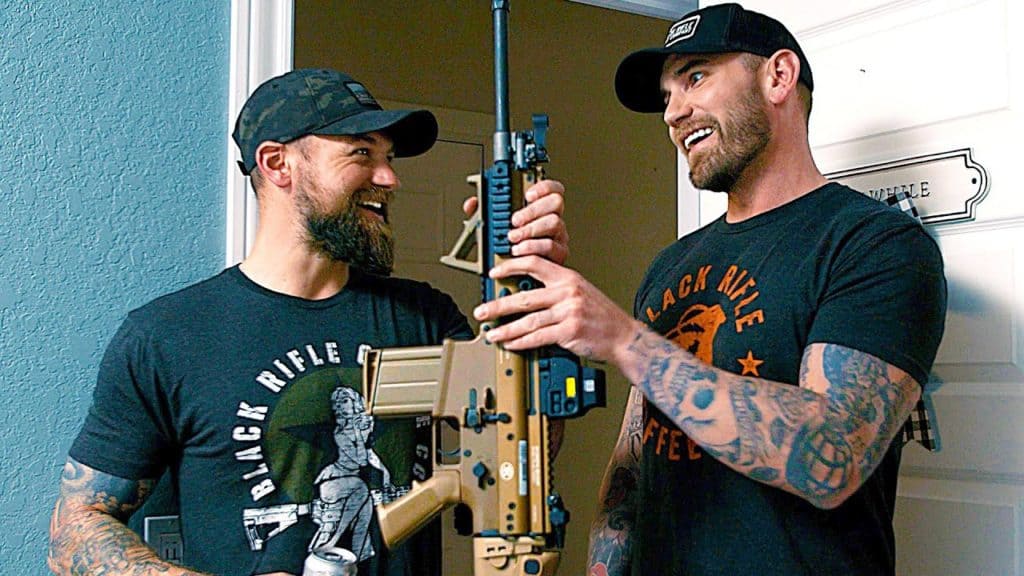 If you haven't taken a look at Black Rifle Coffee Company it might be time to see what they're about and possibly even take a look at their coffee selections. It's not going to be anything like Starbucks since, honestly, they're nothing like Starbucks. That's especially true since Starbucks isn't in the habit of making YouTube videos of the same caliber that these guys make, AND despite their ability to do so, it's likely that they would never go that far. But the guys at BRCC have been doing this for years now and they do have at least one movie under their belt, which is titled Range 15. As you can imagine, it stars a few of its own people, including Mat Best, who stands out as one of the most noticeable members of the crew, as well as several noted celebrities. But what's kind of confusing is why they haven't set their sights on creating at least a type of B-movie series or something that might stand out even further as they delve into one interest or another. They've already completed several clips and short films that are extremely entertaining, but it could be that stepping one foot fully into the movie business just isn't in the plans at this time.
To be fair, getting into the movies is a big leap since there's a lot that needs to happen to create a movie, as the guys at BRCC already know, and even with making lower-grade productions it still feels as though they'd be taking on a huge project that would need added partners. A lot of the movies and clips they do at this point are spoofs and reaction videos to various other movies that are hilarious and offer at least a little bit of insight as to what they think about the movies and how they portray the military, as well as other areas of service. And then they might decide to go off on science fiction and horror, which have produced insanely hilarious clips.
It does feel as though these guys could come up with a seriously funny and even engaging line of movies that might be well-received and gain them another foothold that would expand their business. This kind of notoriety and the attention it brought them wouldn't be entirely up to the company unless they decided against it or to limit themselves as they've already been doing in a very measured way. It could be that BRCC doesn't really want to set foot into the movie realm any further for their own reasons, which isn't too hard to understand but is still easy to lament since watching these guys in action is a lot of fun and it's fair to state that they could come up with something of the full-length variety (a term that they'd likely use more than once) that might be able to get a lot of people on board and make it clear that BRCC is a real contender when it comes to anything they put their minds to. After reading Mat Best's book titled Thank You for My Service though, the feeling is that while B-movies or something greater might not be completely out of line, it might not be something they're willing to entertain at the moment.
If anyone is thinking that they'd love to give a pitch to the guys to see what they might say about one idea or another, there is a way to contact the BRCC by looking up their site and addressing them through their contact page. But once again, it's likely that this company could be happy with what they've done so far and might be more likely to tell anyone bothering to speak to them that they're not interested. Believe me, as a writer it's awfully tempting to do whatever it takes to pitch an idea that they might enjoy, since getting down and dirty with one hell of a big splash of crazy feels like something that they might at least consider after going over their site and their many videos. But at this point the best one could hope for is a gracious email thanking them for their ideas while stating that the BRCC is going to keep doing what they do best.
Hey, there's always a hope that it could work. Plus, it would be great to see a company that's veteran-owned making their own movies with whatever help was needed to produce some truly campy but hilarious movies that would be purposefully funny but also with the kind of quality that people want to see. A line of horror movies and science fiction movies would be great, but one can easily imagine that getting wild and crazy in other genres would be a big up if the BRCC ever decided it was time to really go for it on the movie scene. Hey, I'd watch.