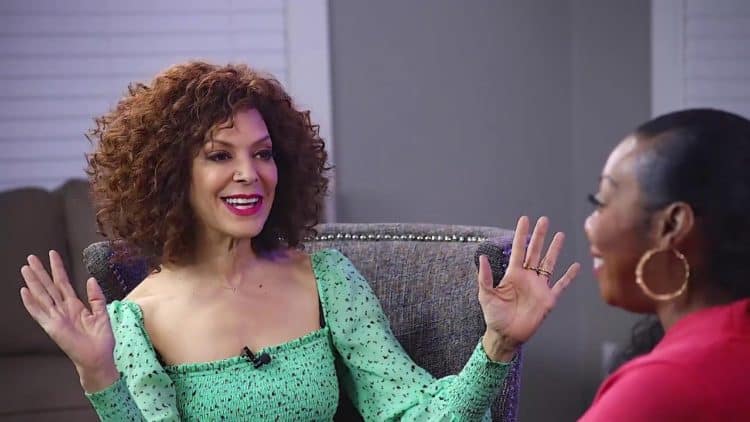 Since Oprah launched the OWN TV network in 2011, she has been working hard to bring original content to the small screen. One of the network's most popular original shows is Family or Fiance. Each episode centers around an engaged couple whose friends and/or family have some concerns about their relationship. During the episode, they attempt to work through their issues so that they can get blessings from their loved ones before their wedding day. Although the show features different couples every episode, relationship expert Tract McMillan has been a fixture since season one. McMillan assists the couples in addressing their problems, and she offers them tools and advice to help them have a long and healthy relationship. Since the show's debut, however, many people have been curious to learn more about who Tracy is and what she does outside of the show. Keep reading to learn more about Tracy McMillan from Family or Fiance.
Who Is Tracy McMillan?
Tracy McMillan is originally from the Minneapolis area. While she hasn't gone into specifics about her upbringing, Tracy certainly didn't have an easy childhood. According to the bio on her website, she "had a really dramatic childhood involving foster care, prison visits and multiple moms that gave me lots of opportunity to interface with some of the darker aspects of human nature". While overcoming childhood trauma can be a lifelong struggle for many people, Tracy was determined not to let her past define her. After surviving a rocky childhood, Tracy went on to lead a successful life although adulthood hasn't been without its bumps in the road. Tracy is somewhat low key about her private life, but we know that she has been married — and divorced — three times. Even though her marriages didn't go the way she'd hoped, one of them gave her a son who she is very proud of. Despite facing some romantic obstacles, she's had much more success in her professional life.
She has had a successful writing career that includes screenwriting and authoring books. Some of the shows she's written for include Mad Men and the United States of Tara. On her website, she says, " I love writing television so much that even if I won the Powerball lottery tomorrow — which isn't going to happen because I don't even buy tickets — I would still want to do it." In 2011, she gained a lot of attention for writing a blog for Huffington Post's now defunct contributor section titled, "Why You're Not Married". Although the post got lots of traffic, many felt that the advice was inaccurate and misogynistic. For example, Tracy's first piece of insight as to why a woman hadn't gotten married yet was because she was angry, and men don't like angry women. She then insinuated that Kim Kardashian is so well-liked because she never displays anger. Still, the success of the article opened lots of doors for Tracy and she released a book titled Why You're Not Married . . . Yet: The Straight Talk You Need to Get the Relationship You Deserve in 2012.
Tracy's Credentials
Now that you know a little bit more about Tracy, you may be wondering how she has essentially made a career out of giving people relationship advice. After all, with so many people on reality TV claiming to be an "expert" in any given field, it's easy to be skeptical about people's qualifications. Unfortunately, it doesn't appear that Tracy has a LinkedIn profile so we weren't able to find any information on what qualifies her to be a relationship expert. What we do know, however, is that she attended the University of Utah where she earned a bachelor's degree in journalism. It doesn't appear that Tracy has undergone any formal training in counseling. As mentioned before, most of her work experience seems to be in the writing field. From what we can tell, her relationship expertise comes from lived experiences. At some point in time, it appears that Tracy formed a connection with Oprah and that provided her with a platform to offer relationship advice. This is what ultimately led to the opportunity for her to be on Family or Fiance.
What's Next For Tracy?
According to her IMDB page, it doesn't appear that Tracy has any new projects in the works at the moment. Her last screenwriting credit was in 2019 and it's unclear if she has plans to continue writing for TV. However, if there's one thing we know about her, it's that she stays booked and busy so there's no doubt she probably has some interesting things coming up.
Tell us what's wrong with this post? How could we improve it? :)
Let us improve this post!