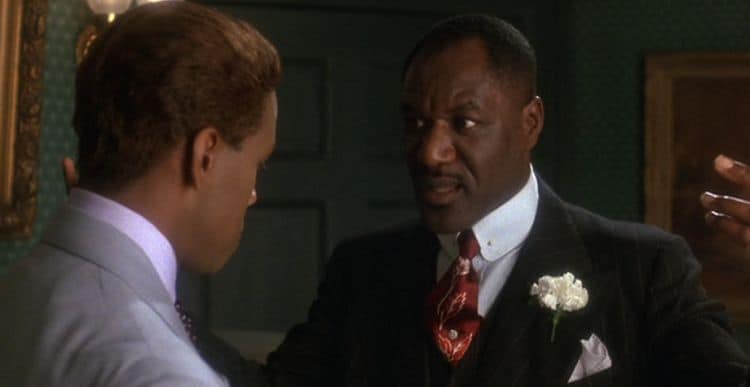 British-born American actor Delroy Lindo has been confirmed to be joining the upcoming Blade reboot. With little news on the progress of this new take on the vampire hunter, hearing this was quite the surprise. However, Marvel has yet to confirm on which character he'll be playing in the reboot. Is there a reason for this? Probably, but I'm sure I'm not alone in wondering just who Delroy Lindo will be playing. I really hope Marvel releases more news on this soon, because Blade can be a major game-changer for the Marvel Cinematic Universe. I just wonder if the reboot will give us a new take on the supporting characters of Blade as well. This is where the casting of Delroy Lindo raises some questions. The man is 69-years-old and whenever he's on screen, he has that commanding presence that just forces you to pay attention to him. He's been in some older movie, such as Malcolm X with Denzel Washington, Gone in 60 Seconds with Nicolas Cage, and Romeo Must Die with Jet Li. Last year, he had a leading role in Spike Lee's Da 5 Bloods with Jonathan Majors and Chadwick Boseman. I must confess, I haven't watched that yet, but that's something I have to check out soon.
His most recent movie was the Netflix original, The Harder They Fall, where he played a supporting role in the first African-American U.S. Marshal Bass Reeves. If you're a subscriber to Netflix, you need to check him out in that. Other than him, The Harder They Fall is graced with the talents of Jonathan Majors, Regina King, Zazie Beetz, and the awesome Idris Elba. It's quite a talented cast and they deliver some epic action scenes. When Delroy Lindo appears, things just get more epic. I mean, you can just listen to the guy talk and you know he means business. With that in mind, it makes me wonder who Delroy Lindo might be playing in the Blade reboot. Will he be a heroic character or a villain? Given his history, he probably play either one, but I'm willing to bet some money that he'll be playing a character we've seen before. Got any ideas? Well, just go back to the first Blade movie with the man Wesley Snipes and look at the cast.
There is one particular supporting character of Blade that I have in mind for Delroy Lindo and that's Blade's friend and mentor, the vampire hunter Abraham Whistler. That was a very cool character from the Blade movies and it's a real shame he went out the way he did. The performance of Kris Kristofferson is what made Whistler a great character, but the thing about him is that he was made for the movie. Well, he was based off a certain version of a similar character. The mentor and father-figure to Blade was essential to his character and this is where Delroy Lindo will shine. The white Abraham Whistler is based on Blade's actual mentor from the comics, the black Jamal Afari. This version is more connected to the comic version of Blade and has a similar background. Like Whistler, Jamal Afari met the young Eric Brooks when he was a kid. After the nine-year-old Eric saved him from vengeful vampires, Jamal Afari took him under his wing and became his father-figure. He and Abraham Whistler are essentially the same character, the only difference being their skin color. The decision to change the Jamal Afari character was David S. Goyer's, a decision that didn't sit well with many fans. They felt like the movie whitewashed the character, but I personally didn't mind. If the character works, which he did, then I'll take it.
For the casting of Delroy Lindo, however, I think there's no question about it. He just embodies a character like Jamal Afari. He's got the look, the right age for an older mentor/father-figure, and just that vindictive voice to get anyone's attention. If there's anyone who can play the mentor for Mahershala Ali's new Blade, it's Delroy Lindo. In the likely event that he is playing this character, it will be very refreshing to see Blade have a new mentor. Those who watched the animated Spider-Man series from the '90s will be familiar with Whistler, as he had the same role from the movies. I'm glad that the Blade reboot plans on going back to the root of the comics, because it separates itself from the Wesley Snipes movies.
What else can we expect from Delroy Lindo? His supposed character doesn't have a long history in the comics. That could go either way in terms of how long he sticks around, but he is an essential character. Blade needs a mentor and Jamal Afari is that character. Will he differ much from Kris Kristofferson's Abraham Whistler? Only Kris Kristofferson can play Whistler like he did, but that's why Delroy Lindo won't be playing Whistler. I don't think we have much to worry about, but it might say something about the villain. If Blade's mentor is appearing in the reboot, then his arch-enemy won't be far behind. Just like the first movie, Whistler helped Blade fight Deacon Frost for years. Of course, we remember that Frost nearly killed Whistler and Blade had to finish him off. We also remember he was revived in the second movie, but that probably won't happen with Delroy Lindo. All I'm saying is that if Jamal Afari is debuting, then other characters won't be too far behind. I'm excited for this reboot and I really want to know more details. Is it possible we could be looking at a Wesley Snipes cameo? Hey, you never know.