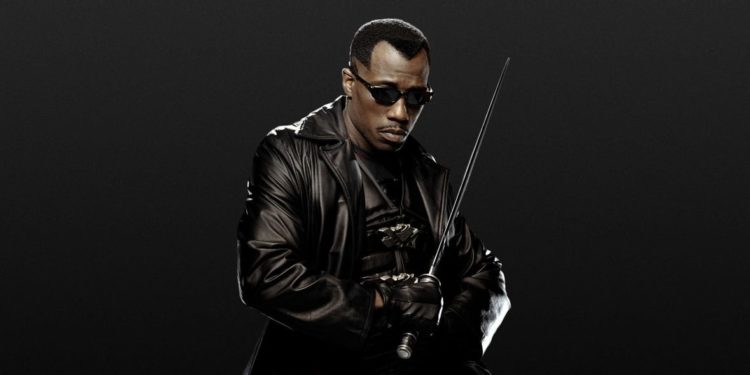 Blade was introduced in the comic book world in the early 1970s. However, it wasn't until the late 1990s that he got his chance to really shine in the spotlight. Starring Wesley Snipes, the 1998 movie Blade was one of the biggest movies of the year. The film has resulted in two sequels, but the character hasn't made any on-screen appearances since 2004. Even though it has been almost 20 years since Blade has been on the big screen, Blade still has a large fan base and there are many people who consider him a legend. In fact, some of his fans have suggested that there would be no Marvel Comic Universe if it hadn't been for Wesley Snipe's portrayal of the character. Keep reading to learn more about why Blade fans believe Wesley Snipes deserves credit for building the foundation of the Marvel Comic Universe.
Blade's Backstory
When Blade was introduced in The Tomb of Dracula in 1973, he was simply a supporting character. He was a vampire hunter who was born in London. Like every other superhero that I think of, Blade had a tragic origin story that started with his mom being killed by a vampire. As a child, he was extremely athletic which would come in handy when he began his journey as a vampire hunter. In 1974, Blade got his first solo story in a comic book. However, it still took Blade a while to become a regular fixture in the comics. According to Project Nerd, Marv Wolfman, the man who created Blade, said, "I knew if I let him, Blade would eclipse the other characters, so I pulled him back and let the original supporting characters—Rachel, Frank, and Quincy—shine. I also wasn't happy with my Blade dialog, so I pulled him out of the book for a while—I think almost a year—and when I brought him back, I played him a bit straighter…It took some growing up as a write". During the 90s, however, Blade had resurfaced in the comics and it was clear that they were gearing up to make him a star. By the end of the decade, Blade was a big hit at the box office and he was ushering in a new wave of support for Marvel Comics.
Why Blade Fans Believe Wesley Snipes Helped Establish The Marvel Comic Universe
Before we go any further it's important to address the fact that Marvel existed before Blade came around. However, his fans believe he saved what was essentially a dying brand before he came along. In a series of tweets, several Blade fans shared their thoughts on Wesley Snipes' Blade and his importance to the MCU. These tweets were in response to other MCU fans insisting that Toby McGuire's Spider-Man and Hugh Jackman's X-Men films were the reason for the success of the MCU. A Twitter user named SevelEllis said, "Blade created the funds for everything we see MCU. Wesley brought Marvel back to life. Put respect on that whole name Wesley Snipes."
Another Blade fan, DevBook24, added, "Marvel was bankrupt & sold off all major properties. Blade was a last ditch effort to save studio from closure. The success of Blade paved way for Iron Man & MCU. If not for Wesley Snipes, There'd be no MCU". A user named _HateResistent_ also mentioned that on top of Blade the character not getting enough credit, people need to put more respect on Wesley Snipes' name: "Blade is the movie that made Marvel studios what it is. Wesley Snipes deserves more credit than he is given. Marvel didn't have a successful movie, show or series before Blade. Wesley Snipes is the g.o.a.t.. No one can tell me different".
Blade Without Wesley Snipes?
In the summer of 2019, Marvel revealed that a new Blade movie was in the works. However, many people were disappointed when it was announced that Mahershala Ali would be playing Blade instead of Wesley Snipes. Despite not being involved, Wesley Snipes has expressed that he supports the actors who are working on the project. Wesley isn't giving up on the action movie world, though. According to Indie Wire, Wesley Snipes is working on another project that's referred to as the "Blade-killer". Unfortunately, no additional information has been released on this film, but hopefully, it eventually gets released. As someone who has gone through a lot of ups and downs over the years, Wesley Snipe's talent and contributions are sometimes overlooked. However, it's great to see him getting his flowers while he's still here.
Tell us what's wrong with this post? How could we improve it? :)
Let us improve this post!