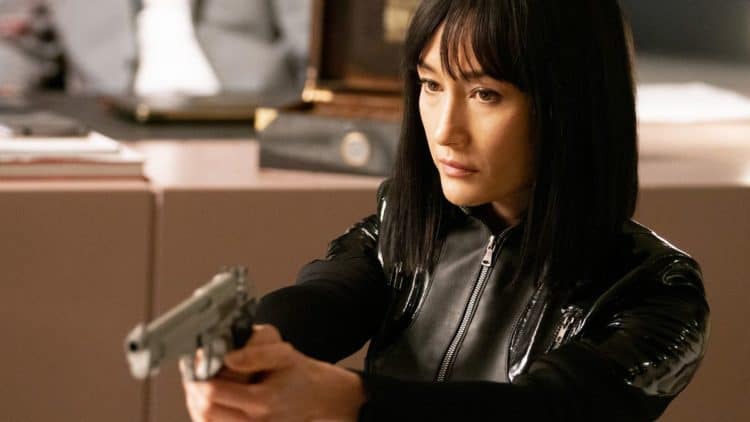 Maggie Q perfectly fits in The Protégé. Whether covered in blood or couture, she's virtually in every scene. But the top billing for the thriller belongs to Michael Keaton. He walks in at the 22nd-minute mark. What's the girl going to do? Given all the explosions, torture, shooting, and knives in The Protégé, Q fans should be grateful that she makes it to the film's last scene alive. She plays the role of an adopted orphan to Samuel L. Jackson, a wealthy veteran assassin. Her father molds her into an elite assassin. Q runs a rare book shop in London in her spare time. It's what most elite assassins do. One day Michael Keaton stops by; he can recite the mysterious Edgar Allen Poe poems by heart. Also, Keaton is a rival assassin to Q. Michael Keaton can discern a great pair of Manolo Blahnik pumps. Just like Q, Keaton can identify a gun's brand by simply hearing it get cocked. He finds Maggie fascinating, and this is where it begins to get interesting.
The Plot
The Protégé is the kind of film we cannot get enough of watching. A quiet side of Martin Campbell, the Casino Royale director, can be seen. There is no heightening the action in a superhuman way. As such, there is no restless ambition towards being the next John Wick. Titular assassin Maggie Q as Anna owes it all to her mentor Samuel L. Jackson, as Moody. He saved her from homelessness in Vietnam when her family got killed. Moody is not getting any younger. Thus, he asks Anna to find and not kill one of his last targets. With the sly and sarcastic feel of the duo's dynamic, Anna's investigation draws unwanted attention after a solid first act of banter. The inquiry results in her finding Moody dead in the bathtub. It leads her on a revenge path when she returns to her country of origin. However, she wonders who exactly Moody provoked with his search and why they would want him dead.
Why Watch It?
The Protégé is a compelling mystery, with the film's first half punctuated with bloody, brutal violence and pithy quips. There's a snappy proceeding that pushes the movie along, and it's comically and continually entertaining. In addition, it delivers the promise of furniture-shattering stunt work and hand-to-hand combat. Scenes of intense torture resolve to a status quo with lots of relief. Thus, The Protégé always delivers. Even though it doesn't elevate to the larger-than-life heights, it still maintains a good physical sense. Midway, the film loses track of its plot and turns to a romantic tug and pull from a revenge thriller between Anna and Rembrandt. They kiss each other until it becomes entertaining in its own right. At the expense of the narrative cohesion and the growing tension, revenge takes a back seat, which changes the film priorities. Anna discovers the ultimate target's identity, and it's Rembrandt's employer. However, the audience is not given information to follow her thought process or actions until later in the movie.
The Intrigue
The narrative builds intrigue but dilutes Anna's motivation, especially with the piling twists that cement the antagonist as the bad guy instead of someone worth taking down. Editor Angela Catanzaro and Campbell were wise enough in giving us a chance to see the choreography between Anna and Rembrandt. From "Atomic Blonde" to "Alias," it's proven that they can make anything work when the cast is exemplary. Q makes everything seem easy, whether it's jumping off a third-story balcony or diving for cover when henchmen reduce her book store to confetti. But what matters is the suspension of disbelief. Campbell pulls it off well by creating plot twists that surprise the audience.
Flashbacks
The film offers us flashbacks from Anna's childhood in Vietnam to when Moody discovers her. He instantly recognizes her killing aptitude, and we see her spend decades learning martial arts, English, and marksmanship. As The Protégé aims at its status-shifting climax, the inherent attraction starts to fold in on itself. However, it crumbles under the realities and pressures of their high-stake lives. It gives us a compelling drama, giving us their showdown with a pronounced sense of melancholic regret in the conflict between them. As a result, it brings a testament to what the storytellers find to get all this energy and the emotions sold to us in the fun action flick.
Keaton is still effortlessly charismatic, and it doesn't hurt. Even when he doesn't have much of a character to offer, still, the film works even better than it should. Its scenes buzz with humor and chemistry, with collisions of bone and flesh leaving ornate furnishings, fixtures, and bloody smears. You almost forget that we're trying to get revenge for moody. Or that it still is not clear who the film's villain is. What helps is that the film does not treat the female protagonist like a #girlboss. It instead tells the story of a woman lead action hero. She has a real spark with Keaton and bounces well off of Jackson. It's the three of them that provide up to 94% of the movie's entertainment.
Leave your brain at the door; enjoy The Protégé.
Tell us what's wrong with this post? How could we improve it? :)
Let us improve this post!