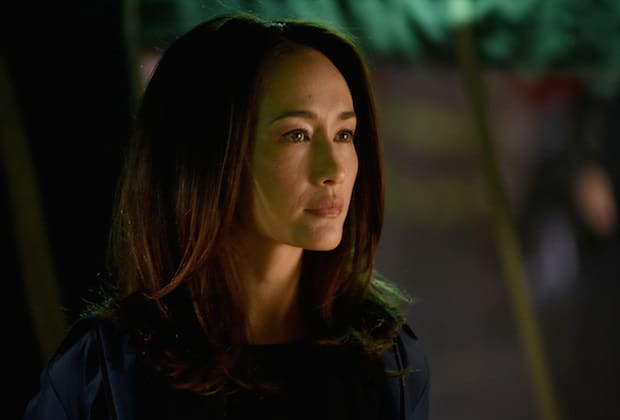 Maggie Q's real name is Margaret Denise Quigley. She was born in Honolulu, Hawaii, on May 22, 1979. She grew up in Hawaii and attended Mililani High School. As a bright student, she originally intended to pursue a career as a vet and got a place to study veterinary science at a private university but her parents were unable to support her financially. Instead, she left Hawaii to pursue other career options. She is now a model and an actress who became famous when she starred in 'Mission: Impossible III'. Maggie Q is now best-known for playing the role of Hannah Wells in 'Designated Survivor', a political drama on ABC. Here are five things you might not know about Maggie Q.
1. She is Engaged to Dylan McDermott
Maggie Q got engaged to Dylan McDermott in January 2015. He was her co-star in 'Stalker' which was a short-lived CBS drama series. This is not McDermott's first marriage as he was previously married to the actress Shiva Rose from 1995 to 2009. The couple had two daughters together; Colette and Charlotte. Dylan McDermott is best-known for playing Bobby Donnell in 'The Practice, a legal drama series. For his performance in this, he won a Golden Globe Award for Best Performance by an Actor in a Television Series.
2. The Chinese are Responsible for Her Being Called Maggie Q
Maggie Q dropped her real name when she began her modeling career. At 17, she began modeling in Tokyo and then moved to Taipei where she was unsuccessful in establishing herself in the modeling industry. Next, she moved to Hong Kong. Unfortunately, the Chinese found it difficult to pronounce the name 'Quigley'. She decided it would be better to change her name and stated using Maggie Q as her professional name.
3. Her Acting Debut was in 'House of Dragon'
Maggie Q made her acting debut in 1998. This was in a television drama series called 'House of the Dragon'. This series was a huge hit in Asia. She followed this by making her debut in the movie industry when she landed the role of Anna in the 2000 horror movie 'Model from Hell'. In the same year, she starred as FBI agent Jane Quigley in 'Gen-Y Cops', an action thriller.
4. She Has Three Tattoos
Maggie Q has three tattoos and she has had to conceal these for the majority of her roles. The exception to this rule is for her lead role in 'Nikita'. She has a tattoo of a phoenix on her left hip and one tattoo on each arm.
5. She is Passionate About Animal Welfare
Maggie Q is passionate about the welfare of animals and this was the reason she gave up meat. She has now been a vegetarian for many years and says it is one of the best decisions she has made in her life. She has often spoken out about animal rights and has played an active role in the PETA campaign in Asia. She was also named as the person of the year in 2008 by PETA Asia-Pacific. Since then, she has taken further measures to protect animals by becoming a vegan and eliminating all animal products from her diet.
Save
Tell us what's wrong with this post? How could we improve it? :)
Let us improve this post!