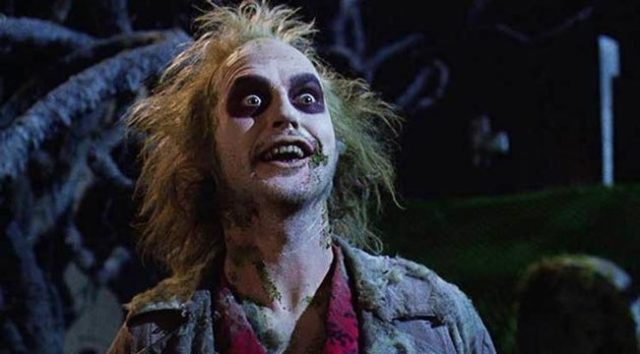 When you talk about explosive yelling you need to bring Michael Keaton into the discussion. As for the Yelling Game he would be a definite pick to be an alumni and even in the top ten I would wager. He does have a nice calm and composed voice most of the time but when he decides to let it rip it's like standing in front of a stereo speaker that suddenly and unexpectedly gets cranked up during a particularly loud moment. That's how explosive he is, and in all honesty it's just awesome to witness since he's either going nuts when he does it or getting so insanely aggressive that you know something's about to happen. Michael Keaton has to be one of the greatest and most underrated actors ever to step onscreen, and what's more, he's still great.
Unfortunately he's just as underrated as ever.
5. Touch and Go
The life of a hockey player might be violent on the ice but you honestly don't think that this would extend to their lives off the ice too. Bobby unfortunately almost gets mugged one night for his car and the only one of the perpetrators he can catch is the young boy in their crew, Louis. When he explains how the kid tried to mug him to his mother her reaction is pretty comical.
4. Beetlejuice
Out of all the decisions the Maitland's could have made to get rid of the family that had moved into their home this was one of the worst. Beetlejuice wasn't just a problem, he was the undead, atomic bomb of all problems just waiting to go off. Plus, once he was let out and never put back with those three simple words the chaos he could unleash didn't seem to have end to it.
3. Desperate Measures
He's just flat out mean in this one and doesn't care. The kind of killer it takes to refuse the treatment needed for a kid is someone that's either got no heart or lives to inflict as much pain as possible on the world. He could be both to be honest in this film since he's just that ruthless and doesn't even associate with his fellow inmates unless he absolutely needs something.
2. The Dream Team
Billy is unstable, that's about the best diagnosis you can give for him. He lies, he has a rich fantasy life, and he flies off the hook at a moment's notice, which means he was perfect for Michael Keaton to play. Anyone else might have overdone the role a little too much or not been convincing enough. Keaton's brand of crazy was just perfect for this film.
1. Batman
You don't think of Bruce Wayne going crazy that much do you? When you're up against a guy like the Joker though it pays to be able to get in the ring and rumble a bit when it comes to getting down and dirty. Sometimes you've got to put the crazy fire out with your own brand of lunacy. Too bad it didn't work this time.
Michael Keaton is definitely one of the best yellers yet.