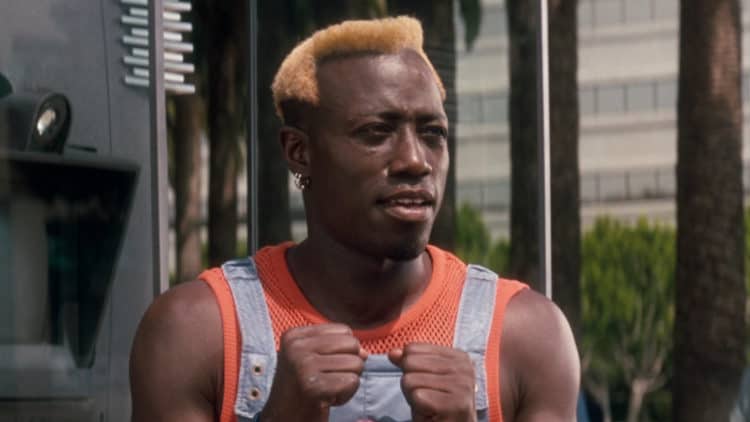 Wesley Snipes is kind of polarizing figure in show business since some people absolutely love the guy and will talk him no matter how bad some of his movies have been in the past, while others want nothing to do with him. The guy has done some great movies and he's been in some real bombs, but overall he's been one of the favored actors of the last few decades and has shown a lot of promise in some roles that have managed to let him leap onto the screen in a very big and impressive way. His portrayal as the character of Blade was something that a lot of people idolized when he first came out, but tended to grimace at when the level of CGI rose in the second and third films. Throughout his career his highs have usually come when he takes part in films that don't make heavy use of computer graphics and simply plays himself, which is highly preferable since the guy is just so much fun to watch.
Here are a few things you might not have known about Wesley.
10. When it comes to the martial arts he's the real deal.
Some people might scoff and even roll their eyes as they did when the hype about Jean Claude Van Damme and Dolph Lundgren was said to be real, which it is, but Wesley Snipes is every bit as real since he's been steeped in the martial arts for many years and has undergone the training and shown the discipline that is required to reach such levels. There's no doubting that he's every bit as skilled as he appears to be.
9. He put John Singleton on blast for not casting him as Shaft.
Stuff like this is what might actually make people turn away from him since when it comes to comparing what he might have done to what Samuel L. Jackson did there's really not much of a comparison to be made. Snipes is good in action films, but when it comes to attitude you just can't beat Jackson.
8. Wesley sued New Line Cinema for breach of contract.
Apparently he wasn't paid his fixed rate for Blade: Trinity and wasn't allowed to approve of the director as it had been stipulated in his contract. That seems a bit much to really accept but if it was a part of the agreement he was in the right it would appear.
7. There's a Tekken character modeled after him.
The character of Raven is based off of Snipes. This character is not only black but he's an assassin as well that's considered to be a heavy hitter if a player knows how to use him correctly, and his movements are downright powerful if you can master them.
6. He was supposed to play Hale Caesar in The Expendables.
Unfortunately this was when Snipes couldn't leave the country so Stallone had to get Terry Crews as his next choice. Eventually though Snipes made his way onto the crew in the third movie as Doc, a foil for Jason Statham's character that was kind of interesting.
5. He was going to star in Major League II but walked away due to scheduling conflicts.
Omar Epps took up the mantle of Willie May Hays instead and didn't do too bad, but a lot of people tend to agree that Snipes was missed since he made the character into something special in the first film.
4. On the set of White Men Can't Jump he had to be schooled in how to improve his level of play.
Woody Harrelson, who's actually a good personal friends of Snipes', was actually more schooled in the ways of basketball and was notably better than his costar when they first started out, but both of them received the same instruction. By the time they were done training they were said to be good enough to play for the NCAA.
3. He's a little cocky sometimes.
Snipes does come off as a bit cocky now and again but this could be for a number of reasons that stem from his time in show business and just from his overall character. It's hard to say really but he does have a very strong sense of self when he speaks.
2. In an interview concerning the film Undisputed he claimed that between him and Ving Rhames he would probably win out in a real fight.
This was laughed off for the most part since the two men were interviewed separately and there was never any reason to take it personally. But the most telling part was how Snipes went into full explanation about how he'd win while Rhames simply said something about how if a person had to talk about it then they didn't know.
1. His advice to aspiring actors is to be as versatile as possible.
This is definitely good advice since being able to go with the flow is something that he's been known to do at times and it's worked out for him just fine throughout the years.
He's an interesting person that seems a little full of himself at times, but he can back it up too.
Tell us what's wrong with this post? How could we improve it? :)
Let us improve this post!