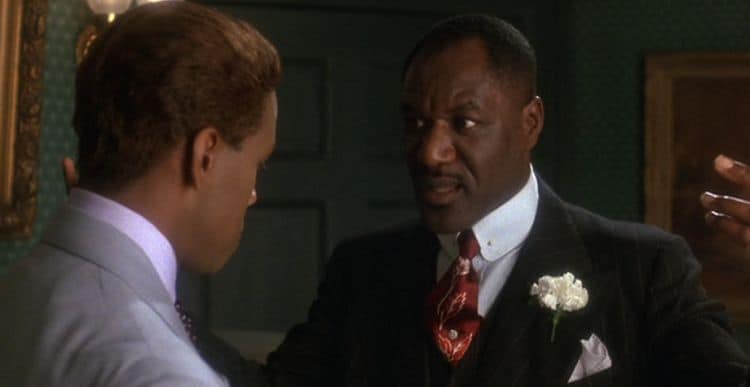 Delroy Lindo is someone that a lot of people might not know by name, but he's been a great actor for a long time now and has starred alongside some of the best while he's also been one of the best in the business. It is fair to say that he feels underrated and undervalued a lot of times since people don't know him as well as they might know someone like Denzel Washington or Laurence Fishburne, but the fun part is that he is recognizable when one does see him and he is able to match up with pretty much anyone since he's just that good of an actor. Watching him with some people on the screen it's evident that he knows how to adapt to different acting styles much as many actors do, but there is an underlying note to his acting that is similar in every role and is able to help balance his characters while allowing them to remain unique to each movie he's in.
Here are five of Delroy Lindo's best movies.
5. Da 5 Bloods
When a group of Vietnam vets decides to go back for a shipment of gold bars that they planned on taking during their tour, they find that things have changed quite a bit, not just with the country, but with them. Paul, the character who Lindo plays, isn't the best person in the world, but due to severe PTSD and serious lack of trust in his fellow human beings, he ends up dying very badly while attempting to escape with his share of the gold. The movie still has a lot of positive moments that are shown to envelop the experience that people of color endured in Vietnam and ends on a fairly happy note.
4. Romeo Must Die
Playing the role of a crime boss that has no idea that his second in command the second of his rival are playing the two families against one another, Lindo's character isn't exactly a villain, but he's no saint either. In fact, one could say that he's a businessman and concerned father that wants a better life for his kids and for himself, but that would be ignoring the fact that he is a bit of a crook. But barring that he does come off as far more decent than just about every other criminal in the movie, especially when it's established that he cares for his kids no matter that they tend to chafe under his authority.
3. Sahara
A lot of people actually took issue with this movie for a number of reasons, but the justification for bringing it up is that Lindo plays a very short but great role since he's the guy in the shadows that isn't hard to find but is someone that no one wants to be aimed at them. As an intelligence operative of sorts, he's able to get into and out of a place and deliver a little payback in a very non-violent form as is seen in this movie. He's also the type of guy that people go to seeking information, so long as they can provide what he might need and it's made clear that his involvement is never mentioned.
2. Malcolm X
Acting as West Indian Archie it's fair to say that people might have to work to remember just how influential the man was upon a younger Malcolm Little before he became Malcolm X. It's fair to say that he helped shape the younger man to be ruthless and take what he wanted, but it's also fair to say that as the movie progressed it was easier for people to focus on Denzel's role of Malcolm and forget the people that helped to shape him in the days before his rise in the nation of Islam. It's not too surprising really since the story of Malcolm X is one that encompasses a lot of people but focuses only on a few.
1. Gone in 60 Seconds
This movie was fun, unrealistic but fun, since Detective Roland, played by Lindo, had a definite nemesis in Memphis Raines, played by Nicolas Cage, and the back and forth between them was great. Throwing in Timothy Olyphant was a bit awkward, but it also made for an interesting dynamic since between the three individuals it was definitely Roland and Raines who were pertinent to the old feud, while Olyphant's character was kind of just there to make a few awkward moments and to back up Roland. But somehow it worked and while the movie was kind of a ridiculous bunch of stunts and a chance to root for criminals once again, it was still worth watching.
Delroy Lindo is a guy whose name you might not always remember, but as an actor, it's easy to remember him when thinking about the movies he's been in.
Tell us what's wrong with this post? How could we improve it? :)
Let us improve this post!