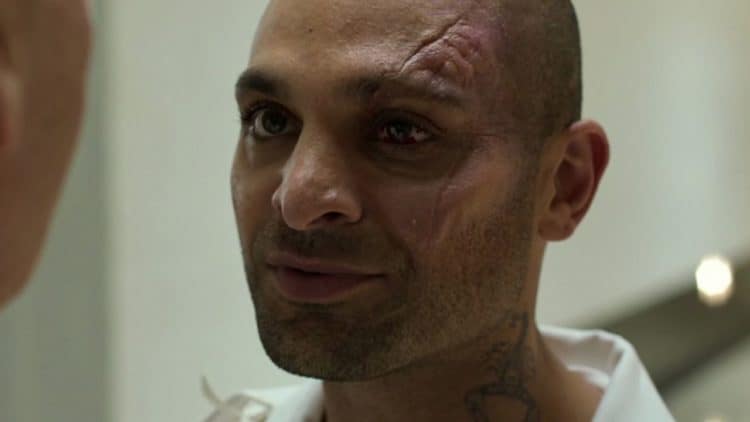 A very underrated Spider-Man villain is Mac Gargan, better known as Scorpion. Sure, he's been around for a while, but he's not used in other forms of media as he should be. The comics has made him grow as a bigger villain for other heroes over the years and it got to the point where Mac Gargan became the villain. For instance, there was a point in his criminal career when he was able to remove the Scorpion suit from his body. Guess what became the substitute? The actual Venom symbiote. As Venom, he had a slightly different look compared to Eddie Brock's Venom. The only real noticeable difference was the fact that he had pupils. Of course, this wasn't the same Venom we all became fans of with Eddie Brock, but he served as a good temporary replacement. By the time he became Venom, Mac Gargan was recruited by S.H.I.E.L.D as a member of the Thunderbolts to hunt down anti-registration heroes. He would later go on to be the "Spider-Man" for the Dark Avengers team under Norman Osborn's Iron Patriot. That was cool while it lasted, but we eventually got our Venom back. And on top of that, Mac Gargan was just too cool as Scorpion.
I remember playing the old 2000 Spider-Man game on Playstation and he was the first boss you had to fight. The game was paying huge respect to the origins of the comics, since the reason you were fighting him in the first place was the defend J. Jonah Jameson. The origins of Scorpion began when J. Jonah Jameson hired private detective Mac Gargan to find out how Peter Parker took such great pictures of Spider-Man. When Peter was able to evade Gargan due to his spider-sense, Jameson decided to hire Gargan to be a test subject for a dangerous experiment. The experiment: give Gargan the abilities of a scorpion by outfitting him with a mechanical suit and a club-like tail, which he can use as a projectile weapon. The experiment was initially a success, as Scorpion was able to use his new suit and powers to defeat Spider-Man twice. Even the idea of him becoming the Scorpion was based on the fact that scorpions are the natural predators of spiders. Because of this, Scorpion proved to be a seriously tough enemy for Spider-Man, and he often relies on his wits and intelligence to defeat him.
The chemical treatments and mutagenic effects of the scorpion's DNA splicing resulted in Mac Gargan's mind being increasingly damaged. This led him on a path of crime and stirred up a strong hatred for the man who recruited him for the experiment, J. Jonah Jameson. That's what led to the ongoing run-ins with Spider-Man and fueled their rivalry. It's fun watching them fight, and if you play the video games, fighting him is even funner. You can go back to the 2000 Spider-Man game, to the 2002 movie game, or the most recent 2018 Spider-Man game where you fight him and Rhino at once. That was a seriously tough boss battle and a super fun one at that. Can we possibly get something like that in the Marvel Cinematic Universe? Mac Gargan made his debut in the MCU back in 2017 in Spider-Man: Homecoming. He began as a dangerous criminal attempting to buy weapons from Adrian Toomes, but was seriously injured in a fight with Spider-Man. He later appeared in prison asking Adrian Toomes if he really knew the identity of Spider-Man, which Toomes denied. Other than Mac Gargan's future being set up for Scorpion, the fact that he's being played by Michael Mando is seriously awesome.
With all of that in mind, I know that fans want to see him suit up as Scorpion. It would be the first time we would see a live-action adaptation of the villain and it's long overdue. The only thing that is probably stopping that is the current direction the Spider-Man trilogy is going in. I know I don't have to mention what is going on in Spider-Man: No Way Home. We'll be seeing some familiar faces, including some old villains. Michael Mando's Scorpion is sadly not a part of that group, since he hasn't suited up yet. That doesn't mean he will never become the Scorpion, but it won't happen in No Way Home. That's okay, because No Way Home is stacked up enough with villains. What will happen with Spider-Man afterwards? We won't know until next week, but there's always room for more villains. In this case, the MCU's Mac Gargan already has a grudge against Spider-Man, so the rivalry is already set up. On top of that, he specifically told Adrian Toomes that he has people on the outside who would "love to meet" Spider-Man. Does this set up for the MCU's Sinister Six? Maybe or maybe not, but either way, it does set up for an interesting conflict. Because of what he told Adrian Toomes, I do believe Mac Gargan will use his criminal connections to help him hunt down Spider-Man. If he does become Scorpion, that would give him an advantage and put him in a leadership position. No matter what manner he appears, I think seeing that showdown between him and Spider-Man will be a cool fight. It could happen briefly in No Way Home, but my money is that he'll become Scorpion in future sequels. If Tom Holland is staying in the MCU, then their battle is only inevitable.