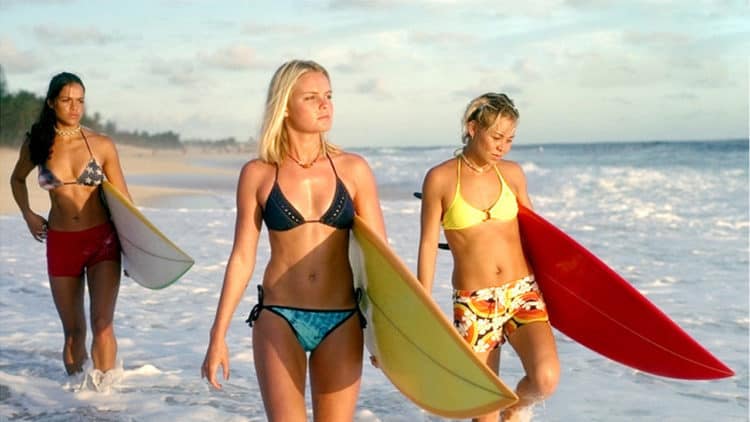 It's been 18 years now since Blue Crush was released and to be fair it did manage to gain a good deal of attention, but that faded a little too quick to call the movie a standout hit that was bound to become legendary. A lot of people still remember this movie fairly well since it was meaningful in its own way, but at the same time, it lacked a lot of the 'oomph' to it that a lot of movies need in order to be remembered by a large number of people. When asking ten people on the street there might be four or five that would remember this flick, as the message it sent was positive and uplifting, but if they remember it for the hot women in the skimpy bikinis it wouldn't be that surprising since the truth is that Michelle Rodriguez, Kate Bosworth, and Sanoe Lake did in fact get into pretty good shape for this movie and looked pretty good doing it. At that point, some of the cast members had already been seen in a few movies and had established themselves as famous stars. But following this several of them either faded out and went their own way or kept pushing forward and took on other roles that eventually made them even more famous. The movie is still loved by a lot of fans, but it's still easy to recognize that it's not one of those movies that we're bound to hear a lot of about unless someone is willing to create a lot of buzz for another one.
You might wonder what happened to the cast, and while several of them are likely still in show business, there are a few of them that continued to push forward and really continue to climb in their careers. Michelle Rodriguez continued to advance her reputation within the Fast and Furious franchise and went on to star in other movies as well such as SWAT, Resident Evil, and many other movies that would continue to elevate her reputation as a superstar. She's been one of those actresses that people want to see more of continually since she has the kind of attitude and overall look that might not be deemed as classic but is still something that attracts a lot of attention in a very positive way since she often plays the type of character that's no-nonsense and is always ready to move ahead.
Sanoe Lake was actually a professional surfer and has also been an actress in her time, but it was obviously nice to have her not only because she knew what she was doing, but also because she could likely give tips and pointers to the other actors if needed. She signed with Billabong back in 2003 and Blue Crush was actually her breakout role. To say that she's been entirely successful in her acting career would be kind of a stretch but she has gone on to star in other movies and has done well enough to be seen as a talented woman. While she's not the biggest name in the movie she was definitely someone that was meant to be paid attention to since her character was one of those that shared the spotlight and was made a big part of the story. Matthew Davis, who played the NFL quarterback that Kate Bosworth's character fooled around with, is someone that should be remembered from Legally Blonde since he played the part of Elle's jerk boyfriend, Warner. Since his time in the movies though he made his way to TV where he starred in The Vampire Diaries and then Legacies, so it's fair to say that he found his calling too and it wasn't really on the big screen but he did find a place on the small screen that fit him just fine.
Kate Bosworth of course was another star that was already pretty big for the roles she'd taken on in the past and kept pushing forward after this movie since she starred in Superman Returns and several other movies over the years as she continued to take on one role after another. Each of the cast members of Blue Crush have gone on to do something with their lives and the biggest stars have been keeping with the trend and have either started to slip through the years performing in Indie movies or have gone big and are still on the silver screen. Talks have been heard here and there about a Blue Crush sequel, but so far it doesn't feel as though anything might happen, at least not right away. And it's fair to say that if it does happen that the original actors might sit it out or take on different roles since after 18 years it's hard to believe that they would hit the waves again unless they've been keeping up with their surfing.