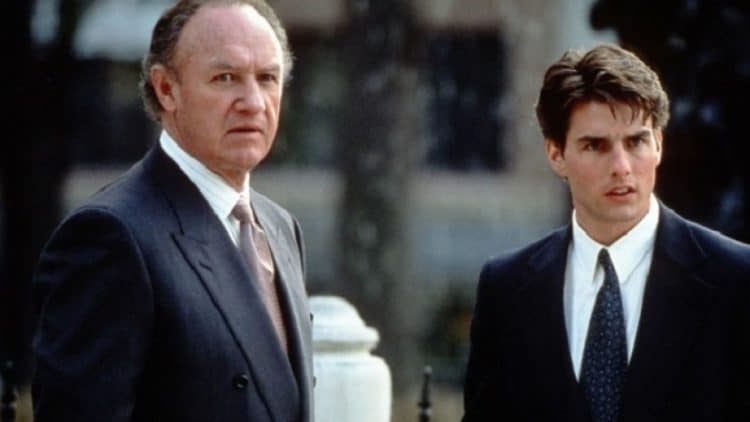 If you were around during 1993, then you probably remember the legal thriller The Firm. The film was one of the most popular of the year and it brought in more than $270 million at the box office. Based on the John Grisham novel of the same name, The Firm follows a law student named Mitch McDeere (Tom Cruise) who gets hired at a small law firm in Tennessee. It is quickly revealed that the law firm is involved in illegal activity, and the FBI enlists Mitch's help to bring the firm down. However, Mitch finds himself torn between wanting to help the firm pay for its crimes and being loyal to his colleagues. In the years since its release, many of The Firm's stars have gone on to have very successful careers while others have been a little less visible. Either way, their work on this film has created a long-lasting legacy. Keep reading to find out what happened to the cast of The Firm.
When The Firm was released, Tom Cruise was still relatively early on in his career. These days, however, he's an industry veteran who has been part of the a-list for well over 25 years. He has made dozens of on-screen credits since The Firm and he has been nominated for three Academy Awards. Tom hasn't made an on-screen appearance over the last couple of years, but he has quite a few movies in the works including Top Gun: Maverick and Mission Impossible 7 and 8.
Jeanne Tripplehorn had only been acting professionally for two years when The Firm was released, and the movie was instrumental in helping launch her career. She continued to work consistently after The Firm and she was mostly focused on movie roles throughout the 90s and early 2000s. However, when the mid-2000s rolled around, Jeanne started taking on more TV projects which she has continued to do ever since. Some of her more recent on-screen credits include shows like The Gilded Age and Mrs. America. On top of her live-action work, Jeanne has also had some voice roles. Things have also been going well for Jeanne in her personal life. In 2000, she married fellow actor Leland Orser. The couple has one child together. When she isn't busy working, she loves spending time outdoors with her loved ones.
Like Tom Cruise, Gene Hackman is another cast member who is a Hollywood legend. By the time Gene was cast in The Firm he had already been in the industry for more than 30 years and he was a well-established star. After the movie's release, he continued to act for another decade before retiring in 2004. His decision to stop acting as heavily influenced by his health. According to Screen Rant, Gene said, "The straw that broke the camel's back was actually a stress test that I took in New York. The doctor advised me that my heart wasn't in the kind of shape that I should be putting it under any stress". Now in his early 90s, Gene maintains a low profile and doesn't appear to have any verified social media accounts.
Ed Harris as Wayne Tarrance
Throughout his career, Ed Harris has consistently proven that there isn't anything he can't do. He's played a wide variety of roles, and he has a special way of bringing all of his characters to life. Needless to say, his career has continued to flourish since The Firm. Most of his work has been in films, but he has also made some TV appearances. In fact, one of his most recent roles was in the TV series Westworld. In 2022, he will appear on-screen with his The Firm castmate, Tom Cruise, in the movie Top Gun: Maverick.
Holly Hunter as Tammy Hamphill
Academy Award-winning actress Holly Hunter hasn't had any trouble finding work in the years since The Firm. Her acting resume now includes more than 60 on-screen credits and that includes a mixture of movie and TV credits. Since The Firm, Holly has also been married and divorced and married again. She and her second husband, Gordon MacDonald, have been married since 2001. She is also the proud mother of two children.
Hal Holbrook as Oliver Lambert
With a career that spanned the course of 7 decades, Hal Holbrook shared his talent with the world on the big screen, the small screen, and the stage. His resume includes more than 100 acting credits, many of which came after the firm. Sadly, Hal passed away in January of 2021 at 95 years old.
Jerry Hardin as Royce McKnight
When Jerry got the opportunity to be in The Firm, he was already a legend. Even though he wasn't one of the stars of the movie, he brought something special every time he was on screen. Now in his 90s, Jerry's career has slowed down and he hasn't made an on-screen appearance since 2014. Jerry's daughter, Melora, is a successful actress. Some of her credits include Monk and The Office.