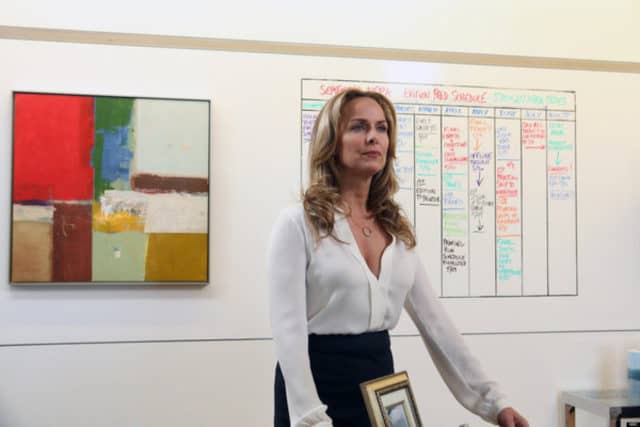 To those who remember her face, Melora Hardin will be recognizable as Trudy Monk on Monk as well as Jan Levinson on The Office. In more recent times, they might have heard about her role as editor-in-chief of Scarlet magazine Jacqueline Carlyle on the upcoming The Bold Type, which will start broadcasting on July 11 of 2017.
Here are five things that you may or may not have known about Melora Hardin:
Her Parents Were in the Entertainment Industries
Hardin was born the daughter of Diane and Jerry Hardin. In brief, her mother was a retired actress who went on to become an acting manager as well as an acting coach, whereas her father was an actor. With that said, it is interesting to note that her brother Shawn went on to become a CEO for Flock, which was a free, multi-platform web browser that specialized in providing support for social media as well as Web 2.0 before it was discontinued in 2011.
Was Cast as Jennifer Parker
People who remember Back to the Future should remember the character Jennifer Parker, who was Marty McFly's girlfriend. Initially, Claudia Wells had dropped out of the movie because of schedule conflicts, meaning that Hardin was cast in her place. However, when Michael J. Fox replaced Eric Stoltz in the role of Marty McFly, Hardin lost the role because she was considered to be too tall for him. As a result, Claudia Wells reclaimed the role, which had become possible because her scheduling conflicts had cleared up.
She Is an Acting Coach
Like her mother, Hardin has been an acting coach from time to time, meaning that she helps cultivate new talent by passing on her own acting skills. It is interesting to note that her students included Jody Stevenson, who has appeared on a number of TV shows in addition to her work with costumes and wardrobes on Reverse Polarity. Furthermore, Jody Stevenson is also notable for having been the first deaf cheerleader for the Ohio State Buckeyes, where she graduated with a Bachelor of Arts in theatre.
Nominated for an Emmy
In 2016, Hardin was nominated for an Emmy for her role as a guest star in the comedy-drama Transparent, which is one of the first TV shows created by a streaming media service to receive major awards and accolades. In brief, Transparent is about a Los Angeles family reacting to their father opening up about being a transwoman, with some of them being more accepting while others are less so at first. Hardin plays the ex-girlfriend of the oldest sibling Sarah Pfefferman, who is perhaps unsurprisingly, the most accepting of the news at first.
Has Supported Epilepsy Research
A lot of Hollywood actors and actresses have supported philanthropic causes, with Hardin being no exception to this rule. For example, she appeared in a 2009 PSA for CURE, which stands for Citizens United for Research in Epilepsy. Like its name suggests, it is a Chicago-based nonprofit founded by parents who were frustrated and fed-up with the limited treatment options available to their children suffering from epilepsy as well as the seizures that are associated with the medical condition.
Tell us what's wrong with this post? How could we improve it? :)
Let us improve this post!