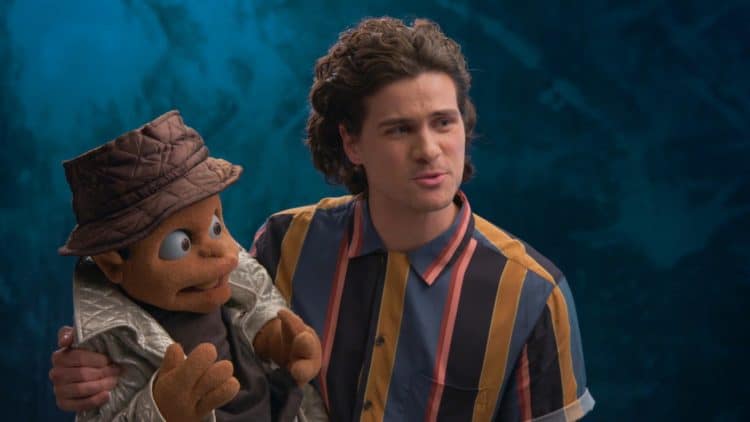 During the 1990s and early 2000s, Nickelodeon had the children's TV world on lock. The network introduced viewers to dozens of original series and many of them are now considered classics. Among them was the sitcom Cousin Skeeter which aired on Nickelodeon from 1998 to 2001. The show starred a teenage boy who goes to live with his extended family. Skeeter is a puppet, but this is never addressed in the show. He develops a close relationship with his cousin and the two of them often found themselves in funny situations. One of the things that made the series so special was the fact that it had an incredibly talented cast. For some of them, the show was a starting point for their careers, while it was the peak for others. Keep reading to find out what happened to the cast of Cousin Skeeter.
Robert Ri'chard as Bobby
Robert Ri'chard started his acting career in the early 1990s and he played a variety of small roles throughout the decade. Being cast in Cousin Skeeter was his first major acting opportunity and it proved that he had everything he needed to be a star. When the show ended, he kept the momentum going with a starring role in another popular sitcom, One on One. He also had a main role in the 2005 movie Coach Carter. After One on One ended in 2006, things started to slow down a little for Robert. However, he didn't stay out of the spotlight for long. Robert earned another significant role in Meet the Browns from 2009 to 2010. Things slowed down a little for him once again until 2017 when he was cast in The Rich & the Ruthless. Fans of his work will be excited to know that he has several projects in the works including a TV series called Harlem.
Rondell Sheridan as Andre
Even though Rondell Sheridan had been acting professionally for more than a decade before Cousin Skeeter came along, the show became his biggest role. Two years after the series ended, he got another big opportunity when he was cast as Victor Baxter in the Disney Channel series That's So Raven. He reprised the role for the spinoff, Cory in the House, as well as the reboot, Raven's Home. In addition to his acting, Rondell also has lots of experience behind the camera as a a writer and director.
Meagan Good as Nina
Meagan Good was just a kid when she started her acting career and she got a big break the year before Cousin Skeeter was released. She was in the 1996 movie Eve's Bayou which starred Lynne Whitfield, Samuel L. Jackson, and Jurnee Smollet. However, Cousin Skeeter marked her first significant TV role. After the show ended, Meagan appeared in several movies including Roll Bounce and You Got Served. She also appeared in a couple of music videos. Although she hasn't had many major roles, Meagan has still built a large fan base over the years. She currently has several things in the pipeline including the TV series Harlem which will give her the chance to reunite with her Cousin Skeeter co-star, Robert Ri'chard. Outside of her work as an actress, Meagan has been married to DeVon Franklin since 2012. The couple does not have any children together and recent rumors suggest that they may be separating.
Angela Means as Vanessa
Angela Means made her first on-screen appearance in 1992 in the popular sketch comedy show In Living Color. She continued to play a few small roles here and there before being cast as Felicia in the 1995 movie Friday. Her character in the film has since become an important part of pop culture and the phrase "Bye Felicia" has taken on a life of its own. Since Cousin Skeeter's cancelation, she has been largely absent from the entertainment industry. She has only made one on-screen appearance since 2001, and it was for a minor role. However, that's because she has found an entirely different career path. Angela is now a successful vegan chef who owns a restaurant in Los Angeles called Jackfruit Cafe. As far as we can tell, she doesn't have any plans to return to acting.
Bill Bellamy as Skeeter
During the 1990s, Bill Bellamy was a regular on TV screens across the country. From his work as a comedian to his acting and hosting, he was everywhere. Needless to say, having his name attached to Cousin Skeeter was a big move at the time. After the show ended in 2001, Bill continued to land on-screen roles throughout the early 2000s. However, towards the end of the decade things started to slow down for him. Bill is still active in the industry although many of his recent roles have been smaller.