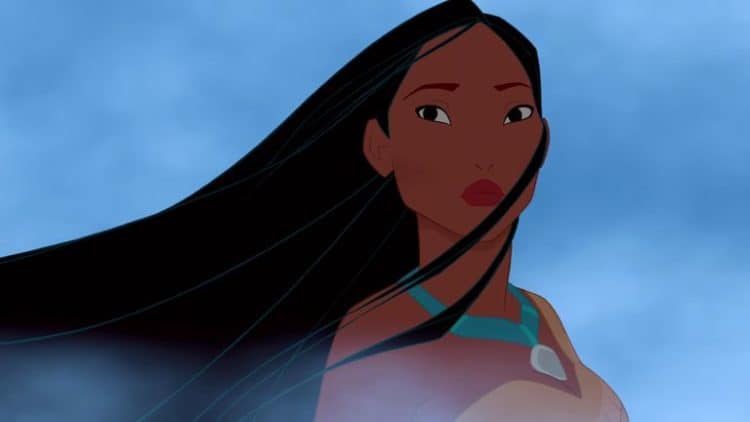 Disney movies are generally a hit with children and adults alike. Some were so successful that Disney is now considering remakes of many, and some of these remakes are already underway. One of the films that are rumored to have a remake in progress is Pocahontas, so what do we know about this so far? Fans of Disney movies will probably remember the release of 'Pocahontas' back in 1995. Even those who had not been born at that time have probably seen it since. The film was a fictional account of the historical encounter between the Jamestown settlers and Englishman John Smith. This animated musical romantic drama film was co-directed by Mike Gabriel, and Eric Goldberg, and co-written by Carl Binder, Susannah Grant, and Philip LaZebnik.
The speaking voice of Pocahontas was provided by Irene Bredard, while Judy Kuhn was the lead character's singing voice. Others who provided voices for the original film included Mel Gibson, David Ogden Stiers, John Kassir, and Russell Means. 'Pocahontas' was a big hit, both critically and commercially. Critics gave it predominantly positive reviews and the box office figures were excellent. In fact, this movie grossed $346.1 million at the worldwide box office from a budget of just $55 million.
Back in May 2019, Digital Spy reported that it was unlikely that 'Pocahontas' would get a live-action remake like many other Disney classics. This report was based on comments made by Alan Menken, who is the legendary composer of the music in Pocahontas, as well as the composer for many other Disney movies. Menken said that although many other Disney films were getting a remake, he thought remaking Pocahontas would create too many difficulties. He did not think the storyline would fit well in today's society and he believes that it is likely to cause offense to somebody. However, it now seems that this is the opinion of just one man rather than a hint towards what is really happening with the Disney movies. Since Menken made these comments, rumors began to arise that suggest that a Pocahontas remake is a reality.
Elite Daily is one source reporting that a Pocahontas remake is underway. It is hoped that this will follow on from the success of other Disney classics that have been reimagined as live-action movies in recent years, including 'The Jungle Book', 'Dumbo', 'Aladdin', and 'Beauty and the Beast'. As yet, 'Pocahontas' is one of only a few Disney films from the 1990s that has not been confirmed as being remade as a live-action movie. However, new reports suggest that this movie is already underway and that Disney has simply been keeping it under wraps. The reports also say that they are already looking for a Native American actress to play the lead role in the remake.
Fans of the original may have a shock, though, as it is believed that the new movie will differ significantly from the original in terms of its storyline. It is intended that the new movie will have greater historical accuracy than the original, which was simply a fictional story based on historical events. This would mean that the new movie focuses less on a romantic love story as there is no historic evidence that Pocahontas and John Smith ever had a romantic relationship.
Another film based on historical characters and events that Disney is reimagining as a live-action movie is 'Mulan'. In the original, the true story of the Chinese warrior is only a loose basis for the story, and the Disney film adds elements of silliness, such as talking animals and characters breaking into song for no reason. The rumor is that the remake will adhere more closely to the true story of the Chinese warrior of Mulan and will include fewer silly distractions from the storyline.
With this in mind, it is possible that the remake of Pocahontas will also remove many of the overly fantastical and silly features of the film, such as Pocahontas' talking animal friends. However, the exact approach that Disney will take is not known as the remake is only rumored at this time. This also means that there are many other details about a potential 'Pocahontas' remake that have not yet been revealed. Until it is officially announced that the remake is underway, Disney fans will simply have to show patience with regards to the details of the movie.
In the meantime, Disney fans still have several other Disney film remakes to look forward to, says Oprah Magazine. The first one of these to hit movie theaters is 'The Lion King', released on July 19, 2019. Earl Jones is once again voicing Mufasa, while Donald Glover is Simba and Beyoncé is Nala. The film is directed by Jon Favreau, who also directed the 2016 live-action remake of 'The Jungle Book'.
Later in the year, Disney fans can also look forward to the live-action remake of the 1955 animation 'Lady and the Tramp'. This is set for release on November 12, 2019. However, this will make its debut on the upcoming Disney streaming service, Disney+, rather than at movie theaters. Those starring in the film include Justin Theroux, Tessa Thompson, Sam Elliot, Janelle Monae, and Yvette Nicole Brown.
Another film on which Disney is currently working is 'Maleficent: Mistress of Evil', although this is a sequel to the 2014 film 'Maleficent' rather than a remake. The original gave a character from the classic 'Sleeping Beauty' film of 1959 her own storyline. Angelina will be reprising the lead role of Maleficent for the sequel, and others starring in the film include Michelle Pfeiffer, Elle Fanning, and Chiwetel Ejiofor. This film is set for release on October 18, 1959.
Furthermore, it is rumored that they are making a film called 'Cruella', which is giving the villain from '101 Dalmatians' her own movie. It is believed that this film will be released sometime in 2020. Overall, there is plenty for Disney fans to look forward to in the coming year.
Tell us what's wrong with this post? How could we improve it? :)
Let us improve this post!