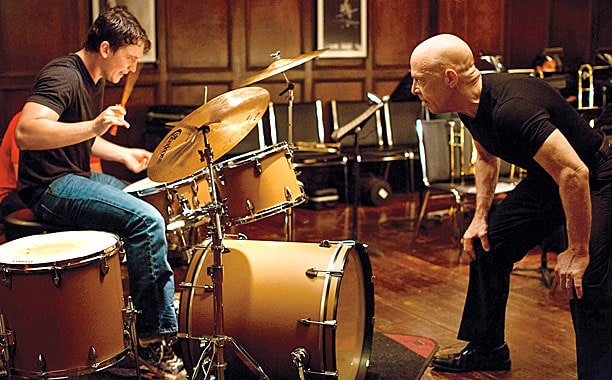 How much abuse would you be willing to take for the love of your art? Make no mistake about it, music is an art form and is just as demanding as anything. But really, how much abuse would you take? And what would you do to insure that you got whatever it was that you wanted? As obscure as it might seem in the film the missing folder that becomes such a problem at the end is very important. The folder with the necessary music that Tanner would need to play his role in the band just vanishes, poof, gone.
So who took it, and who hid it?
One of the less likely explanations is that Tanner took the folder and hit it. But why? Why would he jeopardize himself and his place in the band? It makes at least a little sense that he would try to discredit Andrew, who was seen as a threat to replace him, but it is a big gamble without any real chance of success. Some might argue that Tanner couldn't possibly be the one that took the folder given his intense reaction to the loss. However, if you really look at it his reaction is so over the top that it's still feasible. It's true that the position is important enough that he could potentially flip out if he lost the folder that he so desperately needed, but once again, the gamble would require a great deal of emotion front and center. It's unlikely, but it's still possible.
Andrew taking the folder and hiding it would make about as much sense, which is none. He can perform without the sheet music, he knows the songs, and he knows how to perform under pressure. Being yelled at and abused is nothing new for him since Fletcher does it through a significant portion of the movie. But if he wanted Tanner's spot losing the folder would be a good idea, though still a risk. It would almost assure him a spot in the band but it would still be a big gamble when it came to getting caught. Andrew has a reason to want Tanner out, but he doesn't seem cold-blooded enough to pull this off.
The next suspect in line of course is Fletcher. He rides and berates Andrew throughout the majority of the film and yet for some reason seems to think that there is something to the younger man, some quality that is worth the effort and vitriol that he is putting into his training. How many people would allow someone to slap them across the face while trying to take direction? Eventually Fletcher gets let go from his position and it turns out that it is Andrew that is the cause. So why then would Fletcher bother to help Andrew out in any way?
Simple, he sees something in Andrew as it's already been stated. He sees a special quality that Tanner doesn't have. As a result he takes the folder, knowing full well that Tanner needs to see the music to play, while Andrew doesn't. It's devious and cunning, but in some way it's also quite uplifting, albeit in a disturbing way.
Save
Tell us what's wrong with this post? How could we improve it? :)
Let us improve this post!