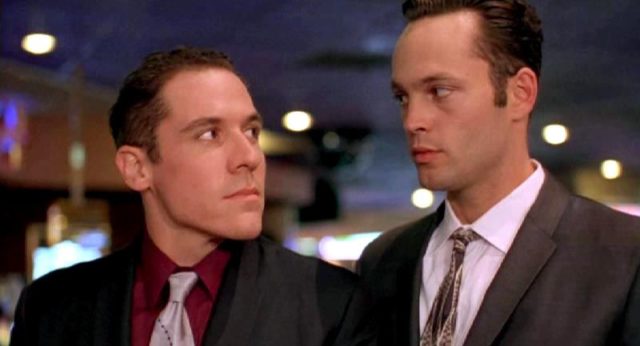 Jon Favreau is kind of a surprise because you wouldn't initially expect him to be both a director and an actor. He started out as the latter but went smoothly, it seems, into the former. It would be honest enough to say that he excels at both since he knows the game inside and out and can work it to his advantage. He's also had some great roles as both a director and an actor throughout his career and has put up some stellar performances that some might argue with but are still in my mind some of his best parts.
He's one of the better actors but doesn't get a lot of recognition for I think.
5. Rudy-D-Bob
D-Bob is that big mouth nerd you meet at school that you can't help but like and can't figure out why sometimes. He's got an over-inflated ego that pops like a soap bubble the moment it gets challenged but he still has a big heart. In the movie he's Rudy's best friend and in reality only friend that won't ever turn on him or tell him to quit. He's the guy you don't count on initially but the one that keeps you up when you're feeling down.
4. Made-Bobby
Bobby just wanted to make ends meet but when that wasn't happening he decided to take a job that could have made him a lot of money. The only problem was that he brought along his friend with the big mouth and didn't think about what might happen when that big mouth never closed. Through a few misadventures he finally decides to give up the mob life and go back home.
3. Iron Man 2-Happy Hogan
Happy's another character that's got a big ego, but then you might need it if you worked for a man like Tony Stark. In fact you'd have to be a fast talker, faster thinker, and a person that knew how to deal with eccentricities in a big way if you happened to work for Tony Stark. You'd also have to be one of the most patient people on the planet.
2. The Replacements-Danny Bateman
Danny Bateman is just AWESOME. He's all go and no quit on the field and off of it as well. Throughout the movie he's the ultimate tough guy that doesn't back down to anyone and won't hesitate to go megaton when he's given a chance. During a bar fight, on the field, or just anywhere it has to happen is okay with Danny so long as he's allowed to go completely wild on someone without worrying about repercussions.
1. Four Christmases-Denver
Denver's kind of a jerk, but then when you see his father and realize what he was likely exposed to while growing up you get a better idea of just why that's the case. His old man was a jerk and his other brother isn't much better. It's a wonder their brother Orlando turned out like he did.
It's awesome to see how many characters he can play, and even more so to see how believable each one is.