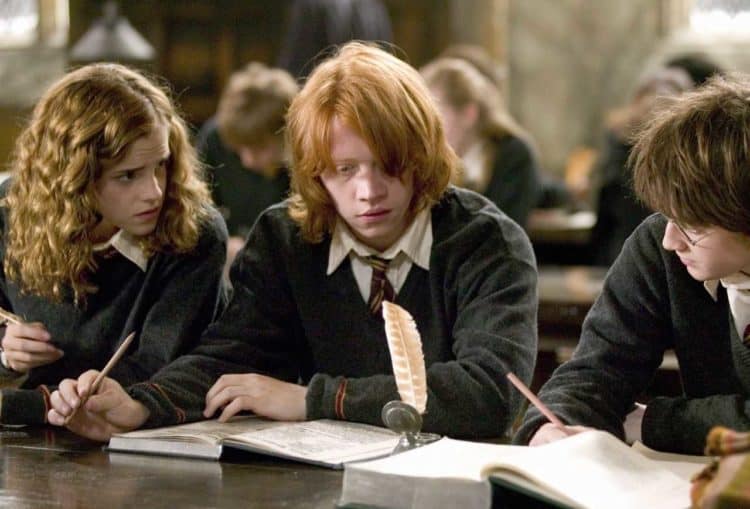 There are people that thought the kissing scenes in the Harry Potter movies were awkward and then there those that thought they were just fine. Excuse me while I go shudder for a moment since this was supposed to be a kids' story for a good part of it. The truth is that at some point as the kids grew up they experienced urges and feelings that, as many of us know, do come along and present their own challenges since we do grow, we mature, and we start finding those around us, be it same or opposite sex, attractive. But for years many of us that watched the Harry Potter movies were kind of wondering if anyone within the trio of Ron, Hermione, and Harry, would end up together since they were just that close and it felt as though something should have happened at some point. But it wasn't until the later movies that these feelings really started coming into play, though there was an inkling in The Goblet of Fire, even if it was an image that was created by the less than ethical journalist Rita Skeeter that made it appear that Harry and Hermione were a couple. Of course, at that time it was easy to notice that Ron was starting to perk up and take note of Hermione, but nothing had happened yet. But despite the fact that it was coming at some point, the actors were less than ready for it when the moment did eventually happen.
Harry and Hermione did kiss first despite this being a nightmare of Ron's that was unleashed when he and Harry were attempting to destroy a Horcrux, as the risque image of a nearly naked Hermione and Harry were intertwined in a manner that was a bit over the top for the story. But barring that, Rupert Grint, aka Ron, and Emma Watson, aka Hermione, did share a very passionate kiss after being doused with water from the fallout of another Horcrux being destroyed. To hear them tell it the moment was anything but pleasant, and there's a reason. For both of them, the moment was something that was difficult to get through since when you think of it, the trio grew up together through the movies and were around each other quite often. This left them feeling more like siblings than anything and if you can imagine yourself kissing your brother or sister in a moment of passion then you might need to see a psychiatrist. This is something that best friends have had an issue with for years since people that grow up with each other and maintain a close relationship often form a bond that's more akin to that experienced by siblings and doesn't always transition into romance. In some cases, it certainly can and does, but in others, there are many people that would claim that it's simply too difficult to not see the people they've been around so long as anything but a brother or sister figure.
For all the time that the actors spent on the set during the course of the movies, it's very easy to see how they became close and were more like a big family at times since they had to be around each other so often. It's always uplifting to go back and realize that despite the fact that the characters didn't always get along that the actors were best friends and cherished being around each other most of the time. The late Alan Rickman was one of the best examples since he played the role of Severus Snape, one of the most miserable characters in the entire story. He would hound Harry and Ron relentlessly and never gave them a respite no matter if they'd done something wrong or not. But by the end, it turned out that while he had his reasons for hating Harry, and they were petty to be quite honest, he was still something of a hero despite acting like a villain a lot of times. Plus, on set and behind the scenes it was revealed that Alan was actually rather fond of the kids and enjoyed his time spent with them on set. It's not hard to see that people really grew close during these movies and it was likely kind of hard to be intimate with anyone that a person had been around for so long. It was equally difficult for Emma and Rupert apparently, but somehow they got through it and the kiss believable enough, and short enough thankfully, that they could move on afterward. Despite how odd it sounds it is curious whether they managed to get it in one take or not. What it does sound like is that despite not wanting to do it, Rupert wasn't quite as vigorous as Emma was, though this could have been because she wanted to get it over and done with.