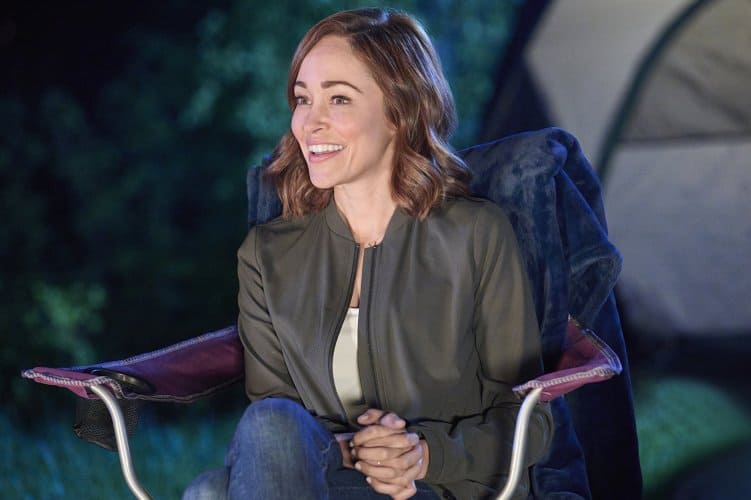 The Hallmark channel is known worldwide for its original movies. Especially their Christmas romance movies. Sometimes the film can be a bit cheesy and repeatedly follows the same storyline (a woman falls in love with a handsome man in a small town during the holidays). But they are still the best wholesome and family-oriented movies that everyone can enjoy, even if it's not during the holidays. Hallmark has not slowed down on releasing new movie projects. This year alone, they are scheduled to unleash close to 32 original movies. Hallmark announced their #Summer Nights part 2 schedule of films. The schedule includes a few upcoming originals we are excited about, most notably, 27-Hour Day.
The Plot We Know All Too Well
The upcoming movie promises to be one relatable roller coaster. The plot is nothing out of the ordinary, which we have come to expect from the Hallmark channel. According to Hallmark's page, the story focuses on a beautiful modern-day working woman who needs to take some time away from work. Lauren Garret is an entrepreneur who has not had a vacation in years. The reason is her dedication to her work. Lauren, creator, and owner of the wellness empire, 27-Hour Day, aims at making daily chores more manageable and more efficient through her brand.
However, Lauren realizes she is not on her A-game and goes on a mountain retreat far from the city. The vacation allows her to gain a work-life balance after things start going south at the office. She meets the handsome owner, Jack, who is more focused on his problems to notice or entertain a working city girl. Throughout the retreat, both Jack and Lauren end up spending a lot of time together. Maybe the romance between the two attractive singles while away from the city will completely change Lauren's life for the better. The only way to find out what happens between the two is to watch the movie as soon as it releases in August.
The Production Team
The 27-Hour Day movie could not be possible without the massive team of professionals behind most Hallmark's movies. This film, in particular, was directed by David Winning. David is an award-winning director, screenwriter, and producer who has been in the movie industry for decades. Some of the biggest films he has worked on in his directing career include; 1997's Turbo: A Power Rangers Movie Swamp Devil, 1999's Don't Look Behind You, 2014 Mutant World, and TV Shows like 1995's Sweet Valley High, 2017's Van Helsing, and 2007's Blood Ties. David did this all before he went all in directing some of the best Hallmark movies like Magic Stocking, Engaging Father Christmas, A December Bride, and Marrying Father Christmas.
When asked how he makes such successful movies, David admitted to CBC Calgary that the Hallmark movies are wholesome. He admits that his mother also gets to watch. That is, unlike other films directed by him. In addition, he stated that most people love the obvious storyline because they are comforting during dark times. Assisting David on the 27-Hour Day movie is Charles Cooper, the producer Linda Carolei, and Autumn Reeser, executive producers. The 27-Hour Day storyline is written by Ramma Diallo, who has worked on other Hallmark films like Christmas She Wrote, Christmas Comes Twice, Taking A Long Shot, and It Was Always You. From what we saw during the movie's trailer, it seems the cast and crew did a great job bringing the romantic story to life.
The Cast
Another reason you should catch this movie when it drops is the excellent cast featured in it. The film's star is Autumn Reeser as Lauren Garrett, a beautiful but overworked entrepreneur. The 41-year-old actress is a familiar face in the Hallmark scene. In recent years, she has starred in several projects for the channel, including the Christmas specials like A Bramble House Christmas in 2018, A Glenbrooke Christmas in 2020, and Christmas Under The Stars in 2019. She also had the lead role in some summer movies for Hallmark in 2019; All Summer Long, where she played Tia Larkin and Love On The Menu as Maggie.
Autumn has appeared in a total of ten Hallmark movies as of 2021. However, many of you might remember the star from her most significant role in a few seasons of The O.C. as Taylor Townsend and films like The Girl Next Door, Undercover, and Possessions. Autumn's co-star and love interest in the 27 Hour Day movie is none other than the handsome Canadian actor and producer Andrew W. Walker. The 40-year-old actor will play Jack West, one of the people we see on her retreat, which ends up catching her eye. Before his Hallmark days, Andrew starred in a few TV series, including Sabrina, The Teenage Witch, Maybe It's Me, Hot Properties, and films like Steel Toes, The Mountie, and God Bless The Broken Road.
Similar to Autumn, this isn't Andrew's first Hallmark project. He has been in 19 Hallmark films ever since 2012 in either a supporting or lead role. Some of his best movies being; A Dream of Christmas (2016), A Bride for Christmas (2012), My Secret Valentine (2018), Merry & Bright (2019), and Bottled With Love (2019), to name a few. In an interview with Digital Journal, Andrew spoke about the Hallmark original and his life. He told fans he is looking forward to the movie's debut in August. Andrew also revealed he had planned a giveaway to celebrate the movie's release.
The 27 Hour Day movie has other notable actors and actresses in supporting roles. They include Rhiannon Fish (Ayla West), Colleen Wheeler (Sally West), Karen Holmes (Diane), Tom Pickett (Roger), Geoff Gustafson (Mike), Derek Morrison (Dr. Paul), Kelly-Ruth Mercier (Tilly), and Lillian Doucet-Roche (Heather). To see these talented actors in action makes you not want to miss the movie. The 27 Hour Day movie is scheduled to release on August 7 on the Hallmark channel. Be sure to mark your calendars so you don't miss this heartwarming movie when it premieres.Christmas romance movies
Tell us what's wrong with this post? How could we improve it? :)
Let us improve this post!