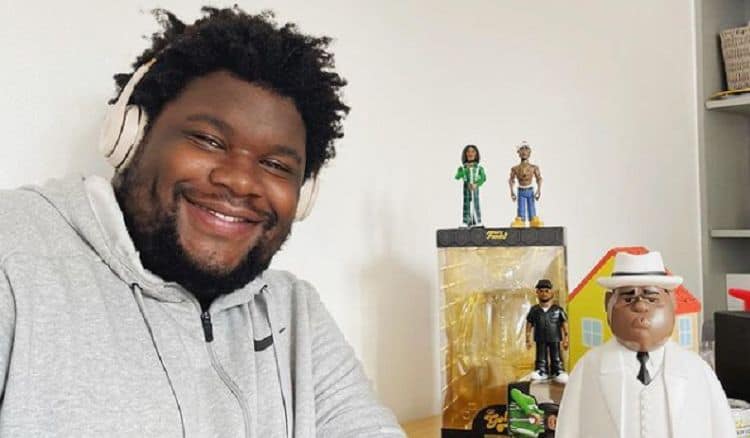 Originally from Battersea, London, Tuwaine Barrett's reach has officially extended far beyond the UK. The up-and-coming actor is still somewhat new to the entertainment industry, but he is already making his mark. His resume includes more than a dozen credits, and the last couple of years have been especially successful for him. Most recently, he played Cumberlidge in the TV series The Witch Finder, and the role has allowed him to share his talent with a very wide audience. Although he doesn't have any upcoming projects in the works at the moment, we know that we will be seeing a lot more from Tuwaine in the years to come. Keep reading to learn 10 things you didn't know about Tuwaine Barrett.
1. He Is Passionate about Human Rights
Lots of people in the spotlight refrain from sharing their opinions on certain issues because they don't want to alienate any of their fans. However, Tuwaine is someone who has no problem standing up for the things he believes in. He is a strong supporter of things like fighting racism and LGBTQ+ rights.
2. He Is a Formally Trained Actor
We weren't able to track down any details on what inspired Tuwaine to get into acting, but what we do know is that he has put a lot of time and effort into honing his skills. He began his acting studies at the BRIT School where he graduated in 2012. He then went on to receive a bachelor's degree in acting from Mountview Academy of Theatre Arts in 2017.
3. He Likes to Travel
Being a professional actor tends to come with lots of perks, and one of them is the opportunity to travel. Tuwaine is grateful for the traveling he's gotten to do so far in his career, and there's no doubt that he'll be doing even more as his career continues to grow.
4. He Has Done Voice Work
Tuwaine's live-action work is what most people are familiar with, but he's also a very talented voice actor. He has done a good amount of voice-over work, primarily in commercials for major brands such as Visa, Samsung, and Quickbooks. As of now, it doesn't look like he's voiced any animated characters. However, that may be something he decides to do in the future.
5. He Is All About Positivity
Life comes with lots of challenges, and this can make it difficult to see the bright side. However, no matter what Tuwaine has gone through, he has always done his best to see the bright side. He is the kind of person who understands the importance of being patient with himself and letting go of negativity.
6. He Has Theater Experience
The screen isn't the only place where Tuwaine's acting talents shine. He also has theater experience, and his skills are equally as impressive when he steps on the stage. Although theater will always have a special place in his heart, Tuwaine has been primarily focused on on-screen work recently.
7. He Is a Private Person
Many of us are used to knowing intimate personal details about actors' lives. However, Tuwaine doesn't get down like that. Since starting his career, he has been very selective about what he's chosen to share with the public. He likes to keep the focus on his acting instead of his personal life. Since it's no secret that things can go left when people share too much, it's easy to see why he's decided to stay low-key.
8. He Likes to Take Pictures
There's no denying the fact that Tuwaine is a star in front of the camera, but it looks like he knows how to shine behind it as well. His Instagram profile suggests that he enjoys taking pictures in his free time. While this may only be something he does for fun, he has a great eye for it.
9. He Has a Great Sense of Style
For lots of people, fashion is a great form of self-expression and that's something Tuwaine can relate to. He loves being able to share his personality through his clothing, and he's a natural when it comes to putting outfits together. Whether he's handing out with friends or headed to a formal event, Tuwaine always likes to look his best.
10. He Loves Connecting With People Via Twitter
Instagram is probably the most popular social media platform for people who like to stay in the loop with their favorite celebrities. However, Tuwaine spends a lot more time on Twitter. He loves engaging with his followers and he shares a variety of content.
Tell us what's wrong with this post? How could we improve it? :)
Let us improve this post!