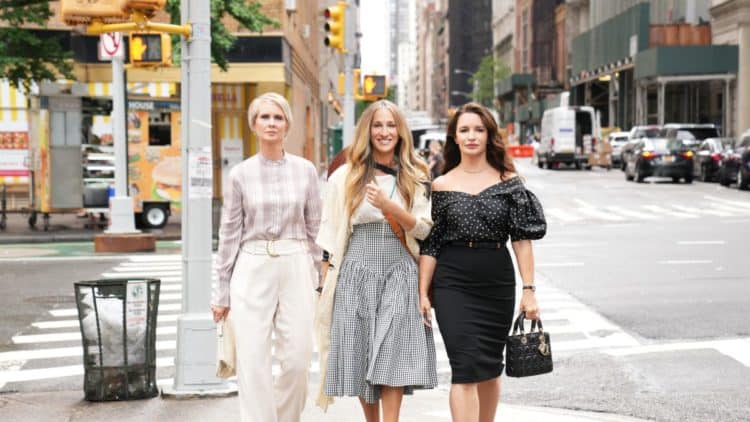 Before Carrie Bradshaw could teach the world about Manolo Blahniks, Candace Bushnell had to get a little lost. She had an enormous writing talent and the desire to be in a relationship but so far it just had not happened. Thankfully, she would write her way through it. Her column entitled "Sex and the City" first graced The New York Observer on Nov. 28, 1994. Her editor John Homans said that "If you knew Candace you thought, "This is her diary." Her columns would be turned into a book in 1996 that Darren Star would option. And just like that, the Sex and the City the series was born.
It's funny, because if we started the show now, well…first of all, I just don't think we would. I don't think anybody would be interested in this particular story now. When Candace was writing those columns, the city was completely different — politically, socially, economically. But there was a wonderful recklessness. I don't mean that I would choose to live that way, but it was a climate that allowed these four women to exist. – Sarah Jessica Parker
While a modern viewer will find flaws in Sex and the City, one cannot overlook its legacy. The show debuted on June 6, 1998, ran for six seasons, and won 7 Emmy awards. Carrie, Miranda, Samantha and Charlotte were breakers of the glass ceiling. The show was the first show to openly discuss and show woman in sexual situations. It paved the way for shows like Girls and Broad City. It taught the world about cosmopolitans, orgasms, and fashion. The legacy continues today with the new series And Just Like That.
When people start telling me I changed the way women dress, I go, "Really?" It's a very nice feeling, but it wasn't anything so self-conscious. I was born and bred in New York, so I think the whole SATC idea was kind of made-to-order for me because I'm as New York as could be and this is the most New York series. There was Dynasty, Dallas. And this was a TV series that showed the fashion, the glamour, the life of the women in New York. – Patrica Field Costume Designer Sex and the City
And Just Like That continues the fashion legacy Sex and the City started. Here are the seven best fashion moments of the new spin off.
The Manolo Blahnik "Wedding Shoes"
In the pilot episode, Carrie gives us a fashion throw back in the form of Manolos. She wears her blue satin Manolo Blahnik Hangisi pumps to Lily's piano recital. Fans of Sex and the City will remember these are the shoes she wore to marry Big in the movie. Carrie affectionately calls them her wedding shoes. Manolo Blahnik shoes are also Carrie's signature footwear.
The Versace Mille Feuille Dress
Episode 8 gives us another throw back Carrie fashion moment with the Versace Mille Feuille Dress. As Carrie attempts to purge her closet and decide what to keep it makes its appearance. This poor 80,000 dollar dress has not had the life it deserved. In the final season of Sex and the City, Carrie attempts to wear it for her first big night out in Paris with her boyfriend Aleksandr Petrovsky but he runs late and she falls asleep in it. In And Just Like That we learn it has been sitting in Carrie's closet since that fateful night except for one time when she put it on and ate an entire jar of Jiffy Puff. The end of the episode shows the dress getting another wear although just in Carrie's apartment. Audiences can hope that one day the dress will make its New York debut.
The Norma Kamali Diana Gown
In an effort not to get Carrie-d away with nostalgia, let's examine what some people are calling Carrie's new signature look: the Norma Kamali Diana Gown. Audiences got this impression when photos of the gown leaked before the show aired. Many thought it was reminiscent of the opening credit sequence "naked" dress. Although this dress does not feature as prominently as people speculated it does give us a more mature sophisticated look. Carrie pairs it with a vintage Max Mara blazer to go on her first date since the death of Mr. Big. Her editor suggests she go on this date in an effort to lighten up her book and give her readers hope.
The Oscar de la Renta Dresses
Many mothers like to wear matching dress with their daughter's before they are too cool for school. Most mothers don't make sure the matching dress are designer but Charlotte York sure does. She buys her daughter Lily and gender fluid child Rose (Rock) matching Oscar de la Renta dresses and herself a Lela Rose dress for Lily's piano recital. Rose (Rock) is a bit more hesitant about the whole dress matching thing but agrees once allowed to wear a Harry Potter beanie and tuxedo t-shirt over the dress. Oscar de la Renta would roll over in his grave but family bliss is maintained.
The Burberry dog poop bag dispenser
In true Charlotte fashion one can be a great mother and run a household and make it fashion. She walks her bulldog Richard Burton dressed in a Balenciaga blue polka-dot skirt and a white puff-sleeved Stella McCartney blouse. And let's not forget her accessories. As any responsible pet owner would, she carries a dog poop bag dispenser attached to the leash. But as this is Charlotte, it is a designer one, Burberry, and costs around $480.
The Dries Van Noten Statement Midi
Miranda must be included in this round as well. She would demand it. Audiences will be happy to see she is embracing bold colors in her fashion at this stage of life and not some of the frumpy clothes she wore in Sex and the City. She is seen walking around the city with Carrie in a belted, bold neon colored, statement midi dress by Dries Van Noten.
The LTW Raglan Dress
This series introduces us to new characters such as Lisa Todd Wexley played by Nicole Ari Parker. Lisa and Charlotte becomes acquianted because their children attend the same school. Along with their husbands, a new friendship is forged. Lisa sports a Rianna + Nina vintage raglan dress in carnival print when having Charlotte and Harry over for dinner. Lisa is not afraid of accessorizing. In fact, she rocks them. Her signature accessories are bold and chunky in size. They include a a Patricia von Musulin ebony and amber necklace, Mark Davis Jewelry bangles, a Monies black oversize bracelet, Emefa jewelry ring and We Dream in Colour swan earrings.
Tell us what's wrong with this post? How could we improve it? :)
Let us improve this post!