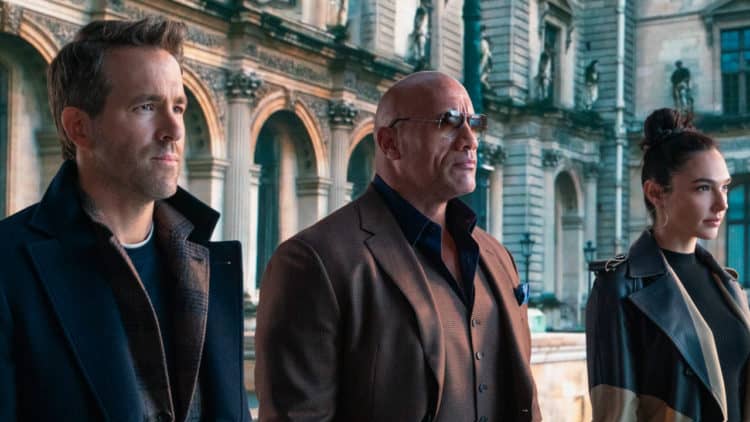 This week on Netflix, Red Notice, featuring Dwayne Johnson, Gal Gadot, and Ryan Reynolds will finally make its way onto the streaming platform and this list takes a look back at the best movies involving the A-list cast. The only type of movies that are excluded from this list are animated features, so don't expect films like Moana, Turbo, and Ralph Breaks The Internet. Let's instantly get started with the best movies involving the cast of Red Notice.
The Rundown
Before the crappy kids movies and his status as an A-list action star, The Rundown is one of the most underrated movies in the Dwayne Johnson's filmography. Sean William Scott, Rosario Dawson, and Christopher Walken round out a top-notch cast; The film follows Beck (Dwayne Johnson), a bounty hunter – who has dreams of opening up a restaurant in the future – whose sent to the Amazon to track down Walker's son, Travis. Everything goes smooth until they cross paths with a tyrannical treasure hunter, and Beck and Travis must band together in order to get out of the Amazon alive. While The Rundown isn't the most original film you'll see, it's packed with a nice blend of action, comedy, and heart, with some solid character development as well. The Rundown may not be Johnson's greatest movie, but it's surely one of his best.
Fast Five
Before Wonder Woman and Black Adam joined forces in the upcoming Red Notice movie, both were prominent features in the later versions of the Fast franchise. Here, Johnson is introduced as Hobbs, a federal agent who's on the hunt for ex-cop Brian O'Conner, Mia and Dom Toretto. The gang end up in Rio de Janeiro, where Dom and his crew take part in one final job in order to gain their freedom for good. In addition to Agent Hobbs trying to hunt down the elite team of racers, a corrupt businessman is on the trail to make sure that Dom and his buddies end up dead. Fast Five was the first film in the franchise to truly embrace it's brainless, over-the-top insanity to great effect. Strong action, fun characters, and some corny dialogue (which is the norm for the Fast franchise) makes this one of the better entries in the Fast saga.
Buried
During a time when Ryan Reynolds was trying to find his voice as actor, Buried proven that the Canadian was more than just your typical Hollywood pretty boy. Buried centers around civilian truck driver Paul Conroy, who happens to fall victim to a band of insurgents. A short time later, Conroy wakes up in a coffin dazed and confused, with only a lighter and cell phone by his side. As the truck driver's oxygen supply dwindles with each passing second, he must fight with every last breath as he awaits for a rescue team. This claustrophobic and tight thriller takes advantage of it's limited location that results in a compelling story about a man who's fighting for survival. Despite being known for his work as Deadpool these days, Buried is arguably Reynolds' best movie in his filmography and is a must see for any genre fan.
Wonder Woman
The first live-action DC female superhero feature proved just how great female heroes can be when given a chance to prove themselves. Wonder Woman is the origin story of Diana, who meets an American pilot trying to stop a huge conflict that's greatly affected the outside world. Diana leaves her native home to stop the threat, and fights alongside a group of notable men; It's during this time that she finally discovers the full meaning of her powers. The fish out of water story is nothing new; however, Wonder Woman's approach to the material makes for an entertaining action thrill ride. Gal Gadot is simply perfect as Diana/Wonder Woman, and her chemistry with Chris Pine's Steve Trevor is easily one of the highlights of the DC film. Wonder Woman manages to be funny, exciting, and action-packed all at the same time.
Deadpool
After the misfire known as X-Men Origins: Wolverine, Reynolds was given one more shot to play the "merc with the mouth" and the actor passes the test with flying colors. Deadpool follows Wade Wilson, a mercenary who's a borderline psychopath. Wade's world changes when he's diagnosed with cancer and seeks out a cure from an evil scientist, who has other sinister intentions in mind. A disfigured Wilson is transformed into Deadpool, a mutant who's powers heal instantly, and with the help of Colossus and Negasonic Teenage Warhead, Wade seeks revenge against the man that nearly destroyed his life. Like The Rundown, Deadpool won't win any awards for originality; however, the 2016 pic revitalizes the genre thanks to its spin on the superhero drama that features blood, sex, and violence in an hilarious and entertaining matter. Reynolds fits the role of Deadpool like a glove and his supporting cast helps round out this entertaining anti-hero picture to great effect.
Tell us what's wrong with this post? How could we improve it? :)
Let us improve this post!