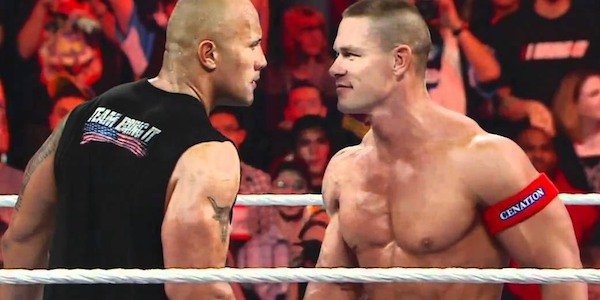 John Cena and Dwayne Johnson need no introduction. They are among the most popular and best wrestlers in the world. For so many years, they have entertained audiences with their great physic and marvelous wrestling techniques. This time, John Cena is ready to fight against Dwayne Johnson in a DCEU film. The Suicide Squad star claims that he is set to battle Dwayne 'The Rock' Johnson. This is not in the ring but a CD Extended Universal movie.
John Cena's latest interview reveals everything
In an interview with ComicBook, John Cena said that he believes that a DCEU confrontation between his Peacemaker and Dwayne Johnson's Black Adam will be inevitable. He accepts the fact that his role is not standing a chance against Black Adam but it will be something that could leave an everlasting impression on his fans and the world's audiences. The most important thing about this character is that John Cena is fighting against his co-worker onscreen down the line. You may check his full response below.
"You know me. Ready, willing, and able. And answering the phone whenever it rings. I'm good. I think that the excitement is starting to build with fans, whether you talk about the conversation of Fast, or you talk about now the DC Universe. I don't want to say we're on a crash course and it's inevitable. I want to because I'm a fan. But we'll see. We'll see what happens. Tell me what he says."
Who is the director of this movie?
The writer and director of the movie is James Gunn. On August 6, 2021, he will be bringing forth a whole new, different, and unique collection of misfits to the DCEU with The Suicide Squad. This project will consist of John Cena's "douchey Captain America," Peacemaker, in a thematic reboot and sequel to the 2016 counterpart. In case you don't know, let me tell you that the peacemaker is not worried or concerned about the total number of men, women, and kids. He is ready to kill everyone he encounters for the sake of justice, the American way, and peace. This has been seen in numerous advertising materials. At this point, I'd like to say one thing. I am not sure if it makes sense to anyone or not but killing men for the sake of justice and peace is okay. However, taking the lives of children and women for the sake of justice or the American way is out of context. Anyways, John Cena can be found wearing his outfit everywhere.
James Gunn is going to direct a Peacemaker spinoff/prequel series that is said to be airing on HBO Max in the first half of 2022. It means we now have only a few months to wait for the prequel of Peacemaker. I know many of you will find it difficult to wait for it, but we still have to manage. It should be noticed that James Gunn is not much familiar with the role of The Suicide Squad within the DCEU. However, it looks like Warner Bros. is working on Peacemaker as part of the broad and uneven DCEU.
Black Adam and Peacemaker
Dwayne Johnson was working on Black Adam some time ago. On the other hand, John Cena got Peacemaker completed. In F9: The Fast and Furious Saga, he is playing the role of Dominic Toretto's (Vin Diesel) long-lost brother. This is the franchise the famous wrestler has helped revitalize and has abandoned. He was previously connected to the character of Teth-Adam/Black Adam. If you watch DC movies and are familiar with all of its movies, you must have an idea that Black Adam is one of the best and most popular heroes of DC. He appears as an Egyptian slave and has been given unique capabilities or abilities by Shazam. Shazam is actually an ancient magician.
In the beginning, the character of Dwayne Johnson was to appear in Shazam. Now he will be present in the original movie, which is being worked on and will hit global cinemas in 2022. It is known to everyone that the careers of Dwayne Johnson and John Cena are colliding. You may get the chance to see it in the form of Black Adam and Peacemaker, both of which will clash and will stand face to face while fighting and giving tough times to one another. I am eager to see John Cena facing Dwayne Johnson outside the ring, in the form of a movie. I don't know about you but my expectations with this DCEU project are too high. This could definitely be the beginning of a new chapter for the production house. There is no information on the other films of John Cena, but Dwayne Johnson is interested in facing Henry Cavill's Superman, who will be more ruthless than John Cena's Peacemaker.