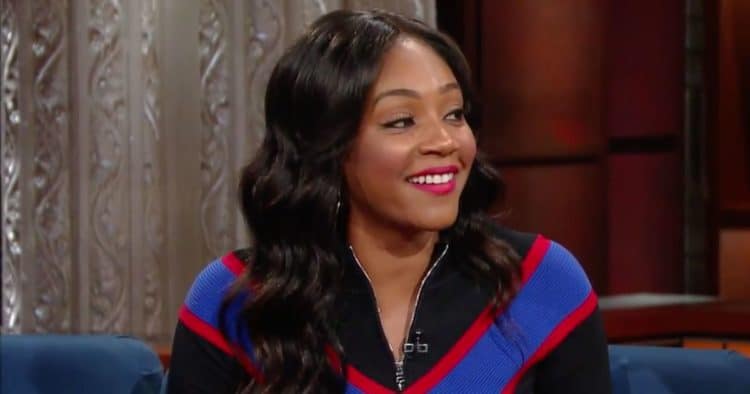 Born and raised in California, Tiffany Haddish had a difficult childhood. Her biological father, who's of Eritrean origin, left the family when Haddish was only three years old. When her mother remarried, Haddish got four half-siblings. In 1998, Haddish's stepfather tampered with the brakes of her mother's car, with the intention of killing the entire family to secure their life insurance policies. Lucky for Haddish and her siblings, they choose to be home on the day of their planned killing. Haddish's mother, Leola, on the other hand, survived the ordeal but became schizophrenic as a result of the accident. Her inability to take care of her children led to Haddish and her siblings being placed in foster care.
Haddish's desire to make people laugh was inspired by the 1988 film Who Framed Roger Rabbit? In a scene in the film, the detective asks, "Why are all these people doing these nice things for you, Roger?" To which Roger replies," Because I make 'em laugh, Eddie, if you make people laugh, they'll do anything for you." When Haddish got the formula, she was keen on using that and got other kids to do her homework, let her copy their test, and be her friend. This she revealed in an interview with Vlad TV. Haddish's interest in the arts was further piqued in high school, but it wasn't until she was in foster care that her funny bone got to the next level, since she used it to cope.
In 1997, at the age of 17, Haddish had one of two choices; to sit in a therapist's chair, or join the Laugh Factory Comedy Camp. Given that she was quite aware of her funny element, Laugh Factory was a no-brainer. On the road to stardom, she nurtured her craft, all while working other jobs to make ends meet. Things didn't take off too soon. It got so thick that she once became homeless. In fact, for a long time, there's been a long-running joke about Haddish's homeless days that involves Kevin Hart giving her $300. After gaining recognition on Bill Bellamy's Who's Got Jokes?, she landed roles on That's So Raven, My Name is Earl, If Loving You Is Wrong, and The Carmichael Show, to name a few. In 2017, Haddish finally got the role that changed her life.
Breakout Role: 'Girl's Trip'
For all the years Haddish had put in the business, 2017 proved to be the affirmation she had been waiting for. She appeared on the box office hit Girl's Trip, alongside Jada Pinkett Smith, Queen Latifah, and Regina Hall. In an interview with Entertainment Weekly, Haddish's castmates called her the 'fun captain', since she is very much like the character she plays in the movie. Jada in particular knows this firsthand because she and Will Smith had a Groupon experience courtesy of Haddish. "Jada was mad at first… but it turned out wonderful. Everybody behaved themselves because they didn't wanna get themselves kicked off a Groupon." Haddish said. Jada nodded in agreement and said she had a great time.
Upon the release of Girl's Trip, Haddish won the hearts of fans and gained herself a bigger audience. She was instantly shot out of a cannon. Her outstanding role in the film was well received. Benjamin Lee of The Guardian called Haddish the film's 'secret weapon'. " The actor is a comic hurricane of vulgarity, willing to throw her head first into any situation required, no matter how extreme. It's a full-on star-making role, reminiscent of Melissa McCarthy's Oscar-nominated turn in Bridesmaids or Zach Galifianakis in The Hangover, and one hopes that Hollywood realizes her potential, granting her similar number of opportunities." Lee wrote.
Starring In 'Haunted Mansion'
Just as Lee predicted, Haddish has since bagged one epic role after another and managed to guest host top shows such as The Ellen DeGeneres Show. As far as Ellen's replacements go, Haddish's name has surfaced multiple times. Most recently, it was let known that her next project may be with Disney. On a red carpet interview at Disney's Jungle Cruise premier, Haddish, while speaking with Extra's Rachel Lindsay, gave her fans a hint at what could be coming next. " I'm a huge Disney fan. I watch all Disney movies coming up. If you want, I could act out a few scenes from a few Disney movies…But just know I love me some Disney." Haddish said. Lindsay was swift in her suggestion that perhaps Disney was Haddish's next move, and Haddish was quick to confirm. "It is! I'm not here for nothing. Tiffany show's up everywhere she needs to be for a reason. I'm not a roach, I don't just pop up out of nowhere. When I show up, something is about to happen."
Late last month, we finally got the real hint at what was in the offing for Haddish. It was reported that Haddish was in talking stages with first-time director, Justin Simien, over Disney's 'Haunted Mansion' According to The Hollywood Reporter, the film's plot is around a family that moves into the titular mansion. Haddish will play the role of a psychic, who'll be communicating with the deceased, and will star alongside LaKeith Stanfield, who'll play a spiritual widower turned lifeless tour guide in New Orleans' French Quarter. The film's script will be developed by Kattie Dippold, and, should everything go as planned, it will be produced by Dan Lin and Jonathan Eirich.
It's safe to say that Haddish has come a long way from her days in foster care. Her journey into becoming booked and busy can be summarized through the short monologue she gave when she won a Grammy for her comedy album Black Mitzvah: " You know a black woman hasn't won in that category since 1986? Can I tell you why I'm crying? It's a lot of bumpy roads that you cross, right? And it's a lot of times that you feel like ' Am I doing the right thing? Is this good enough? Am I good enough? Am I strong enough to do this job?' And then you just have to believe in yourself as much as you can, and against all odds, you just say, 'You know what? I'mma just put my best foot forward, and I'm gonna give the world the best that I got', Anything is possible."
Tell us what's wrong with this post? How could we improve it? :)
Let us improve this post!