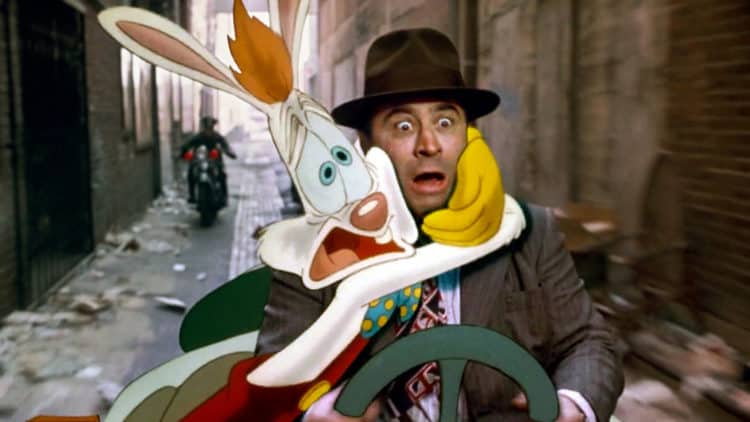 If you have Disney+, you have to revisit Who Framed Roger Rabbit? The very underrated classic from 1989 mixes old school animation with live-action and stars the late Bob Hoskins. Anyone ever wonder what it look like if cartoon characters interacted with actual humans? I mean, actually living with them in the same world and both parties were aware of it. So no, I'm talking way beyond something like Space Jam. Who Framed Roger Rabbit? takes place in a world where toons and humans coexist and even work together. It's all based on a book with a slightly different title called Who Censored Roger Rabbit? Unfortunately, I haven't checked out the book, but I love the movie, so it's something I'll look into in the future. But as for the movie itself, it's pretty rare that you see something so unique.
The setting of Who Framed Roger Rabbit? is in 1947 Los Angeles where toons are still theatrical attractions. They star in their own movies, shorts, and even in nightclubs. And right next to Los Angeles, the toons reside in a city of their own called Toontown. Bob Hoskins plays Eddie Valiant, a private detective who lost his sense of humor and holds a grudge for toons after his brother was killed by one. His case leads him to working with famous toon Roger Rabbit and trying to figure out who framed him for murder. It's a fun mystery tale mixed with comedy and the over-the-top cartoon silliness.
Now we've seen versions of this story before. Two people who are opposites must work together for both their sakes. And in the end, they solve the mystery and the two rivals become friends. Yeah, it's a familiar story, but Who Framed Roger Rabbit? tells it in the most unique way. A cartoon and a human working together? Yeah, Michael Jordan and Bugs Bunny, but they were never rivals. Bugs and the other toons loved him even before they met him. It was about the most famous basketball player ever playing basketball with cartoon characters. Hilarious concept, but not a relatable one.
The concept of Who Framed Roger Rabbit? was about a darker, gloomier world living with a more carefree and funnier one. Part of Eddie Valiant's journey was learning to move on from his brother's death and recovering from his alcoholism. I mean, heck, he even regained his sense of humor just by spending time with Roger Rabbit. A man who suffered from a tragedy was left bitter and humorless, but after he helped Roger, he basically learned how to be funny again. This helped him be a happier person and he even won back his girlfriend Dolores. Talk about a personal journey. Who would've thought that a guy can conquer his demons by hanging around toons? Well, Who Framed Roger Rabbit? is just that kind of movie and it's all kinds of hilarious.
No question about it, I think this classic deserves a remake. Now I'm not overly fond of remakes. However, I'm also not completely against them. If they're good, then it's another good movie. If it's bad, then we'll just forget about it. I do think there are some movies that shouldn't be remade, but I can make a case that Who Framed Roger Rabbit? is a movie that should get a remake.
For one, it's an older movie. It came out in 1988, so it's not too old, but old enough where I feel like not enough people remember it. There are older movies that people seem to remember better, rightfully so, but Who Framed Roger Rabbit? has stood the test of time. I think it's one of those underrated movies that doesn't get talked about enough, but people clearly still like it. That's good for the movie, but I do think there are elements to it that can be improved on.
Just think about what time period it was made in. For a movie that was made in the late 80's, it was technologically amazing, considering how it mixed animation and live-action together. Now just imagine what that would look like with improved and advanced 21st century technology. Okay, so the way the toons looked in Who Framed Roger Rabbit? were good enough, especially since it was supposed to be set in the late 40's. Heck, even when the toons interacted with Eddie, it looked real.
I'll I'm saying is, modern special effects technology can perfect those scenes, especially when Eddie fully interacts with Toontown. A remake can even take it up a notch and mess with Eddie's own body. If he's in Toontown, laws of physics and gravity don't matter. Treat him like a toon and use that modern technology to do some really creative stuff with Eddie. And why not make Judge Doom look seriously scary? When he revealed he was a toon and showed Eddie his red eyes, he was beyond petrified. Sure, the extremely high voice added some comedy to it, but why not make him look scarier? It'll only make him a better villain and it'll remind us that cartoons can still be scary.
Oh, and if we're talking about making things look better, how about making Jessica Rabbit look more beautiful? Okay, I'll admit, I loved Jessica Rabbit as a kid. Honestly, when she pops up on screen, it makes you wonder if Who Framed Roger Rabbit? is really for kids. Then again, she doesn't do anything inappropriate and she's not bad, she's just drawn that way. Oh yeah, she truly lives up to her iconic line. What I loved about Jessica Rabbit the most is that she plays the beautiful seductress perfectly.
Once she made her introduction and sang "Why Don't You Do Right?", she captivated the attention of literally everyone in the room. I mean, she even made Eddie Valiant, the macho main protagonist, drop his jaw and she basically manhandled him. Remember when she pulled him in close? Yipes, she's got to be the most mesmerizing character ever. That's precisely why I love her and that's why she deserves a second appearance. Now can she even be improved? Well, why not do the remake and find out?
Does anyone else want a remake of Who Framed Roger Rabbit? as much as I do? I love that movie and I'm usually not too crazy about remakes, but this movie deserves more recognition. If a remake gets people to appreciate the creativity behind it more, then I'll take one.