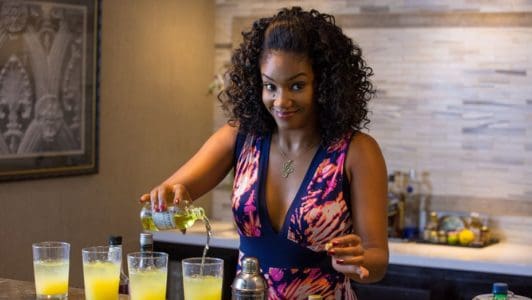 We're now at the beginning of the awards season in which Oscar-bait films will endlessly campaign all their way to Oscar gold. But, the Academy shouldn't overlook summer's hit comedy: Girls Trip. Particularly, I'm talking about the breakout performance of Tiffany Hadish for her role as Dina. Academy members, please don't forget her.
The Academy rarely gives nominations to comedic performances and the last time that they did it was a few years ago with Melissa McCarthy for Bridesmaids. But, she lost to Octavia Spencer for The Help. During that time, McCarthy doesn't have the breakthrough career that she has right now as she was also only known at that time for playing Sookie St. James on Gilmore Girls and Molly Flynn on Mike & Molly. Needless to say, Bridesmaids made her what she is today and earned her an Oscar nomination. This could happen to Haddish. Before Girls Trip, she is also known for her regular role of Nekeisha on The Carmichael Show. This movie has changed her career and she is now considered as one of the rising comedians in the industry just like what Bridesmaids did to McCarthy.
Girls Trip received positive reviews from critics (earning 90% on Rotten Tomatoes) and most of the praises went to Haddish's breakout performance. She is considered as the scene stealer of the movie. As someone who has already seen the film, I can say that it is true and a lot of people would also agree on it. The reason why Haddish's performance was well-received is because she was really hilarious and energetic. It reminds us of why McCarthy was also praised when Bridesmaids was released. Haddish was genuinely funny throughout the movie and most of the laughs will come from her character. It's like she is born to play the character and a lot of good things should happen later on her career if she will continue on doing it. It's worth pointing out that she is receiving the praises even though she co-stars with Regina Hall, Queen Latifah, and Jada Pinkett Smith. All attention goes to her and she deserves all the praises very well.
I hope the Academy will consider Haddish's performance on this movie as one of the Best Supporting Actress contenders. She really deserves it. If they can do it on McCarthy a few years ago, they should do it on Haddish as well. Most of us can agree that she gave the best comedic movie performance this year. The Academy and other film award-giving bodies should take note of that. According to GoldDerby, as of now, Laurie Metcalf (Lady Bird), Allison Janney (I, Tonya), and Holly Hunter (The Big Sick) are considered as the current Best Supporting Actress contenders. I think Haddish deserves to be on the company with them. The Academy, I will say this again: please don't overlook Haddish's performance on Girls Trip. Take note of her. Also, the movie should do a campaign since that is like the way now to get Oscar nominations. Haddish is their best way to get an Oscar nomination (and I'm pretty sure that the Golden Globes will not overlook them).
You can watch Girls Trip on digital now. You can own it on Blu-ray or DVD this coming October 17. Go watch it if you haven't seen it to see the reason why I think Haddish deserves an Oscar nomination.
Tell us what's wrong with this post? How could we improve it? :)
Let us improve this post!