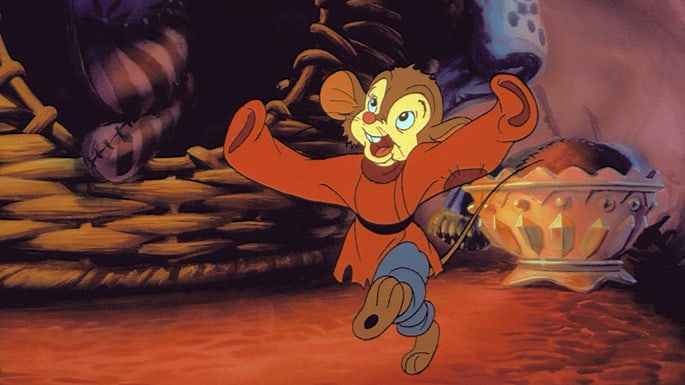 Disney has been known for bringing classic hits to children and families for many a decade now and the 80s seem to be when they really started ramping up on the fun. Some of their movies went unnoticed and others were hard to believe when it came to thinking that Disney had anything to do with them. But then there were some of the best that really touched the spirit and managed to entertain the audience in ways that they'd not experienced in a long time. It's funny what animation can do when it's wrapped around a classic tale and delivered to the public with song and loads of special effects that weren't available in the years before. Disney certainly found an idea and kept running with it until we have what is now a corporation that owns just half of everything you see in the movies.
Here are some of the best Disney movies from the 80s.
5. Tron
Tron was a breakthrough on an epic level because remember that computers were still not quite as popular as they became in the 90s. The idea of being sucked into a video game back then was something that was still a very revolutionary idea and confused a lot of folks that would have never thought such a thing could be possible on screen. You could easily argue that a lot of stories were building up to a moment like this but Tron really brought it home with the graphics and the tale of Flynn and Tron. It's just too bad that for all the effects and star power the sequel had it wasn't quite as loved.
4. Honey I Shrunk the Kids
The 80s were about trying new things to see if they worked and this movie was one of those attempts that swung and hit a home run in the first installment but then kind of fizzled when the next couple of movies came out. The idea was great and the execution was wonderful since it didn't so much make everything giant as it gave the impression that the affected actors were just really, really small. The props and the effects used in this movie were amazing since it took a lot of effort to create the belief that they were the size of insects, smaller even, and had to traverse the a distance that would normally take them seconds to cross.
3. An American Tail
People fell in love with Fievel and watched An American Tail over and over when it came out. In fact some people still manage to find copies and watch it continuously out of nostalgia since it was such a popular film when it premiered. The story is one of a young mouse and his family that seek to travel to America under the impression that there are no cats in America. Of course they find out that this is wrong and have to find a way to band together with other mice to make a life in this new country. Fievel is a big factor in making sure that the mice are liberated from the cruel cats that are trying to make their lives miserable and eventually reunites with his family after having been separated on the trip to America.
2. The Black Cauldron
The Black Cauldron feels like it didn't get a fair shake when it first came out. Unfortunately this could be that it was deemed a little too disturbing for a Disney movie, but then again considering the kind of subject matter that other Disney films showed and talked about that wasn't a valid excuse. It did indeed show an amazing amount of violence and did deal with a lot of dark material in the form of the main antagonist, but if you run down the list of messed-up things that have occurred in Disney movies since they started coming out you'll find that this film isn't really all that bad.
It's been decades now since this movie came out and it's still loved by children all over the world no matter how many people want to try and ruin it by pointing out inaccuracies, plot holes, and other things that would shatter the fantasy. Kids love a good love tale and they like colorful, engaging characters because they don't look at them according to race or any other sort of discriminatory designation. These characters are fun and the story is one that gets their attention, that's all that matters. So long as the magic of the tale isn't broken it becomes an enduring story that kids of all generations can love.
Disney films all have their failings, but pointing them out to anyone that doesn't want to hear about it isn't generally a good idea. Some people prefer to savor the magic.