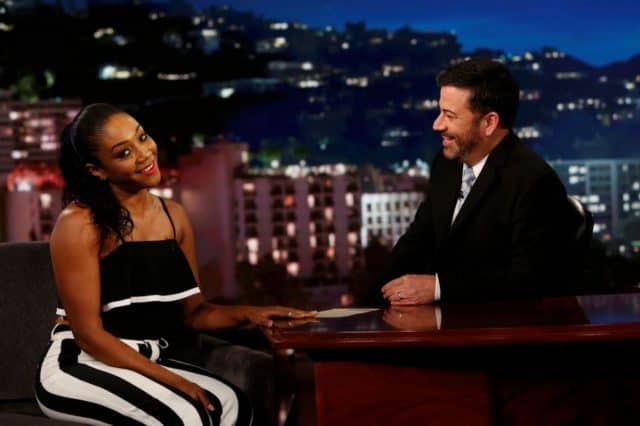 Actors are often associated with lavish, pampered lifestyles. However, many actors have achieved great success despite facing incredible hurdles. These tend to be the most inspirational stars, as they have overcome long odds to reach fame and fortune. One of the most inspirational actors working today is the highly talented Tiffany Haddish.
Haddish has appeared in numerous shows and films such as Keanu and Girls Trip. As she has started to earn a considerable fan base, many people want to know more about her background. Few people know how incredibly courageous and strong Haddish is and the circumstances she has overcome. For those who want to know more about this remarkable individual, here are five of the most interesting facts about Tiffany Haddish.
5. She couldn't read until high school
Haddish had a very difficult childhood which had several long-lasting effects. One of these was that she was unable to read well even when she entered high school. Her illiteracy was due to childhood difficulties, not issues with intelligence. After a teacher at her high school took an interest and helped her, she quickly caught up with her classmates.
4. She is a victim of sexual violence
While many actors have experienced difficult situations, few have overcome the challenges faced by Haddish. One of the most heartbreaking facts about her upbringing is that she was raped when she was only 17 years of age. According to Haddish, a police officer sexually assaulted her on the night of Haddish's homecoming dance. While no woman should ever have to suffer sexual violence, Haddish can now be an example of how strength and perseverance can overcome the most terrible of situations.
3. Her father was a refugee
Today, refugees are a controversial subject. Haddish, however, has a much more personal connection to the topic than most. Her father was a refugee from Eritrea. While he left when Haddish was only a few years old, she has several lasting connections to her Eritrean heritage. One of the most notable is her middle name. In her father's native language, her middle name, Sarac, means princess.
2. She lived in foster homes
Haddish's life changed forever when she was only 9 years of age when her mother was in a serious car accident. Her mother suffered brain damage and was unable to care for Haddish and her siblings. This left her essentially as a caregiver for her four siblings until they were split up and sent to foster homes.
1. Her misbehavior led to acting
Given the tough circumstances Haddish faced growing up, it is no surprise that she acted out in her early teen years. A social worker eventually gave her an ultimatum: go to therapy or go to comedy camp. Luckily, Haddish chose to go to the Laugh Factory Comedy Camp where she had the opportunity to work with people like Dane Cook and Richard Pryor. The positivity of these individuals was life-changing and was a major factor in Haddish's decision to become an actor.
Final thoughts
Tiffany Haddish has emerged as one of the most popular and talented actors working today. However, most fans do not realize how incredibly strong willed she is. Haddish has overcome a long list of difficult situations to achieve the success she enjoys today. After being placed in foster homes, falling behind classmates at school, and being sexually assaulted, Haddish has somehow managed to become an accomplished performer. She is one of the most inspirational figures in today's entertainment industry.