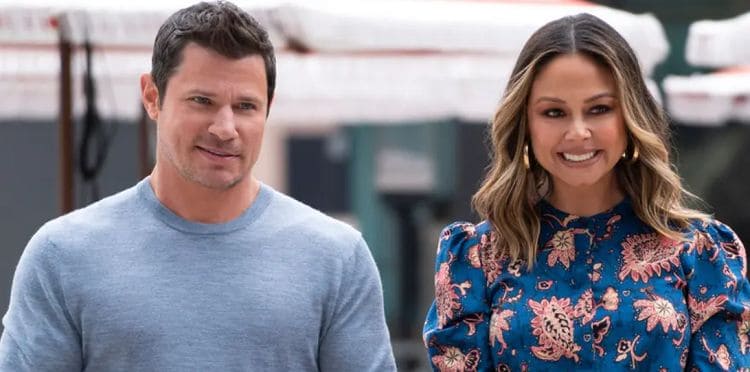 After three weeks of having a trial marriage with people they didn't come to The Ultimatum: Marry or Move On with, it's time for a changeover. Through the episodes, we've seen couples become single, realize they were meant to be as in the case of Alexis and Hunter, live with people they like, picture lives with each other, and do everything in between. The process has left some of them confused. Madlyn can imagine being married to Colby. She can also picture a future with Randall. April simply wants to have her happy ending. She's on the safe side since the best Colby got out of her was a kiss, but there's a strong chance that Jake, who's feeling his new woman Rae, may not share the same sentiments. Will living together change things for them?
Once again, the couples have joined Nick and Vanessa Lachey for a little heart-to-heart before they make a switch. Colby says April has taught him the art of listening. In his relationship with Madlyn, he wasn't so good at that. He also feels that, by spending time with him, April has become more of a woman. Madlyn doesn't seem to agree. Who the hell are you to say what it takes to become a woman?
Through the experience, Jake has savored every moment. He wouldn't take anything away. Zay does not see any traces of growth in Rae, but it's not his job to get in the way of her happiness. Shanique may have been closed at first, but she opened up towards the end of her stay with Zay. He would make a good husband, she voices. Both Randall and Madlyn felt heard during the time they were living together. He sees a future with her, and that sends shivers down Colby's spine. Shanique is somewhat feeling guilty that she brought this upon herself. Should Randall slip from her fingers, she carries all the blame.
It's Rae and Zay's first night as a couple. Of course, the question of Shanique's confession at girls' night out comes up. Zay sneakily dodges the questions and fails to let Rae know to what extent he'd gone physical with Shanique. Was there more than just cuddling? Over at Shanique and Randall's apartment, a lot of questions are expected to come up. Shanique is trying to have a discussion about doing better, but Randall is having none of it. She says she's happy to be back with him. Randall has his doubts. "Are you really happy?" he asks.
April and Jake's first night together is a nightmare. She'd been looking to spend time with him because she's sure she wants to be married to him. Jake doesn't seem to be in the same space. What's worse is that she snooped on his phone and saw he'd exchanged contacts with people he shouldn't have. The pair end up having a bitter verbal exchange. If she could kick him out of the apartment, she'd gladly do so. The fights do not simply end with April and Jake. Colby has also landed himself in trouble. At first, he woos Madlyn by presenting her with flowers. She's more than elated. The Randall conversation comes up, and Madlyn is honest about how she truly feels. The next time we catch up with the couple, Madlyn has gone through Colby's apple watch. She's livid. Colby has been talking to someone else, and he's told her he is in an open relationship.
April and Jake finally settle their differences. They have three more weeks to be together, it doesn't make sense to begin fighting this early. Can they try to foster a healthy relationship? Someone who's trying to do so is Shanique, who has prepared a hearty meal for Randall. She's been working hard on herself. Randall thinks she's doing okay, but he wouldn't want to marry her if she does not work more on her listening skills. To be able to move forward, there has to be some sort of clarity.
At the Madlyn-Colby apartment, things got way too heated, and Colby left. In comes Rae, who's being given all the tea. She sympathizes with Madlyn. She gives her a listening ear. Their gossip session is interrupted by Colby walking in. The girls try to keep it hush, but it's a matter of time before Rae leaves the couple alone. Colby appears to be tired. He's got a reasonable explanation for the texts Madlyn saw. He wasn't getting anything from April. Since Madlyn was playing house with Randall, he had to get some action of his own. He thinks she deserves more than him. She's upset that he's not there for her when she needs him the most. Maybe she does need a different person in her life.
Zay joins Rae's family for brunch. Once again, the question of Rae not feeling heard comes along. For the three weeks she stayed with Jake, Rae says they did not have a single disagreement. They are both calm people, unlike Zay who 'pushes all the time' and 'talks for a long time'. She feels the need to interject him in order to feel heard during an argument. Rae's mother does not think she and Zay can make a great married couple in the long run.
It's April's birthday. Besides the weather not being perfect, she's got a bone to chew with Jake. April introduces herself as a 'pyscho bitch'. She went through Jake's phone and found some inappropriate videos of Rae. Jake thinks she's invaded his privacy. She, on the other hand, thinks that they did more than just kiss. Did they? No one really knows.
Madlyn still has her issues with Colby to sort out. She seeks counsel from her Board of Directors, also known as girlfriends. They think Randall is more genuine. Colby shows up unannounced, right into the lion's den. He's done his part and explained where he was coming from. If he were Madlyn, he'd have a lot of questions. He hasn't gotten any joy from the experience, but Madlyn is still to blame for his faults. Her friends think she's being brainwashed. It's like Madlyn has wasted her time. " You want this, but he's not the person you want it with," one of her friends says, bringing the episode to a close.
Tell us what's wrong with this post? How could we improve it? :)
Let us improve this post!