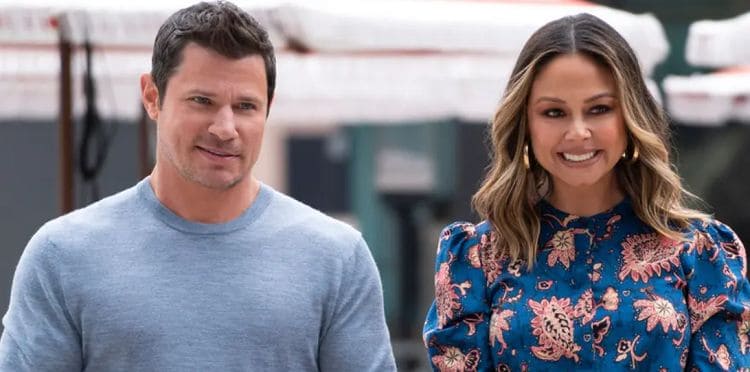 What happens when one half of a couple gives the other an ultimatum? Depending on where this couple lives, Nick and Vanessa Lachey may just be knocking on their door. Their pitch? A show dubbed The Ultimatum: Marry or Move On, where the said couple will take time to play house with someone different, and thereafter decide whether they should keep dating. By the time we get to the fourth episode, the couple, and others who have also had ultimatums given, will have lived together for a week.
Jake and Rae are making it look easy. When he came into the show, Jake was the most skeptical of the experiment, yet here he is, gelling well with Rae over lunch. Or is it breakfast? We really cannot tell. Either way, they have an amazing view. Over the meal, Rae and Jake are conversing about their experiences so far. She's somewhat feeling guilty and thinking about Zay. She does wonder what he's up to. Jake can tell she's holding back a bit.
Rae finally opens up about her and Zay's relationship. He's in the business of club promotions, and therefore heavily uses social media. She's got a problem with how he interacts with ladies on Instagram and the fact that he never posts her pictures. It's like Zay is single as far as social media is concerned. Fortunately for Rae, Jake understands what she's going through because April is the more popular one in the relationship. Sometimes he feels insignificant in comparison to her 50,000 Instagram followers. The conversation seems to have brought them a little closer, as they end brunch with a passionate kiss.
Madlyn and Randall are a wild bunch. At least that's how she feels. She knows she has some sort of high expectations of a partner, and so far Randall is complementing her in ways she didn't know were possible. Although she's in the moment, he does think of Shanique. He knows she's the bossy kind, so she's probably controlling the bedroom situation. Randall is absolutely right. For someone who's used to getting it on with Rae like rabbits, Zay's in a really tight spot. If this were Rae, he'd be attacking her at every juncture. But this is Shanique, and she maintains that he has to stay on top of the cover. It's a miracle he shares the same bed.
It's time to meet the parents. That's what people who live together do. Rae does not have a good track record as far as introducing men to her parents is concerned. Her dad, in particular, is very uptight. One of the guys she'd introduced him to on the racing track had practically lost it. She's hoping it won't be the same with Jake. It's her lucky day, For the first time, her dad has given her a nod. With Zay, he says, he was appalled by how much he sagged his pants. There's a clear purpose for belts that Zay obviously missed.
Randall and Madlyn have a sit-down with some of her friends. It's interesting to learn that one of Madlyn's friends has hooked up with Colby before. What's even more fascinating is that she does not mind going there with Randall, who she admits is a bit of an eye candy. Away from that subtle but shocking revelation, Madlyn's friends do approve of Randall. They feel 'hopeful', and admit that Randall is a lot more mature than Colby. Asked whether she's walking away with Colby or Randall, Madlyn finds herself sitting on the fence.
April and Colby, who have found themselves together by default, are having a good old platonic time. They've rarely clashed in the time they have been together, and it helps that she isn't worried about what her man is doing while living with Rae.
Zay and Shanique meet Shanique's family. Shanique's mom, in particular, is surprised that they are living together. Asked what she sees in their daughter, Zay says Shanique has made him a good person. Her mum shares the belief that she should know her worth and simply not settle for the sake of it. On why Zay was given an ultimatum, he unleashes an emotional side Shanique has never seen before. He grew up in an unstable home environment without his biological parents. Before he settles down and becomes a parent too, he needs to have some sort of financial stability. He's not made an effort to reconnect with his folks because they seem uninterested. After a somewhat heavy session, Shanique's family breaks the ice by asking whether he'd like Oxtail.
While Rae's dad had a lot of love for Jake, the same cannot be said for Jake's mom, who tends to be a die-hard member of Team April. When she heard Jake was going into the experiment, she was not happy. It's ironic that this is the happiest Jake has been in a long time. His mother insists that her son is easily swayed. She likes Rae, but she wants him to take the time and effort he and April have put into the relationship into consideration. April is more vocal, while Rae, she observes, keeps to herself a lot. She urges her son to keep an open mind. There are tons of people in the world like Rae.
It's been two weeks since the couples moved in together. So far, Madlyn and Randall seem to agree on everything, including children. She feels the physical urge to take things a notch higher, but he seems to be reluctant. The boys are going for a night out. This may get a little awkward since they're living with each other's girlfriends. It does get awkward, with Colby thinking he and Zay are the same, only for them to have an altercation. He calls Colby a liar and a cheat. Jake eventually tells Zay how Rae feels about the social media situation. Zay admits he is ready to marry her there and then.
Over at girls' night out, April cannot help but go on and on about Jake in the presence of Rae. Her man will be back in her arms in no time, she thinks. While she and Rae have a rather respectful approach, the same cannot be said for Madlyn and Shanique. Madlyn reveals that Randall gave her a kiss off camera, something that Shanique does not take too kindly. An obviously irritated Shanique brings the episode to a close when she asks the crew to get the microphones off her.