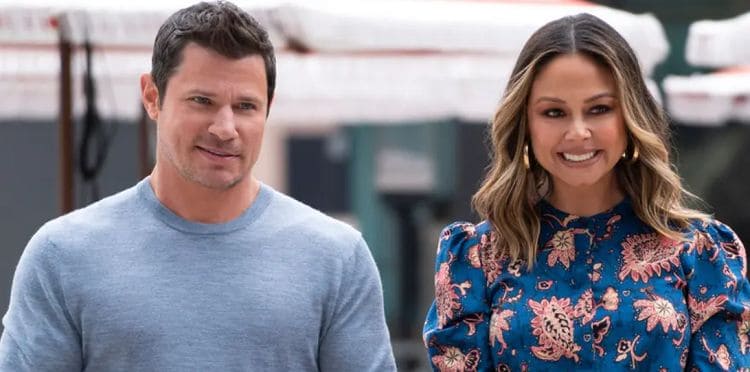 It's that time again! We can always trust Nick and Vanessa Lachey to bring us the best dating shows in town. Most recently, the pair hosted the second season of Love is Blind, a rollercoaster that ended with a fair amount of hatred towards Shake. We can all conclude that Deepti dodged a bullet. During his reign as reality television's villain, Shake alluded to the fact that love could be blurry, and that is precisely what Nick and Vanessa Lachey's new show is about. The Ultimatum: Marry Or Move On is the ultimate loyalty test. Of couples that have been together for a significant amount of time, one is ready for marriage while the other isn't. The show will give these couples the opportunity to 'be single' and mingle with each other, and in the end, they have to decide whether they will stay together or move on. From the outside looking in, this is a trainwreck waiting to happen, but that's what ultimatums are for, right?
Kicking us off are Alexis and Hunter, who have been dating for two years. When the pair first met, Hunter practically let her run the show. Alexis is now ready for marriage, but Hunter is not there yet. Hunter maintains that he knows the answer to the question about marriage, and he will give it by the end of the exercise.
Madlyn and Colby met when they were in college. They have been seeing each other for one and a half years. Colby was smitten from the first time he saw her. He admits he is scared of losing her in this process. Madlyn, on the other hand, has questions about monogamy. Is it possible to stay with one person for the rest of your life? She knows not the answer, and in her search for the truth, she isn't ready to jump into matrimony just yet.
24-year-old Shanique thinks Randall is the right guy for her. She'd give anything to be a mum and have a ring on her finger. Her boyfriend Randall has a different priority list, and marriage doesn't appear to be anywhere near it. Randall wants to be financially okay before he takes a woman to the altar. Going in, he's hoping to find a more economically conscious woman who's able to reason with him.
Nick and Vanessa Lachey welcome the couples and share their own journey, which included a short break. The mood in the room is tense, as the weight of the exercise they have signed up for begins to sink in. April is confident in her relationship with Jake. She wishes she could grab him and run away. Just like Randall, Jake is looking for financial stability before he can settle down.
Lauren and Nate are quite the odd pair amongst the couples because in their case, the ultimatum has been given by the man. While Nate is ready to start a family and be a unit, Lauren has her reservations about children. There's a thin line between sacrifice and compromise, and she's yet to make a choice.
Rae thinks of herself as the whole package. If Zay were to leave without her, she'd be devastated, but it would be his loss. She's not scared to start over. The couples have one last night to play house, after which they will be declared single.
The morning after shows up too soon, and there are discussions to be had. Tough ones at that. Randall is more than ready to date other people, while his girlfriend cannot help but cry. A lot can happen within a month. As a sign of goodbye, April treats Jake to a rather unusual back massage. She brings the full in full body massage. Alexis and Hunter are both nervous about seeing other people. Colby is here for the full experience, and so is Zay, who cannot wait to meet new people.
The couples have begun eyeing each other, and so far, there are some potential pairs. Randall and Madlyn are off to a great start. He's looking for a good listener he can have adventures with, while her ideal man talks less, unlike Colby.
Speaking of Colby, someone has been on his case, and it's April. Colby is exactly her type. His persona and everything about him says that's her man. Does he feel the same way? It would help to have a little chat to find out. With her, however, Colby does not feel any spark as he did with Madlyn. Alexis is next. It helps that she is in sales. She is extroverted, and that makes for a good conversationalist. She's of the opinion that marriage shouldn't just be a financial decision. Emotions have to help in the decision-making process. Contrary to that theory, however, Alexis reveals that she's with Hunter because of his money. If he wasn't making as much, she'd be gone. Almost instantly, Colby figures out that she's not the woman for him.
As the only lady without an ultimatum, Lauren has a discussion with Colby, a self-declared family man. She thinks parenting should be a two-way thing. She is worried that, should she have children with Nathan, she'd be left to take care of them on her own, given the nature of his job.75% of her is scared of the potential single parenting that lies ahead, while the remaining 25% is afraid of pregnancy.
Coming into the experiment, Jake has no intentions of getting serious. He does not fully want to gel with anyone but is in for a rude shock when he and Rae find out they have so much in common. They are both minimalists who share the same views on parenting. Rae somehow fits perfectly into his checklist, and he's begun to have second thoughts.
All the couples meet for a night of fun, only that this time, they are single and free to mingle. To break the ice, confessions have to be made, and a number of drinks have to be downed for people to open up. Anything goes, from sex positions to who fancies who. As the night progresses, so does the pressure. In between shots, ogles, and sips of wine, some hearts are disappointed before the games begin. Alexis is broken when she learns that Colby does not feel anything for her. Jake and Rae, who'd kicked it off from the beginning, are bonding even better than before. One person who isn't here for their chemistry is April. She brings the first episode to an end when she secures a seat at Jake and Rae's table.