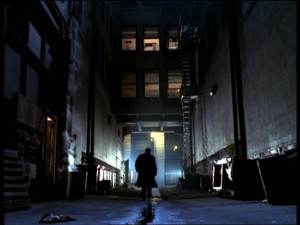 Remember the time when you sat down for the opening credits of your favorite TV show? The theme song and opening images of your favorite cast members play across your screen as you are transported into their world, whether it was a town that attracted the supernatural or the opulence of a family's dynasty, you were there front and center; ready for the ride to come.
But those days are long gone or are on their way out.
As a TV fanatic, opening credits were/are like icing on a cake. They hyped me up and gave me a rush to the system every week and I would cheer like an idiot when a new addition was added to the cast lineup. But now all we have a title screens that look like they could be the title intro to a DVD menu screen. Leaving nothing to the imagination whatsoever except a cold, dark empty void that I am growing to hate by the day as more shows are premiering with just a title card. I know the reason why the credits have been shortened, but come on!!!!
So in honor of the dying art that is the opening credits, I, The Anti-Critic, will give you my Top Ten Favorite Opening Credits Sequences of All Time.
These are a mixed bag so be prepared.
#10 – Family Matters
A childhood staple in my heart. Every Friday night growing up consisted of McDonald's and Family Matters and this theme resonated for years to come. No Friday nights went without Urkel ever. Well until the show was picked up by CBS, but still. Anyway, here's an oldie but goodie.
#9 – A Different World/Full House
One set the stage for my impending college career, the other masked the chaos that was happening in my own household filled with a gazillion family members. Even though A Different World had three different opening credits I prefer the last season's opening credits, which included the first and second generation students. It's a shame that A Different World is in DVD limbo after the first season had lackluster sales (what did they expect? The show didn't kick off till it's second season). As for Full House, I prefer any seasons, but I am going to go with one from the later seasons with all the cast members. Turning my channel to Teen Nick reminds me of the ABC TGIF Lineup and the glory days that entailed. But boy if we knew what half the cast had in store for them in the future… Anyway, here are their opening credits.
A Different World – Season Six
Full House – Season Six
#8 True Blood
True Blood is a great example of one of the few shows who can get creative with their opening credits and still have a lot of time to tell a decent story. Granted the show is on cable, but still. Great song, great imagery. You can't go wrong with this show! Anyway here is True Blood's opening credits.
#7 Dawson's Creek/Roswell
"I Don't Want To Wait…! For Our Lives To Be Over! I Want To Find Out What Will It Be!"
And a new generation of teen soaps was born. Dawson's Creek came at a time when I really needed it. Growing up with the Capeside gang (we graduated in 2001 together!) was a learning experience in love, sex, and a hefty vocabulary. I aced the English part of the ACT thanks to the vernacular of Dawson, Joey, Pacey, Jen, Andie, Jack and others. So here is their anthem that was removed in the DVD releases after the second season sets, which is still a travesty I am trying to get over.
Dawson's Creek – Season Two Credits
Another WB staple for awhile was the alien drama Roswell, which is kind of an early version of The Vampire Diaries for all you newbies out there. The show's use of Dido's "Here With Me" threw Dido's album, No Angel, into the mainstream and into our hearts on a weekly basis. Because of Dido's contribution to the show, Roswell and the theme song/credits will forever be "here with me."
Roswell – Season Two Credits
#6 Degrassi: The Next Generation
By having one of the biggest casts that I know of on TV, the opening credits always managed to fit all of their principles in less than a minute and make them interesting each time they decide to change the theme song or look of the credits. Degrassi is one of the few best teen dramas out there and its a shame that's not getting a lot of coverage than it already is. Anywho, here is the latest season nine opening.
Degrassi: The Next Generation – Season Nine
#5 Dynasty
When the day comes when I am rich and wealthy, my alarm clock will always awake me with the theme song from Dynasty. The opulent Carrington family of the Reagan Era 80's, how I miss you. Every time I see the opening credits of Dynasty and listen to its theme song, I get siddity as hell. The opening credits of Dynasty are also known to add people in their credits one week and take them out the next, based on that character's relevance to that particular episode. The longest version of the credits is the one I displayed below. It consists of the Dynasty cast and the cast of it's spin-off, The Colbys, that premiered during Season Six of Dynasty's run. Here it is for your viewing pleasure. Have a glass of champagne and caviar while you watch it.
Dynasty – Season Six Credits (with The Colbys Cast)
#4 Beverly Hills, 90210/Melrose Place
When the opening riff of Beverly Hills, 90210 comes on the TV, you know what's about to go down: "Good. Old-Fashioned. All-American. Fun!" (Thanks, Meg Griffin!) While watching the credits of the original 90210, I felt like I was about to hang out with my friends that I hadn't seen for a week. Granted I didn't watch it in it's original run religiously, catching an episode here or there in syndication. But it's damn near a national team anthem and my little eight yr. old cousin knows the song. In short, the credits and theme is memorable, iconic, and eternal. Which is the antagonistic opposite of the current 90210 credits, which are so horrible that I treat the sequence as a commercial and fast forward through it immediately when it comes on my screen.
Melrose Place. Another iconic theme that the new version has disregarded for a smash cut opening that will seem out of place when the show wraps up it's murder mystery. Melrose Place had a lot of casting changes so my favorite credit sequence has to be Season Three. All in all, I love these two credits and wish that the producers wouldn't butcher them (looks at 90210).
Beverly Hills, 90210 – Season Two Credits
Melrose Place – Season Three Credits
#3 The L Word
Yes, I watch The L Word. Shoot me. But the opening credits from Season Two onward are like one of my favorite opening credit sequences, because how it was shot and put together. I am still to this day trying to figure out the mechanics behind it. Plus, the theme music is catchy, but I think I am the only one who thinks so… Here goes the Season Four credits.
The L Word – Season Five Credits
#2 HEX
Oh. My. God. When I saw the actual opening credits to HEX and not the horrendously watered down BBC America version, I nearly fainted. I loved the imagery, the letter fonts, and the inclusion of a version of #1 Crush by Garbage that I had never heard of before… It just fit. Everything fit the show perfectly and it set the tone for the latest match in the battle of good versus evil. Almost sheer perfection. Here are the opening credits for Seasons One and Two, since the show was unfairly canceled after its second season.
HEX – Season One Credits
HEX – Season Two Credits (in French)
#1 Buffy the Vampire Slayer/Angel
The two shows that started my craze and love for opening credits. Buffy's theme is just as iconic as Beverly Hills, 90210 and M.A.S.H. and has been done over and over by different bands and what not. The opening credits got you hyped for some vamp/demon slayage and some Whedon-isms and you were rarely to never disappointed.
But I don't have any clips for you, because FOX regulated and pulled all of the opening credit sequences from YouTube or any other video site. But you guys should know the sequences by now and understand the awesomeness that came from them.
Well that's my list. What TV credits do you guys love