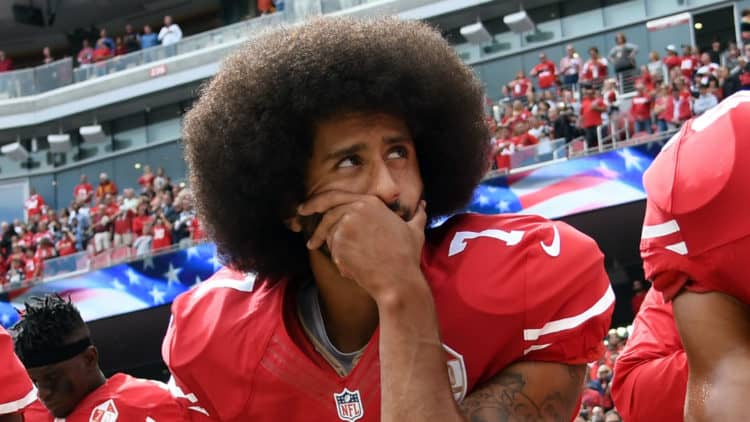 Every now and then as a writer your boss hands you a challenge that might come as a moment that will define whether or not you can be fair and unbiased or if there's nothing to say for it and trying to be unbiased about a character like Colin Kaepernick might be nearly impossible. But it's worth a go really since in the wake of his kneeling for the national anthem and the murder of George Floyd there might be a few reasons why a new series on Kaepernick, which is coming to Netflix, might be worth a look. There are some definite pros and cons of this series, though depending on who you talk to (Seahawks fans believe me I'm looking at and standing with you) Kaepernick is either a woke and knowledgeable individual or a player who saw his career going down the tube and figured now was a good time to speak up and care about the activism he's been preaching since. It's a cynical way to look at things no doubt, especially with all that's happening in the nation at the moment, but there are a few things to be said about his timing even if he is being genuine about his cause and what he's trying to say.
Here are just a few pros and cons concerning Kaepernick's new series.
Pro – Kaepernick is a passionate activist
No one wants to tread too heavily on this subject these days and it does sound as though he's been thinking about this since high school, which means that his decision to finally kneel down in solidarity for his own reasons, and those that he follows, are genuine enough. While it's true that he's angered a lot of people and folks were even burning his jersey when it happened, he's apparently stuck to his guns and decided to take the feelings of resentment that have been thrown his way. One thing you can say about him though is that he's sticking to his word and not backing down.
Con – His timing was extremely suspicious
It's already been stated that he's an activist and that he does really care, but the moment he finally picked to speak up and speak out about this was kind of hard to miss. He'd already been an outstanding quarterback, as any team could attest to when he got his legs moving and turned into a dangerous double-threat on the field. But after a few years his star was dimming and he'd been benched, which made a sudden grab for attention look pretty desperate. Even if his activism is real, which few if any people are questioning at this point, Kaep's decision to make himself heard once his career was headed down the tubes was poor timing on his part since it made him look less like an activist than an attention-seeker.
Pro – Get to know Kaepernick a little better as a person, instead of just as a player.
As the six-part series goes through what he experienced as a young man it's a big hope that people will disconnect his persona from the field and see that he's more than just a set of pads, or a quarterback, and is in fact a person that feels rather deeply about the cause he's taken up as his own. If nothing else it's bound to get people thinking just a bit differently about Kaepernick, hopefully with the result that there'll be less hatred and more comprehension of what he's trying to do.
Con – To a lot of people this might feel like another attention grab.
There's no denying that Kaepernick has been trying to make his way back into the good graces of the NFL and has been bolstered by the rumors that he's being blacklisted. While rumors abound that he wasn't really offered a contract by the Denver Broncos and that he absolutely had to switch a practice venue at the last second because the NFL was being less than reasonable, the idea is that both sides might have been playing a few too many games. Of course at this point one would think that if a person really wanted to go back to work they'd be doing almost anything they could.
Pro – Perhaps the series will drum up enough support for him to finally be reinstated within the NFL.
That's a hope of many obviously, and whether the documentary is well-received or not it does feel that Kaepernick is moving closer and closer to a contract, though perhaps the added publicity and positive nature of this documentary will tip the scales just a bit and get him back to where he wants to be.
Con – Kaepernick's case sets an uneasy precedent
In a way what he's been through says that so long as a person is willing to stand up for what they believe in, it's all well and good. But if they can find a way to work it to their advantage then it's full-steam ahead with your hand out looking to get as much as you can before shaming a league into taking you back. Realistically this is how a lot of people, not just Seahawks fans, are looking at this case.
See? It's possible to be a fan of a rival team and be fair about it.