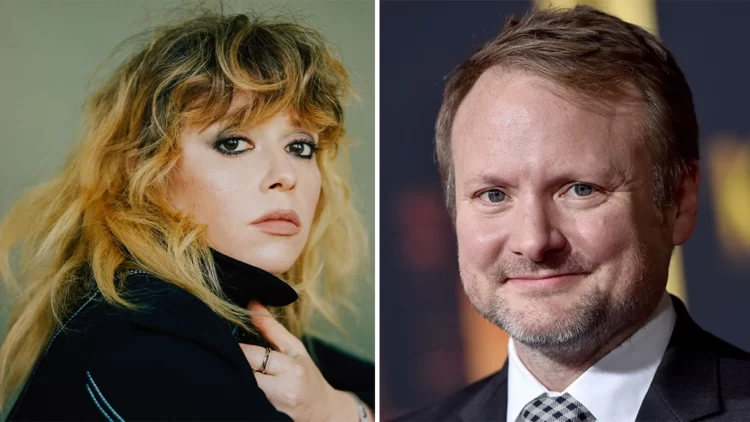 Peacock is scheduled to drop a new TV series this year. Titled Poker Face, the show is created by showbiz veteran Rian Johnson, who previously worked on Star Wars: The Last Jedi and Academy Award-nominated Knives Out. According to Variety, showrunners remain secretive about what the series is actually about, with the outlet reporting: "Further details around the plot and the characters are being kept under wraps." What we do know is that the show is going to be a "case-of-the-week" mystery drama and that it has successfully recruited some of the most bankable stars in Hollywood today. If you want to learn more about the actors expected to appear in this series, read ahead. Here are the cast members of the upcoming TV series Poker Face.
Natasha Lyonne
Natasha Lyonne has been announced to star in the upcoming TV series Poker Face. Lyonne is an American actress, known for her work in the productions of Orange is the New Black, Russian Doll, and Ballmastrz: 9009. Lyonne was born in New York City in 1979, and began her career as a young actor. She appeared in several films throughout the 1990s, including Slums of Beverly Hills and Everyone Says I Love You. In 1999, she starred in the cult classic American Pie and went on to reprise her role in two sequels. Lyonne also appeared in the hit TV series Ten Year Old Tom. Lyonne is also a director and screenwriter.
Joseph Gordon-Levitt
Joseph Gordon-Levitt has also been tapped to star in the upcoming TV series Poker Face. Gordon-Levitt is an American actor, director, screenwriter, and producer. He is best known for his starring role in the 2009 film (500) Days of Summer. Gordon-Levitt began his acting career as a child actor on the television show 3rd Rock from the Sun. He has also appeared in films such as 10 Things I Hate About You, Brick, The Dark Knight Rises, Looper, Inception, and Premium Rush. He made his directorial debut with the film Sparks and wrote and starred in the 2014 film The Walk. Gordon-Levitt is married to actress Tasha McCauley and they have one son together.
Stephanie Hsu
Stephanie Hsu has been announced as one of the cast members of the upcoming TV series Poker Face. Hsu is an actor known for her work on stage and in television. She was born in Torrance, California, and is of Taiwanese descent. Hsu began her career as a child actor, appearing in regional theater productions. Since then, she has appeared in a number of shows, including The Marvelous Mrs. Maisel. Hsu has also had guest and recurring roles on television shows such as Unbreakable Kimmy Schmidt and The Path. She most recently appeared in the hit movie Everything Everywhere All at Once and is expected to join the cast of American Born Chinese.
David Castaneda
David Castaneda will be joining the cast of the series Poker Face. Castaneda is an actor known for his work on the Netflix original series The Umbrella Academy. He was born in Los Angeles, California, and began his acting career with a role on the television show Lie To Me. He has since appeared in a number of films and television shows, including Jane the Virgin, Blindspot, and Going Dark. In addition to his work on The Umbrella Academy, he is also set to appear in the upcoming film Standing Up, Falling Down. Throughout his career, David Castaneda has demonstrated his versatility as an actor, and he is sure to continue to impress audiences in the years to come.
Benjamin Bratt
Benjamin Bratt will be playing a lead role in the series Poker Face. Bratt is an actor who has appeared in a number of popular films and television shows. He first came to prominence with his role in the film Miss Congeniality and has since gone on to star in hits like Modern Family and Private Practice. Bratt is known for his versatility as an actor and has demonstrated his range by playing both comedic and dramatic roles. He has also produced several works in collaboration with his brother. In addition to his work in entertainment, Bratt is also involved in philanthropy and activism, particularly around issues of social justice. Bratt's commitment to social change helps to make him one of Hollywood's most respected actors.
Adrien Brody
Academy Award winner Adrien Brody will be portraying a lead character in the upcoming TV series Poker Face. Brody is an American actor who is known for his methodical and subdued approach to acting. This was particularly evident in his breakout role in The Pianist, for which he won an Academy Award. Brody's acting style is often praised for its realism and ability to evoke strong emotions in viewers. In contrast to many other actors, who often rely on extensive dialogue and grandiose gestures, Brody relies on subtlety and restraint. This allows him to create complex and believable characters that are easy for audiences to connect with. It is clear that Brody puts a great deal of thought into his craft, and this attention to detail makes him one of the most respected actors working today. More recently, Brody has appeared in projects like Fantastic Mr. Fox, The Grand Budapest Hotel, and The French Dispatch.
Danielle Macdonald
Danielle Macdonald will be starring in the Peacock TV series Poker Face. Macdonald is an Australian actress who is best known for her role in the 2018 film Dumplin'. Born in Sydney in 1992, Macdonald first gained attention with her lead role in the indie film Patti Cake$, for which she won accolades. She has also starred in Bird Box and Skin. Macdonald's breakout role came in Dumplin', a comedy-drama about a plus-size teenage girl who enters a beauty pageant in defiance of her former beauty queen mother. The film, which also stars Jennifer Aniston, was a critical and commercial success, with Macdonald receiving praise for her performance. Macdonald is active on Instagram, where she has about 120,000 followers.
Other actors
Other cast members expected to grace the screens of Poker Face include Dascha Polanco, Lil Rel Howery, Ellen Barkin, Chloë Sevigny, Jameela Jamil, Tim Meadows, Nicholas Cirillo, Audrey Corsa, Niall Cunningham, Simon Helberg, S. Epatha Merkerson, and Judith Light.