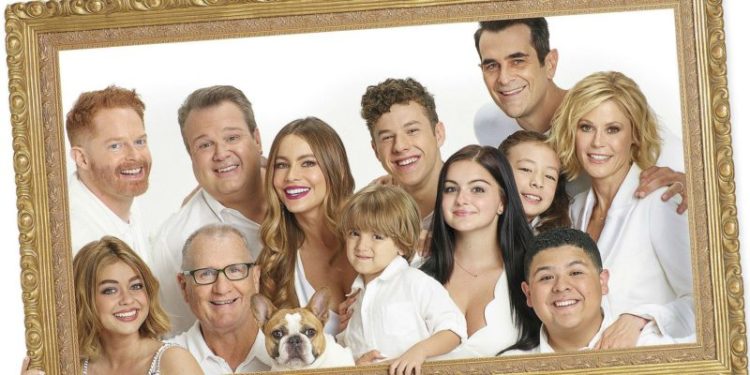 In 2009, we were introduced to Jay Pritchett (Ed O'Neill) and his large, Modern Family. Through the seasons, we watched the children grow and come to their own, saw the family through fake breakups (Hello, Cam!), child birth, drunken arrests, sometimes crazy in-laws, and when we thought we were done, age showed itself. By the time the show had come to an end, we had the honor of watching the Pritchetts and Dunphys come full circle. Here's how:
Phil And Claire Became Proud Empty Nesters
When we met the Dunphy household, it was through their action-packed lives. Phil ( Ty Burrell) and Claire ( Julie Bowen) were in every way trying to keep up with their unruly children. Hailey (Sarah Hyland) wore a skirt that was too short for her, and Phil and Claire couldn't agree on whether it was a good fit or not. Luke (Nolan Gould) had gotten his head stuck in the banister, again, and Alex ( Ariel Winter) seemed to be the Dunphy's most sane child. Claire was the supermom, running everything to sheer perfection, with the help of a schedule pinned on the wall. She had everything planned and managed to sneak in 'shoot Luke' as part of the to-do list.
Claire's goal as a parent was simple: " If Hailey never wakes up on a Florida beach half-naked, I've done my job." She was right about that part, except Hailey got arrested for assaulting an officer, maintained a very active love life that had its pitfalls, and eventually became a mom. Hailey also grew a lot more responsible, finding jobs that she loved and standing up for herself. We also watched Luke maintain a not-knowing persona, but at least he got himself in college. The Dunphys never had to worry about Alex, she basically raised herself.
By the time the sitcom was coming to an end, Phil and Claire were happy but equally scared at the thought of their children moving away. Alex's company had an opening in New York, and she said she was open to a transfer. Hailey had considered a move to Paris since she and Dylan (Reid Ewing) had always wanted to go there. Things were heavily changing. At the very end, Phil and Claire were still filling their schedules, except this time it was for themselves. No kids, just empty nesters living their lives, and leaving the light on the porch on, just in case any of the children wanted to come back home.
Lily Embraced The Idea Of A New Sibling
Over at the Mitchell ( Jesse Tyler Ferguson)-Cameron (Eric Stonestreet) household, we met the pair when they were on their way from Vietnam, fresh from adopting their bundle of joy, Lily ( Aubrey Anderson-Emmons). Ideally, they would have had one of their lesbian friends as a surrogate, but they figured that they were already mean enough and would be ten times worse if they were pregnant. On the plane, Mitch was in his feelings, giving fellow passengers a speech over cream puffs.
For a long time, Lily was Mitch and Cam's only child. We watched her become the arch-rival of Mitch and Cam's former best friend, Sal (Elizabeth Banks), and throw a couple of mean comments around. Sometimes Lily was nice, but that only lasted a while. It didn't help that she was popular at school. With her father, Cam, Lily was joined at the hip. He may have pampered her a little too much since he was the more nurturing kind. Whenever anyone tried to get close to her parents, Lily's guard was up. And when Cam and Mitch thought of bringing in a sibling, Lily had some strong feelings about that: " Kill new baby."
When the season of change came around, Cam, who'd been a househusband for the better part of every season, had secured a coaching job in Missouri. That he was passionate about sports was a no-brainer. He'd spent a lot of time living with Mitchell's side of the family, and it was time for Mitch to return the favor. When he made the announcement, Cam was worried that he'd ruined Christmas. Hailey didn't want her children to grow up without Cam. How else would they believe her stories? In the closing scene, we watched with nostalgia as Cam, Lily, Mitch and the family's latest addition were on a plane, on their way to Missouri. This was a reminder of the very first time we met Lily. She'd come around to having a sibling after all.
Age Finally Caught Up With Gloria
Upon meeting Gloria (Sofia Vergara) for the first time, her aggressiveness stood out. Gloria was a passionate mother, who couldn't help but cheer her son on at a game. She went as far as giving him tips on tackling his opponent. If Manny (Rico Rodriguez) wasn't up there playing his heart out (not that he was any good), Gloria would have played the game herself. By her side, an unenthusiastic Jay was watching the game. He couldn't so much as get up from his chair since age had caught up with him. That was always the bone of contention in the relationship between Gloria and Jay: the age gap.
Because of the huge difference between Gloria and Jay's age, Claire thought she was a gold digger. This led to a love-hate relationship between Gloria and Claire, who was in many ways Jay's favorite child. With time, however, Gloria proved that she wasn't in it for the money. She took care of Jay and even bore him a son, Joe Pritchett, who had a knack for stealing. "It makes my heart beat fast," Joe said.
By the time the show was wrapping up its eleven-season run, Manny was all grown and had his eyes set on The Royal Academy in London. Jay was considering a house in Palm Springs, where he'd spend more time with Gloria. The soccer games were back, this time with Joe in the picture. Unlike the first time, both Jay and Gloria could no longer easily get up from their seats. Age had caught up with her, too.