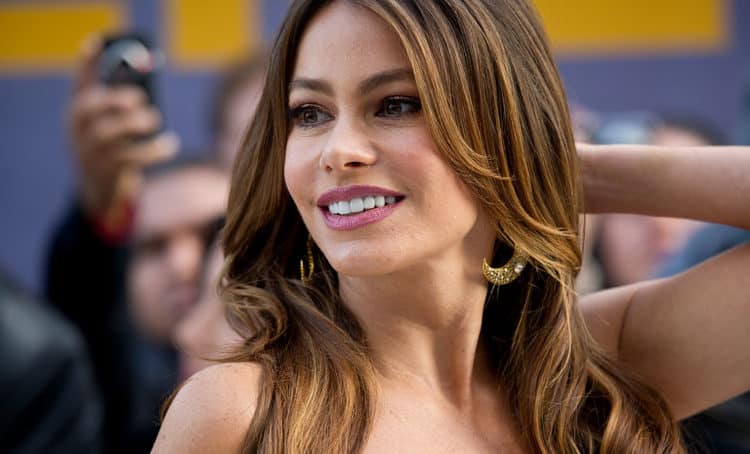 Sofia Vergara is a familiar face and a household name, thanks to her appearance as Gloria Pritchett on the hit show Modern Family. In another life, however, the actress, who has been voted as one of the sexiest female celebrities way too many times, would be a dentist. Thanks to a hawk-eyed talent scout who happened to spot her on a beach in Colombia, we have experienced the best of Vergara, including her most popular asset, her accent. Even though Sofia's accent has been the butt of many jokes, it's earned her millions, enough to stay on Forbes' list of the highest-paid television actresses for eight years. Here's how that happened:
Beginnings As A Model
Born and raised in Barranquilla, Colombia, Sofia Vergara was originally meant to be a dentist. According to Vergara, her father told her that, if she were to do anything artistic, she was going to look like a hooker. For three years, she was a student of dentistry at the University of Colombia and was set to pursue the profession, until the desire to take on modeling full-time cut that short. Vergara got into the modeling industry when a photographer spotted her by the beach. Right off the bat, she was overwhelmed with modeling and television offers. She was hesitant, but encouragement from her catholic schoolteachers allowed her to pursue the craft. As a model, Vergara worked with top brands such as Pepsi.
Early Appearances On Television
Vergara's career on television began on the Mexican telenovela Acapulco, cuerpo y alma ( Acapulco, Body and Soul), where she portrayed the role of Irasema. She would later co-host the shows Fuera de serie and A que no te atreves. In 1998, she relocated to the United States, choosing to live in Miami, Florida, after a catastrophic family incident. In tow was Vergara's son, Manola from a marriage that ended in 1993. Vergara said on her move, " I moved to the United States looking for a dream to get money to be able to give my son a great college, trips, healthcare." The following year, she made an appearance as herself on an episode of Baywatch. She later became the host of Club La Bamba, but was off the small screen for two years running afterward.
Transitioning To Hollywood
After her two-year hiatus, Vergara came back on television, this time with an intention to conquer Hollywood. Her first appearance was on an episode of the television show My Wife and Kids, in which she portrayed the role of Selma. In the episode, Selma, a Samba dance instructor, comes to the aid of Michael ( Damon Wayans) and Jay ( Tisha Campbell), when their instructor gets 'an emergency in Brazil.' Seeing as Selma looks extremely hot, Jay instantly wants to abort the dancing mission. Selma decides to dance with Michael first, while Jay looks on. The more they dance, the more Jay feels irritated, but it's karma at work since Jay's previous male instructor had gotten a bit touchy too.
Landing Roles On The Big Screen
The same year she appeared on My Wife and Kids, Vergara landed her first role on the big screen. She appeared on a deleted scene of Collateral Damage, in which she portrayed the role of an airplane hijacker. Sofia went on to play Nina, a Mexican housemaid who fell for Puggy ( Jason Lee), in the Barry Sonnenfeld-directed Big Trouble. Every year from then, until the time she landed the role that changed her life, that of Gloria on Modern Family, Vergara appeared in a number of films, including Soul Plane, Madea Goes to Jail, and Tyler Perry's Meet the Browns.
Television Roles Before 'Modern Family'
Following her appearance on My Wife and Kids, Vergara went on to appear on episodes of other shows, including Eve and Rodney. In 2005, she landed the main role of Lola Hernandez in the ABC series Hot Properties, which lasted a single season. Later, Vergara would bag other major roles on Amas de Casa Desesperadas and The Knights of Prosperity. A year before joining the Pritchetts on Modern Family, Vergara portrayed the role of the character Leonora on Fuego en la sangre, and appeared on episodes of Men in Trees.
Portraying The Role Of Gloria Pritchett
In 2009, Vergara landed a life-changing role, that of Gloria Delgado-Pritchett on the ABC hit show Modern Family. For 11 seasons, she was the on-screen wife of Jay Pritchett ( Ed O'Neill). In conversation with talk show host Ellen DeGeneres, Vergara said landing a role that was so perfect for her was a dream come true. " It's hard for me to find jobs with this accent that I have…you know, sometimes it bothers people. So, I mean it's a dream come true to have this job, to be with all these people, and to be with all these great, you know, comedians." Vergara said. Lucky for her, the character, Gloria was created with her in mind, and the writers had to do a lot of research on Colombia to get it right.
Topping Forbes' Highest-Paid Television Actresses List
In 2013, Sofia Vergara made a debut as the highest-paid actor on television, overall. Though Forbes estimated that she earned $175,000 per episode like her co-stars, the publication credited her $30 million earnings to be from endorsements. Representation of brands such as Pepsi and Cover Girl earned her $6 million more than the highest-paid actor then, Ashton Kutcher. Every year since then, inclusive of 2020, Vergara has been the highest-paid actress on television.
Life Post 'Modern Family'
In 2020, Modern Family completed its 11-season run on television. As is with Vergara, she moved on to her next gig, in which she does not have to portray any role. Since 2020, she has been a judge on America's Got Talent. If what we see on the screen is anything to go by, then Vergara is having the time of her life at America's Got Talent. When she and fellow judge Simon Cowell are not pulling pranks on each other, she is getting a surprise call from her former TV husband, Ed O'Neill. One thing about Vergara, she stays hard at work and is not stopping anytime soon.
Tell us what's wrong with this post? How could we improve it? :)
Let us improve this post!