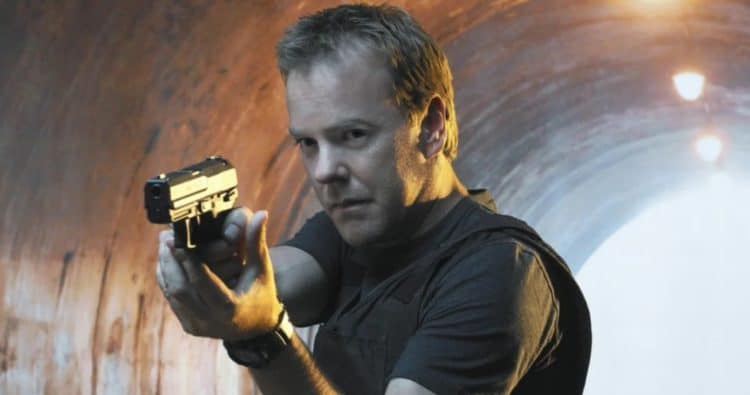 Kiefer Sutherland is arguably one of the most well-known actors of his generation. Even if you're not particularly a fan of his, there is a good chance that you've liked at least one thing you've seen him in. Over the course of his career, he has built a solid resume that now includes more than 100 credits. Although much of his recent work has been on the small screen, Kiefer has spent the bulk of his career in Hollywood. As a result, countless people all over the world have seen him in action. Surprisingly, however, Kiefer isn't the type of actor who likes to watch himself – and that goes for his TV and film roles. In fact, he has openly shared that he purposely avoids watching his own work and many people may be surprised by the reason behind it. Keep reading to find out why Kiefer Sutherland doesn't watch himself on screen.
Kiefer's Acting Journey
In order to understand why Kiefer doesn't like watching himself on screen, you must first understand his journey through the entertainment industry. In some ways, Kiefer's career started before he was even born. He is the son of two very successful actors, Donald Sutherland and Shirley Douglas. When Kiefer landed his first movie role in 1983, he was only about 16 years old. Early in his career, some people may have thought that he was only getting opportunities due to his famous parents, but he quickly proved that wasn't the case. Kiefer is a natural talent whose ability to light up the screen is undeniable.
He continued to work consistently throughout the 1980s, earning roles in movies like Stand By Me, The Lost Boys, and Young Guns. By the time the 1990s came around, Kiefer had already earned the respect of many people in the entertainment industry and his fan base was growing consistently. At the end of the 1990s, Kiefer had solidified himself as a Hollywood a-lister and he had carved his own path that was completely separate from his parents' success.
That said, Kiefer's career hasn't been without its challenging times. Still, he has always managed to keep moving forward.
Why Kiefer Sutherland Doesn't Like to Watch Himself
If you've never been on a TV or movie screen before, you would probably be pretty excited to see yourself. So, it can be difficult to understand why someone wouldn't want to watch something that they put lots of hard work and time into. However, Kiefer has a reason for this. During an appearance on Jimmy Kimmel Live in the fall of 2016, Kiefer said, "I don't normally watch the stuff I film. I've managed to make 216 episodes of 24 and I don't think I've ever watched a single one of them". The reason for this stems back to the 1986 movie Stand By Me in which he played a bully named Ace Merrill. Although the movie is one of the biggest of the earlier part of his career, it's one that he felt like he couldn't be proud of due to the character he was playing. Kiefer said, "I was absolutely horrified by what I had done in the movie. And then it was the biggest hit of the summer and it changed my life, so I figured maybe I shouldn't watch the stuff I do".
As Kiefer's career continues to grow and he takes on different kinds of characters, it will be interesting to see if he decides to change his stance on this. After all, there's some value in actors watching themselves work because it can be a great learning opportunity. Plus, he's been in some great things and he's really missing out by not giving himself the chance to see them.
While this may seem strange to some, there are actually lots of actors who have expressed that they don't like watching their own work. For some, this is because they feel a little cringey seeing themselves on screen. For others, they prefer not to detach themselves from a project once it's complete.
What's Next for Kiefer Sutherland?
After not making any on-screen appearances in 2021, 2022 has gotten off to a great start for Kiefer Sutherland. He has already had two projects released and he will be in an upcoming TV series called The First Lady in which he will play Franklin D. Roosevelt. The highly anticipated project has already gotten lots of attention and there will likely be millions of people who tune in when it premieres on April 17. Hopefully, Kiefer will be one of them.
Tell us what's wrong with this post? How could we improve it? :)
Let us improve this post!