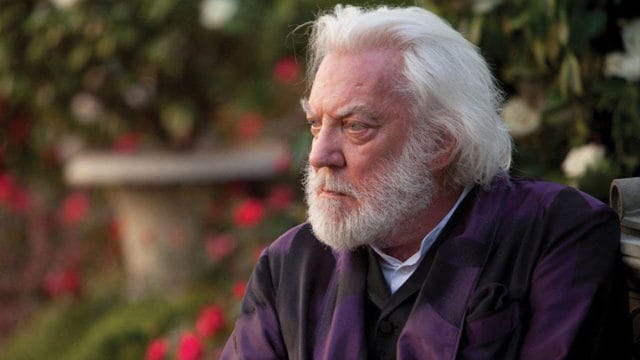 Many of you may just think of the great Donald Sutherland as the proud father of "24" and "Designated Survivor" star Kiefer Sutherland. And, although that is a major accomplishment, especially for major fans of both TV shows, Donald has a whole lot of big movie roles under his belt, (140 to be exact), as well as two Golden Globe awards for his amazing talent. He's received a few other honors, too, including a Governor General's Performing Arts Award, as well as the distinction of being named an officer of the Order of Canada.
And, did you know that he's been acting for 60 years? And during that time, the Canadian actor has never gotten an Oscar. Well, that's until now. The Academy just announced that the 82-year-old Sutherland is going to receive an honorary Oscar on November 11th. The award honors exceptional contributions to the state of motion picture arts and sciences, extraordinary distinction in lifetime achievement, and/or outstanding service to the Academy. There will be four other honorary Oscar recipients and they are director Agnes Varda, writer/director Charles Burnett, and cinematographer Owen Roizman. All are worthy of honorary Oscars in their own right but none more than Donald Sutherland.
So, in honor of his first Oscar, here are five movie roles that I think are definitely his best:
"Space Cowboys" (2000)
This one is definitely my fave Donald Sutherland role of all time. He played one of four over-the-hill pilots finally getting their chance to go into space, something they missed out on 40 years earlier. It's set in 1958 when Air Force pilots Jerry O'Neil (Donald Sutherland), Frank Corvin (Clint Eastwood), Tank Sullivan (James Garner), and "Hawk" Hawkins (Tommy Lee Jones) were Team Daedalus. Great cast in an amazing movie that many of us just love to watch over and over.
"M*A*S*H" (1970)
Who could ever forget Hawkeye Pierce? And, this 1970 classic went on to become a TV series, as well. The film and the series were set in South Korea in 1951, where the 4077th Mobile Army Surgical Hospital was assigned a couple of replacements, namely Captains "Duke" Forrest and "Hawkeye" Pierce. They arrive at the 4077th in a stolen Jeep and are insubordinate rule-breakers who are also womanizers, however, they actually turn out to be exceptional combat surgeons. The film was directed by the great Robert Altman and Sutherland's co-stars included Elliott Gould, Tom Skerritt, Robert Duvall, Sally Kellerman, Michael Murphy, and Fred Williamson.
"The Hunger Games" (2012)
This popular futuristic film series stars Jennifer Lawrence, Woody Harrelson, Liam Hemsworth, Josh Hutcherson, and Elizabeth Banks. In all of them, Sutherland portrays President Coriolanus Snow. The films totaled four and both critics and audiences alike loved every single one of them. They also became cult faves among the younger crowd.
"Invasion of the Body Snatchers" (1978)
This has always been one of my favorite sci-fi horror films and Sutherland stars in it along with Jeff Goldblum, Brooke Adams, Leonard Nimoy, and Veronica Cartwright. It was directed by Philip Kaufman and chronicled the exploits of a San Francisco health inspector who, with the help of a colleague, discovers that people are being replaced by aliens. Every one of the aliens is a perfect clone of the individual they're replacing except for the fact that they have no human emotions. Scary stuff!
"Forsaken" (2015)
This is the only film that father and son did together and Kiefer said in an interview that he was his dad's biggest fan. He also called him one of the English language's most prolific and important actors. And, the two are excellent together in this gritty western set in 1872 with plenty of dramatic scenes to keep you glued to the screen. Demi Moore co-stars and John Cassar directed.
Honorable mention to "Animal House."
Save
Tell us what's wrong with this post? How could we improve it? :)
Let us improve this post!