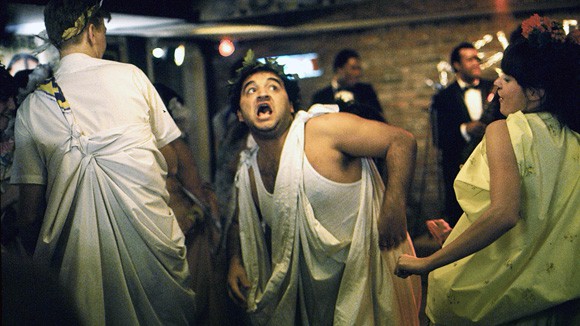 One of the greatest things a toga is known for these days is the use it serves in the well-renowned toga parties that are held on college campuses and wherever people want to run around with permission to wear a bed sheet and call it fashionable. But to be honest togas have been around for quite a while and have been featured heavily in movies, especially those that are set in the various time periods when they were worn quite often. The toga is an alluring garment largely because if one is feeling particularly risque they can wear just the toga itself and hope that it won't come loose at the most inopportune moment. But in truth it would seem that a lot of people throughout history have worn something underneath all the same. It's usually just for the sake of decency but it could be out of a need for protection as well.
Here are some of the best toga scenes from movies.
5. 300
Almost everyone in Sparta was wearing a toga for this film save for those that were wearing undergarments and a cape or full-on outfits that covered just about everything. This film was heavily edited to fit the idea that Hollywood wanted and while there might have been some historical significance to it the truth is that the Spartans were indeed very stubborn and fierce warriors but they were also far different than what the film depicts. The parts about the glory of the fight, the need to remain free, and the honor of their way of life are all great points, but they kind of omitted a lot of other important facts about the Spartans.
One has to wonder if Hollywood is ever interested in bringing forth a period film that is as accurate as it can be or if they're just going to keep feeding the public a stylized version of what they think we all want to see. To be honest it's entertaining and it's something that people tend to remember but if the filmmakers would go ahead and create something that was truer to life in the modern age, as much as they can, they might be surprised. It's true that reality can be boring sometimes but it's also refreshing when the tales are told in the right manner. At the very least it would allow people a real glimpse into the past.
3. Alexander
Alexander was about as brutal as it got for this time period when it came to movies as far as political maneuvering and grasping for power went. It wasn't given a lot of consideration when it came out but it was a rather expensive movie and a rather disastrous flop. For all the actors it featured none of them seemed capable of doing much of anything to make it any better, and as a result the film has been largely forgotten save for a small, very small cult following. But one has to wonder just what it was like back in those days if everyone was at each other's throat trying to vie for power and scheming behind the scenes to get what they wanted. Was anyone safe?
Here's where the fun begins since Bill and Ted's Excellent Adventure brought one of the greatest philosophers to life, or at least brought him back from the past to the wonderful world of San Dimas for a short while. Socrates was and still is considered to be one of the wisest minds the world has ever produced and back in his day he was considered to be someone of importance. Even in the world as it rests now his words still resonate and manage to help many people look at their lives in ways that they might not have considered on their own. In this movie he gets made into a caricature but all the same it's a fun way to include him.
1. Animal House
TOGA! TOGA! You had to know this one was coming when you hear about toga scenes in movies. Sure the old movies have their best scenes and are definitely memorable, but when it comes to wearing togas and going crazy you just can't be Animal House. The toga party was one of the absolute best scenes in the whole movie since it was wild, crazy, and because for some reason Bluto throwing mustard on himself and then smashing a beatnik's guitar to smithereens was just hilariously funny. Even funnier, Belushi came up with the mustard bit on his own and no one in the stairwell knew that he was going to smash the guitar until it actually happened. Yeah, their reactions are pretty real. But hey, that was life around Belushi, and a toga party was bound to bring it out in him.
To-ga! To-ga!