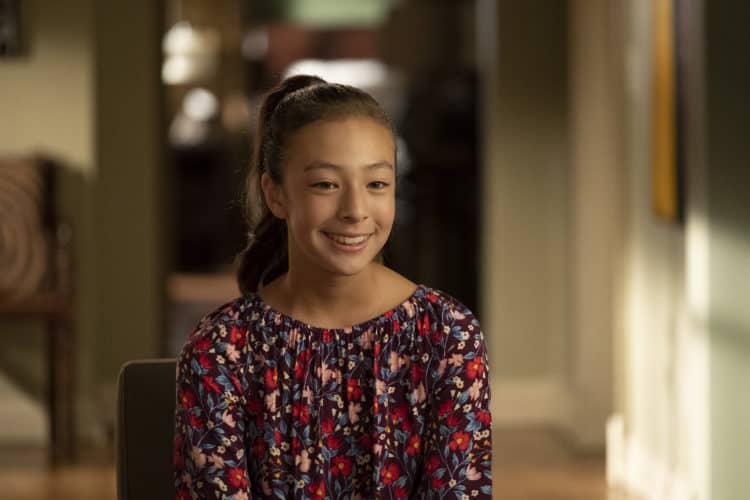 Starring Ed O'Neill as Jay Pritchett and his assorted family, Modern Family first went on the air in 2009. Through the eleven seasons it was on air, we got to experience the Pritchetts, their in-laws and friends in all their glory. Whether Phil (Ty Burrell) was trying to be the coolest dad, or Haley (Sarah Hyland) was clueless about how anything works, not a single episode was dull. When we were first introduced to Lily (Aubrey Anderson), she had just been adopted by her parents Cameron (Eric Stonestreet) and Mitchell (Jesse Tyler Ferguson). As she grew up, Lily developed a mean streak that showed itself in many ways. At first, it was cute, but sometimes things got out of hand. These are the few times she went a little too far:
1. The Time She Wanted To Get Rid Of The Next Baby
The father-daughter relationship between Lily and Cameron was one of a kind. Cam himself admitted that he may have been too much when it came to Lily. " Do we spend a lot of time together? Yes. Do we have a special bond? Absolutely. Do I cuddle her more than any other loving parent? It's possible. And for Lily's sake, I should probably work on that." He said. Unknown to him, his attachment to his daughter meant she would not be accepting of any other siblings. Once, in conversation with Mitchell, Cam kept referring to a baby as a 'thing.' " But I need her to detach from me before the thing comes, or who knows what she'll do to it." Cam said. " Why are you saying 'thing' instead of 'baby'?" a concerned Mitchell asked. It wasn't a matter of time before Lilly gave him the answer he was looking for. " Kill new baby," a cold-hearted Lily said.
2. The Time She Went Head To Head With Sal
Way before Mitchell and Cam got Lily, there was Sal (Elizabeth Banks), with whom Cam and Mitchell had a crew. When Lily came around, the trio could not hang out anymore. At least not without the two mentioning Lily. " You should kill that baby." Sal would say, but Cam and Mitchell assured her that they didn't love her any less because Lily was around. A time did come when Sal came face to face with Lily, who made it clear that her presence was not welcome. The two exchanged a bunch of cold 'Heys' after Sal's wedding. " Sorry you couldn't come to the wedding, " Sal told Lily, to which she replied, "It's okay I'll go to your next." Mitchell tried to contain the situation by saying, " She just means when she's not a kid anymore." But Lilly told Sal, " She knows what I mean." Though Lily was mean, her prophecy was sort of right, since Sal did get divorced from Tony.
3. The Time Alex Wanted To Read Her A Book
It's common knowledge that Alex (Ariel Winter) was always the smart one. She was in every way the perfect child who the parents did not need to worry about, unlike her sister, Haley. When it came to babysitting any of the children, a lot could happen in one night. Sometimes it was Gloria (Sofia Vergara) trying to baptize twins, other times, Haley would be holding a living room concert where she sang 'Midnight Train to Georgia.' Lily wasn't always the easiest one to babysit. One time, she was completely forgotten, only for her to reveal that she'd been outside and seen a coyote. When Alex was left alone with Lily, it only made sense that she would want to read a book. " I wanna read you one of my favorite books, called Little Women, and it's about four sisters who overcome poverty and patriarchy…" Alex said, but she could barely finish before Lily let out a very strong, " Nope!" She preferred to play with dolls instead.
4. The Time Claire Made A Toast To Her 'Brilliant' Daughter
When it comes to their children, it's safe to say that Claire ( Julie Bowen) and Phil were not the luckiest parents. Of Luke (Nolan Gould), his parents said, " There's book smart, there's street smart, then there's Luke." According to Phil, Luke was a curious child, who was Einstein-like, given his appetite for pursuing the 'why nots' of life. Sometimes he was charging his iPad using his mouth, other times, he was wearing headphones and thought no one could hear him. Haley, on the other hand, was a handful in her own way. Sometimes she was dressing as Mother Teresa for Halloween, with emphasis on 'back when she was hot', other times, she was mistaking a reading desk for a make-up table. It was understandable, therefore, that when Claire wanted to make a toast to her 'brilliant' daughter just as Alex was walking in, Lily turned towards Hailey and told her, " So, not you."
5. The Time Dwight Moved In
When Cam's top-notch football player Dwight ( Winston Duke) moved in, Mitchell was not on board at first, since he was blindsided by the whole move. Dwight proved to be not so good a fit, at least when it came to living with Cam and Mitchell. He broke everything and ate more food than anyone could imagine. Thanks to his big appetite, Lily found out that the fruit displayed on the dining table was not for display, but edible. " That's real? I thought it was just for show." Lily said when Cam suggested that Dwight help himself. Speaking of Lily, she immediately had a dislike for Dwight and did not hesitate to show it. Despite Dwight's behavior, Mitchell got carried away by the good publicity he got for keeping him in the house, that he decided to let him stay. Lily, in a bid to get Dwight kicked out of the house, planted bottles of alcohol under his bed, and was the least bit remorseful. When she was told she had to apologize, she said she would catch him in between bites. Asked whether she had anything to say to Dwight before he went to jail, Lily said, " I guess…Martha Stewart said she used the prison time to work on herself."
Tell us what's wrong with this post? How could we improve it? :)
Let us improve this post!