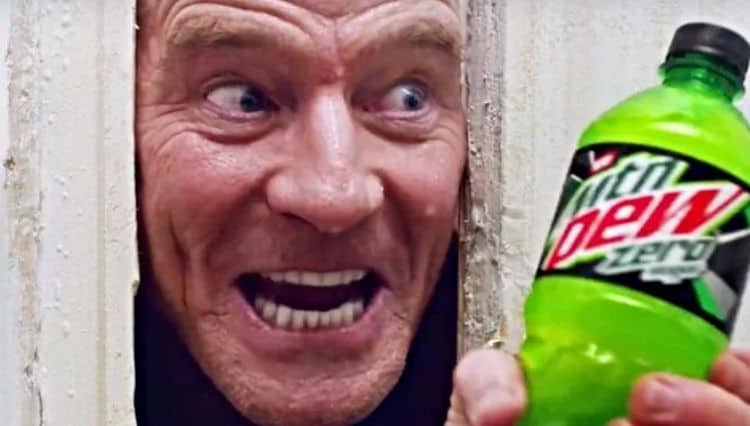 Bryan Cranston used to be the kind of talent that a lot of people didn't know about even if he was front and center, but nowadays he's kind of become a legend that just pops up from time to time when people aren't really expecting it. Angie Martoccio of Rolling Stone has more to say on the subject. But seeing him as a stand-in for Jack Torrance is, well, kind of creepy in a strange way, but it's also funny and then creepy again and even a bit cheesy since like it or not, the Super Bowl commercials are coming and we're bound to get a few decent to great ones while it's likely that we'll see some that just make us cringe. With Bryan Cranston already throwing himself out there for a Mt. Dew commercial that's banking off the popularity that The Shining still enjoys thanks to its legendary status and thanks to Doctor Sleep, this is likely one that people could possibly argue about in terms of being good or downright laughable. Being great just doesn't sound like an option for this one since, well, it's downright goofy when you really think about it, not at all like the commercial we got with Peter Dinklage and Morgan Freeman, as well as Missy Elliott and Busta Rhymes.
In a way the Super Bowl commercials have their good years, their great years, and then their 'blah' years as we've seen for the last couple or more since the goofy nature of some of them makes a lot of people wonder just what's going on in the writer's room for several companies since it's kind of hard to imagine just what some of these product have to do with the situations and environments they've been set in. Brian Steinberg of Variety has his own opinion on this matter. Mt. Dew in the Overlook? Really? Who was the bored genius that came up with this and how many millions is this spot costing the company? That's obviously not a big concern since each company vying so hard for a spot usually has money to burn on marketing such as this, but it still begs the question as to whether those coming up with these ideas are wired to gills with caffeine, stoned, or just too tired to come up with anything else. Seriously, people get paid a good amount of money to come up with these ideas just so people can watch on Super Bowl Sunday and go 'huh?', as they wonder what in the world the product has to do with what they just saw paraded across the screen.
A lot of people can openly admit that they watch Super Bowl Sunday for the commercials, and a lot of people should be able to admit that they've been rather disappointed for the last few years since the ideas have either been cringe-worthy and kind of hard to follow in terms of logic, or they've just been lackadaisical and hard to follow in terms of logic. Only a handful have really been all that great in the past and the Mt. Dew and Dorito's commercial mentioned above in the first paragraph is one of them. It might appear easy to criticize other writers when one isn't doing the job, but quite honestly getting such a job wouldn't be much of a boon at this point anyway since to be fair the ideas coming out of each company are downright silly and make it look as though no one's really behind the wheel for a lot of these ads and they're content with just phoning it in. I will say this for Bryan Cranston standing in as Jack in The Shining, at least until he presents 'Wendy' with the Mt. Dew, he does have the crazy look down and he would be someone that could possibly parody or even play the role in a manner that would be convincing. Otherwise this commercial is just a bunch of 'wow' wrapped up in a lot of silly that starts up with promise but goes downhill pretty quick.
One has to wonder if any of the commercials are going to be worth it this time around since already it's obvious what we're going to be seeing. Commercials for products that don't make sense, as usual, trailers for movies that should have ended a few chapters ago, and likely as not, several perfume, car, and other various ads that will be endorsed by high-powered celebrities that obviously don't make enough money on the screen so they've decided to endorse or create their own brands to make even more. Oh yes, it sounds completely cynical, but it also rings pretty true since Super Bowl Sunday is a day that features a foundation painted in green and built on stacks of money that come to a total amount that would stagger just about anyone when it's revealed. Nadra Nittle of Vox could give you at least an estimation of what it might cost.