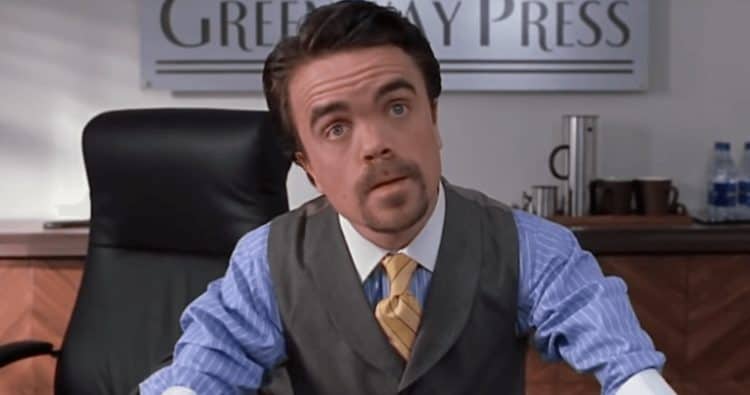 It's too bad this article isn't including TV performances since most people should be able to guess what would take the number one spot when it comes to Peter Dinklage. As one of the top stars of Game of Thrones he's made a humongous name for himself when it comes to fantasy and an overall acting career. What's funny is that if you read his bio you might find that he believes his brother is the actor in the family, and if not for being a violinist that's contributed to the always-popular production Hamilton he might have become the actor in Peter's family. But thankfully, despite the initial difficulty of finding roles on account of his not wanting to be typecast or stereotyped as a smaller person, Peter managed to finally break through and become the actor we all know and revere to this day. Despite his stature or lack thereof he's still got a great wealth of talent that shines through and makes him one of the most convincing actors in show business today.
Here are the five best movies of his career thus far.
5. X-Men: Days of Future Past
Comic book purists might want to go ahead and say that the part of Trask was played by an average-sized human being, but then again a lot about this movie was changed around in a big way since that seems to be the trend when it comes to comic book movies. That being said though Peter is able to play the role quite well since he's not exactly the type to back down to a challenge and he definitely gives everything he has to a role. And as we see in this movie he can play an out and out jerk that is just as much of a bigot as those around him, fearful of what he doesn't know and ready to exterminate those that could pose a danger to his species.
4. Avengers: Infinity War
Ever wonder if he chuckled or even smiled at the fact that the term 'dwarf' in this movie was reversed in such a manner? Considering that he's still considered a dwarf despite looming over the other characters he's quite typical of what one might expect from a fantastical representation of such individuals; he's gruff, works as a weaponsmith, and exhibits a lot of the traits that a fantasy character would have. It might have been nice to see him in the final fight just so he could exact a bit of payback on Thanos for what he did to him, but then again with time travel it might be that his life and that of his people were restored when Bruce Banner reversed the Snap.
3. My Dinner with Herve
Fame is a hard thing for some people to deal with no matter their size, and Herve was one of those individuals that seemed to take it the hardest even though he was really only known for one thing, his role on Fantasy Island. A lot of us might think that fame and fortune would be great, but back in the day and even now it seems as though it might test some people in a way that we don't always see and don't really know about until someone exposes it and brings the issue to light. Herve was one of those that might have been better off being a bit-player without being exposed to the fame in such a manner, as it might have saved him at one point.
2. Angry Birds
For some people it actually took a few moments to realize just who was voicing Mighty Eagle despite the fact that Peter has a very distinctive voice. But once it was obvious who the character was played it took on a new dimension since his voice talents are just as great as his acting. Mighty Eagle is that old hero figure that in legend is absolutely great but in reality might have been great once but not for a long, LONG time after. To be fair he did join in the fight against the pigs and he did manage to do some good, but his ego was something that prevented him from being quite as imposing as he tried to be.
1. Elf
If you ask some people about this movie they might tell you that this is the best scene out of the whole thing and to be honest, it is. There's something about a man that's not even half the size of Will Farrell whipping the bigger man around like a dog with a chew toy, it's just pure comedy that doesn't disappoint. The fact that he plays a highly-regarded writer as well is pretty great since it removes him once again from being labeled as the short guy in the movie, at least until Buddy steps in the door.
Peter Dinklage is way bigger than his physical stature, and that's a fact.