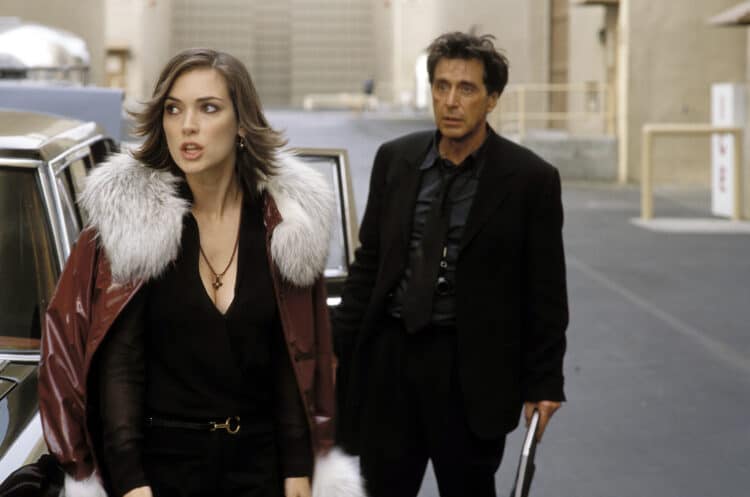 This year, Simone turns 20 years old. It's hard to believe that it has been two decades since this mind-bending thriller was released in theaters. Critics panned the movie when it first came out, but time has a way of changing perspective. It has since grown a cult following and has discovered a newfound appreciation for the storyline and its wonderful cast. But before we discuss that, here's a refresher on what the movie is about, via Rotten Tomatoes: "A contemporary satire on Hollywood, "Simone" is the story of disillusioned producer Viktor Taransky (Al Pacino), who creates the first totally believable synthetic actress, Simone. However, swept up by her instant success, including a major singing career, the producer cannot bear to admit his fraud to the world or himself." In 2022, on the film's 20th anniversary, we should take another look at Simone. Here are a few reasons why the movie should be rewatched on its 20th anniversary this year:
It's Al Pacino departing from his usual roles
In Simone, Al Pacino doesn't take on the role of a tough protagonist or an assertive lead. Instead, he portrays a meek filmmaker whose career is on the decline. This film was a departure from the roles Pacino typically played, and it's interesting to see him in a different light. Pacino's take on the role of Viktor Taransky is one of the many highlights of the film.
It's a movie about Hollywood… made in Hollywood
Simone is a love letter to Hollywood and the film industry. The story follows a struggling filmmaker who creates a digital actress that quickly becomes a superstar. The movie offers a behind-the-scenes look at how Hollywood works and the different players that make up the industry. It's a fascinating commentary on our celebrity-obsessed culture and the lengths people will go to achieve success. It's also a grim portrayal of Hollywood's toxic culture and the dark side of celebrity.
It features an incredible cast
In addition to Al Pacino, Simone features an impressive cast that includes Rachel Roberts, Winona Ryder, Elaine Stritch, and Armand Assante. The cast brings the story to life and helps create a captivating viewing experience. Rachel Roberts, in particular, stood out in her portrayal of the titular character of Simone. She brought a humanity and vulnerability to the role that was truly moving. A fun fact about her is that she was prohibited from appearing before the media around the time of the movie's release to give the impression that Simone, truly, was a product of AI. According to Entertainment Weekly: "Prior to the film's release, Roberts was prohibited from doing interviews in order to preserve the illusion that Simone is really CG. To maintain the hoax, Roberts was whisked to sets in a wig and glasses, and she worked under the alias Anna Green (short for anamorphic green screen). Bound to strict confidentiality agreements that prevented her from telling even her parents about the part (Dad knew, she admits, but Mom had no idea what was up), Roberts doesn't even get acknowledgment in the film's credits, which read: "Simone as herself."
Everything becomes even more impressive when you learn that Simone was Roberts' film debut: "Not only does "Simone" mark Roberts' first acting job, it's the first time she ever auditioned for a role. Hesitant to take the leap into acting without the know-how, Roberts was begged by her agent to show up at an open casting call for a top-secret part. It wasn't until after the rookie beat out a slew of unknown models and actresses that she learned what the role was." After Simone, Roberts was able to establish a Hollywood career, having appeared in Ugly Betty, Flash Forward, and the movie Anon.
It tackles Hollywood's ageism problem
Simone tells the story of a filmmaker who is replaced by a digital copy of himself. This plotline is eerily relevant in today's Hollywood climate, where ageism is a real problem. The film tackles this issue head-on and offers a thought-provoking commentary on the state of the industry. Ageism is all around in Hollywood, and it's very evident in the way women are treated in the business. Simone brings this issue to the forefront and offers a unique perspective on Hollywood's ageism problem.
It's visually stunning
Simone is a visually stunning film that features beautiful cinematography and impressive special effects. The movie was ahead of its time in many ways, and the visual effects are still impressive today. The film's use of color and light is particularly striking, and the visual effects help create a surreal and dreamlike atmosphere. Simone is a feast for the eyes, and its visual brilliance should be celebrated on its 20th anniversary. Considering that the movie was made 20 years ago, the CGI in the movie is still really good.
The plot is twisty and unpredictable
Simone features a plot that is twisty and unpredictable. Just when you think you know what's going on, the movie takes a turn and keeps you guessing. The story is full of surprises, and it will keep you engaged from beginning to end.
It's a timeless story
Despite being 20 years old, Simone still feels relevant today. The themes of the film – Hollywood, ageism, celebrity culture – are all topics that we're still talking about today. The story is timeless and will continue to resonate with audiences for years to come. A review on Epoch Times commemorating the movie's 20th anniversary wrote: "20 years ago, the premise of "Simone" seemed far-fetched but with the advancements in computer technology, it could prove to be the harbinger of things to come. It might be time for petulant on-camera talent to realize that everyone can be replaced." An emerging theme from the movie is Hollywood's obsession with unrealistic standards of beauty. This is something that has only gotten worse in the past 20 years and is something that Simone addresses head-on. Another theme that's tackled in Simone is the unregulated use of technology. This is a theme that's only become more relevant in the past few years, as we've seen the rise of AI and its impact on our lives.