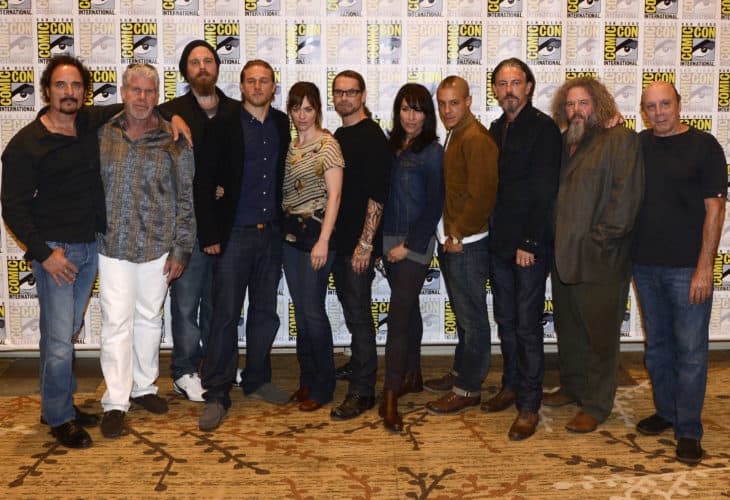 We rode through the ups and downs of the Sons of Anarchy Motorcycle Club with its plot twists and big surprises for seven action-packed seasons. Creator Kurt Sutter has a way of crafting his series in a roller coaster fashion that leaves viewers shocked and moved to the core. The cast was perfectly matched to their characters and we saw flawless executions of gripping and heart-stopping drama unfold with each new season. The series concluded in 2014 with the only ending possible after Jax Teller's act of matricide which was in fulfillment of his obligation to render a just punishment for the murder of the love of his life, at the hands of his own mother. It's been four years since we were all left with a feeling of emptiness as the main characters are killed off one by one. A few remained, but the club would forever be changed. Here is what the former cast of SOA is up to now.
Charlie Hunnam (Jax Teller)
Hunnam was a major character on SOA. Since the series ended, the British born actor, at the age of 37 is pursuing a career in screenwriting as well as continuing with a successful acting career. He's appeared in "King Arthur: Legend of the Sword," "Pacific Rim" and "Crimson Peak" in lead roles. As a screenwriter, he has lent his hand to a variety of subjects including works featuring Mexican drug cartels and Vlad the Impaler in his main plots.
Kim Coates (Alex "Tig" Trager)
Coates is still alive and well. The former VP of the SAMCRO motorcycle club on the series went on to appear in"Bad Blood," "Kevin Can Wait," "Godless" and has taken the lead in "Ghost Wars." He was initially hesitant to accept the role of Tig and rejected the offer when it was first made. The 60-year-old Canadian actor appeared in several films prior to SOA, including "Pearl Harbor," "Waterworld," "Black Hawk Down" plus many others. His role as Tig boosted his already successful acting career.
Ryan Hurst (Opie Winston)
Ryan Hurst portrayed Opie Winston, the most gentle member of the Sons and he was a big-time favorite of fans. His demise in the series was shocking and angered many viewers, but this was Sutter's signature move on the series, and he delivered a series of twists and turns that shook us to the core of our being with popular characters being taken in dramatic fashion. Hurst is married in his private life and the 41-year-old, along with his wife, operate their own production company in Los Angeles. Hurst went on the appear in "Bates Motel" and "Outsiders," and remains busy in the film industry alongside his wife and partner in the business.
Tommy Flanagan is a Scottish actor who protected the club with whatever means was necessary. Since the show ended, the 52-year-old actor went on to snag an important role in the series "Redliners." You may also remember him from previous appearances in "Sin City," "Gladiator," and "Braveheart" among others.
Dayton Callie (Wayne Unser)
Dayton Callie surprised us in his role as Unser, the police chief of Charming, California who kept his eye on the activities taking place in the town. He was a SAMCRO supporter, but when there was a conflict between their well being and what was good for the town, he walked the fine line that protected the citizens over the bike club. Callie is a 62-year-old Scottish actor who went on to appear in the role of Jeremiah Otto on the series "Fear the Walking Dead," after SOA ended its run. Prior to his role as Unser, he appeared in "Deadwood," "John from Cincinnati," "Volcano," "Halloween II" and other films.
Theo Rossi (Juan Carlos "Juice" Ortiz)
Juice, played by Rossi was a popular character on the series who figured out the mechanics of how things worked. He wasn't cut out for the biker domain because his conscience was too keen. This led to his downfall in the series. The 42-year-old New York-born actor had no problem moving on after his role in SOA to appear in "Luke Cage" as Hernan "Shades" Alvarez and he has another leading role coming up in the crime movie "Vault. Before SOA, he appeared in "The Informers," "Kill Theory," "Cloverfield," "The Challenge" and several other films.
Katey Sagal (Gemma Teller Morrow)
Katey Sagal, wife of SOA creator Kurt Sutter in real life delivered a magnificent performance of the matriarch of Jax Teller, the lead actor after Ron Perlman's fall and demise. You either loved Gemma or hated her and sometimes both at the same time. She was an unscrupulous character who was devoted to protecting her family and she used all means necessary but didn't always use the best judgment. After SOA ended, Sagal continued on with her acting career and made guest appearances on "This Is Us," "Brooklyn Nine-Nine" and landed a role in the cast of "Superior Donuts." The 61-year-old American actress is also a singer with three albums to her credit and a soundtrack to SOA. In 2017, she wrote a memoir that was well-received and she continues her acting and singing career today, staying busy with work in television.
Jimmy Smits (Nero Padilla
Smits' character Nero came as a surprise but was welcomed when he made his appearance on SOA. Nero is one of the few characters who emerged from the series intact. After SOA, he went on to star in a principal role in "Rogue One: A Star Wars Story" reappearing as Senator Bail Organa, along with multiple other television series roles. The 62-year-old American actor remains active in television, film and works with a variety of Latinx organization.
Mark Boone Junior (Robert "Bobby Elvis" Munson)
Mark Boone Junior had appeared in quite a few films and series as a character actor but had not yet achieved a high ranking status until his role as Bobby in SOA. This was the major break that he needed to break out of the stereotype and become noticed. The 63-year old American actor is moving forward with his acting career and appeared in "The Birth of a Nation," "Flaked," "Patriot" and" The Last Man on Earth."
David Labrava (Happy Lowman)
David Labrava played a ruthless killer for the SAMCRO club and he didn't just kill his victims. He actually enjoyed torturing them. It was a little disturbing that he gifted himself a new happy face tattoo every time he took somebody down. The 55-year-old American actor continues his acting career today ass well as writing and directing. He is planning to star in three more movies including "The Voice Within," "1%" and "Irish Whisper."
Ron Perlman (Clay Morrow)
Perlman played the ruthless leader of SAMCRO, Clay Morrow. He was married to Gemma, and stepfather to Jax and the character originally began as a good guy. He made the transformation to a monster, then back to the good guy, just prior to his grim demise at the hands of his former club mates. Perlman has never had an issue finding work in the entertainment industry. After his departure from SOA, he went on to appear in "StartUp," "Maron," "The Blacklist" and several others. He has consistent voice acting work, and also appeared in the movies "Where to Find Them" and "Fantastic Beasts." Perlman is a 67-year-old American actor you may also remember from "Hand of God," "Blade II" and his most popular role in "Hellboy."
Johnny Lewis (Kip "Half-Sack" Epps)
Johnny Lewis played the role of Half-Sack to perfection. His character was so nicknamed because of a missing testicle that lent a serious element of humor to the often grim plots and storyline of SOA. He, like many others, met a grisly end in the series. After his stint with the Sons was over, things did not improve for the young actor. He experienced serious psychiatric issues and legal problems. He was alleged to have murdered his landlady and killing her cat as well, before falling from the rooftop of his house. He died at the age of 28 years old as a result of the fall.
Maggie Siff (Tara Knowles)
Maggie Siff played Tara, the love of Jax Teller's life. She was a physician who assumed a principal role as she became Teller's wife. She was murdered by Gemma, Jax's mom, who didn't trust her and mistakenly thought she was working against Jax and the club. Since her role in SOA ended, Siff has gone on to snag a leading role in "Billions," a Showtime series. The 43-year-old American actress has also appeared in "Push," "The 5th Wave," and "Michael Clayton."She is married with one young daughter.
Drea de Matteo (Wendy Case)
Drea de Matteo was the first wife of Jax Teller on the series, and the mother of his son. de Matteo appeared on "The Sopranos," "Assault on Precinct 13," "Joey" and "Swordfish" prior to SOA. The 46-year-old actress currently stars in "Shades of Blue."
William Lucking (Piermont "Piney" Winston)
William Lucking played Piney, the father of Opie, played by Ryan Hurst in SOA. He was a major part of the SAMCRO club and an elder in the group. Since leaving the show, the 76-year-old American actor has made a few television appearances with a few recurring parts on "Switched at birth" and "Murder in the First," but has kept a fairly low profile. You may remember him from appearances previous to SOA in "Red Dragon," "Erin Brockovich," "Stripes," and "The A-Team" among others.
Tell us what's wrong with this post? How could we improve it? :)
Let us improve this post!