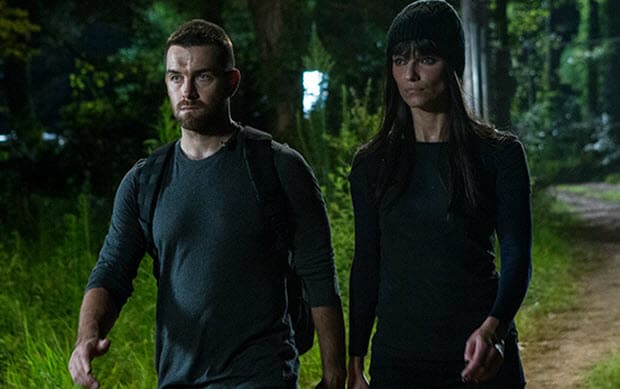 The end of Banshee's wildly entertaining (and surprisingly ambitious) second season takes its story back to the beginning – back to the very beginning, long before Ana became Carrie, and Lucas spent fifteen years in prison. And by doing so, Banshee begins moving forward as a series, closing off many of the show's many running threads for the first two seasons, a confident step forward into a new horizon; one littered with the problems of the past, but one appearing to embrace hope for the first time ever (even if it may only be short-lasted).
What makes the flashbacks such a great catalyst is not how the define the actions and motivations of characters in the past; numerous first season episodes have touched on this enough to establish the dynamics between Olek, Hood, Ana, and Rabbit long before the images of "Bullets and Tears" begin cascading across the screen. What makes it fascinating is the contrast it shows between characters in the past, and those in the present: in the flashbacks, they were all hungry for money and power, driven to survive in a world where taking often feels so much better than giving. In the present, these are all people ready to die, for one reason or another (or in Olek's case, already have), characters who've grown so weary with the never-ending hail of bullets and death that came out of Ana and Rabbit's fractured family.
It brings closure to their story as it deepens it; our last image of Rabbit is not that of a strong crime boss, but a weakened man waiting for his clock to finally run out. In a way, he's like Lucas has been this whole series, just looking over his shoulder as he waits for the other shoe to drop (probably violently on his head, killing him in the process… this is Banshee after all)… and maybe numerous ones, given the many different "professions" he held before meeting up with the dashing Ukranian and his beautiful daughter (who looks like her dead mother… of course). Like Rabbit, he's lived a life of chasing and running, colliding against anything that even gives him a sideways glance on the street.
That life takes a toll on any human; and in "Bullets and Tears", Rabbit's death feels like a release for these characters to finally start over – a sentiment that applies to the show as a whole, which spends its non-flashback time dedicated to trimming the fat of the show. Alex Longshadow ("I AM THE THUNDER MAN!" he screams while being murdered by a blood-drenched Rebecca), Rabbit, and Emmett (which… seriously? Banshee's batting average has been pretty stellar this season, but they dropped the ball there) all meet their deaths, clearing the room for new characters and story lines moving forward (like Chayton and the cop who interrogated Hood before he went to prison?) without losing some of the core things about the show that work, like the next war he's got brewing back home at Banshee, now that Proctor's out of prison.
But those conflicts are for 2015; tonight, "Bullets and Tears" ends nearly every significant conflict of the show, without losing some of the melodramatic notes that add to the pulp-y nature of the show. Deva knows Hood is her father (and the season closes with her speaking to him, calling him Dad), Kai and Rebecca get weirdly almost-incestuous with each other, and Lucas finally reaches out to Siobahn to begin building a new life – possibly his first, given his comments to Rebecca in one of their numerous flashbacks.
Where last season's finale felt largely like a show clinging onto its premise for no apparent reason, "Bullets and Tears" gives it definition: it may not be who he's supposed to be, but Lucas Hood finally has some kind of life and identity to cling onto. There's a reason he's a character with no name; he's a character with no foundation, a random collection of experiences and skills that falls apart under the slightest scrutiny (just ask Siobahn if you don't believe me). Banshee is not often a show overly concerned with empathy and personal growth (unless its into a psychopath, like Rebecca), but Lucas's journey this season has been particularly rewarding; even if moving on with his life means letting go of Ana's hand for the last time, it's still a step forward for him, a direction he can moor himself to for the time being, in the wake of a life he'd clung onto so desperately, finally coming to an end (but knowing patience has never been his thing, I wouldn't expect this to bode well for long).
As a whole, Banshee's second season marks an impressive step forward for the series: every show needs a season to figure itself out, and Banshee not only expanded the scope of its pulp stories in season two, but delivered them with a new found sense of conviction, turning characters like Rebecca (who is quickly becoming Kai's biggest problem, murdering Longshadow and teasing an incestuous relationship with him, of course), Hood's son Jason, and Chayton into something beyond paper-thin characters to rest piles of fake blood and nudity on (in the case of Chayton, it's just the sheer power of his psychosis, but that's more than enough).
As Banshee's second season ends, its chess pieces – like Rabbit's – find themselves spinning on the floor, reeling from his death and searching for a new direction as it trims extraneous fat from the plot. Highlighted by another impossible-to-survive shoot out (where Hood nearly lets himself get killed to protect Ana, jumping out to sacrifice himself just as Job, Fat Al, and company arrived with some SERIOUS hardware to clean up Yulish and his crew), and a series of illuminating flashbacks, "Bullets and Tears" puts a bloody exclamation mark on the show's first major arc; I can't wait until 2015 to see what's next.
Other thoughts/observations:
– some of the best nuggets of info dropped in "Bullets and Tears"; Job's hair salon used to be a drag bar, Hood used to be a "soldier" of some kind, and Olek smoked way too damn much.
– Rabbit, warning Hood: "There's a bench just like this waiting for you."
– Hood reaching out to Siobahn is a big step forward for Hood, whose season-long PTSD and anxiety nearly drove him to suicide. I'm glad the show is trying to make this relationship valid; most of season two felt like they were filling their "naked girls around Hood" quota.
– There's no other way to say this: Emmett's departure sucked, and didn't do his character, or the world of Banshee, any justice.
– Weird to close on Deva saying "Hello, Dad". Of all the possible twists to make the final pre-credits image of your season… that's the one? …. Her?
– Chayton's coming; I have a feeling he's much more of a Thunder Man than Alex ever was. Speaking of Alex; does this mean Nola will be coming back to town as a season three antagonist (fighting for power of tribe vs. Chayton)? I sure hope so; her presence was missed with Longshadow the last few weeks.
[Photo via Cinemax]