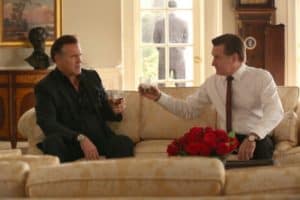 I don't know about you, but I would love to be on a White House tour put on by Skip Gilchrist. Sure, his historical facts are completely inaccurate and he won't offer you any cereal to have during the tour, but it would definitely be something memorable because it starts with a Willy Wonka and the Chocolate Factory-esque grand entrance.
Klaatu barada nikto! Bruce "My name is Ash" Campbell was the guest star on last night's episode as Standrich's older brother Doug. Talk about an amazing get for a guest star. Was it wrong that I wanted him to randomy say lines from Army of Darkness during the episode? He didn't, but it would've been amazeballs if he said "Hail to the king, baby," "Gimme some sugar, baby" or sang "London Bridge is Falling Down."
Speaking of amazing guest stars, Robbie Amell was back as D.B., Becca's gorgeous but dim-witted baby daddy. If you're like me and realized that his face and last name were eerily familiar, it's because he's the younger cousin of Stephen Amell, the star of CW's hit series Arrow. I guess 2013 is a good year to be an Amell.
I never actually thought I would love this show so much. The pilot was a bit weak, but the show has really grown on me. However, something tells me that 1600 Penn won't make it to season two. First of all, NBC took it off the schedule last week and Amell was recently cast in CW's Tomorrow People pilot which might get picked up along with Originals (the Vampire Diaries spin-off) seeing that 90120 is likely to get the One Tree Hill deal (getting a 13-episode final season) and Emily Owens M.D. and Gossip Girl are residing in TV heaven.
Fingers crossed NBC gives this one a chance.