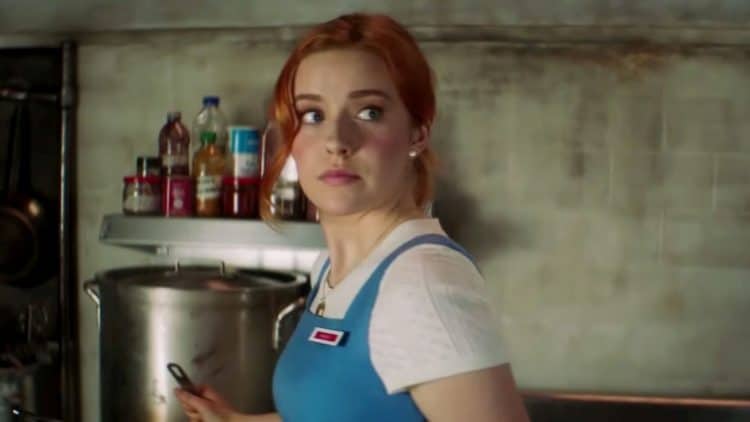 Originally, Nancy Drew was a series of mystery books that were written by various ghostwriters and published under the collective pseudonym, Carolyn Keene. A television series based on these books and the titular character has now been created. This is the third time a series about this character has been made. It premiered on The CW network on October 9, 2019. The first season is based on Nancy and her four friends witnessing a murder and then becoming suspects. They team up to find the person who is truly responsible for the crime. Here is your chance to meet the cast members of Nancy Drew.
Kennedy McMann
The titular role of Nancy Drew is played by Kennedy McCann. This character is a young woman who was formerly a teenage detective. When a murder is connected to her family, she is drawn to the case. This is only McCann's second television role, as her only former role was in the show 'Gone' along with Leven Rambin and Chris Noth. Prior to this, she studied for her BZ in Acting at Carnegie Mellon University, from which she graduated in 2018.
Leah Lewis
Leah Lewis plays the role of Georgia Fan, who is the former nemesis of Nancy from high school. She is also Nancy's co-worker as they are both waitresses at the local diner The Claw. At the age of six months, Lewis was adopted from an orphanage in Shanghai, China, and then raised in the United States. She has a younger sister who was also adopted from the same orphanage. Her other television work includes 'Charmed' and 'Station 19′. Lewis appeared in both series in 2018.
Maddison Jaizani
In the Nancy Drew television series, Maddison Jaizani plays Bess Marvin, who is a waitress at The Claw with Nancy and Georgia. She is a rich city girl with a mysterious past. Jaizani is a British-Iranian actress and model who began her career in 2014. She is best known for playing Sophie de Clermont in 'Versailles' and Odessa in 'Into the Badlands'.
Tunji Kasim
Nancy's secret boyfriend Ned 'Nick' Nickerson is played by Tunji Kasim. This character is a football player and a former teenage convict. Tunji Kasim is a Scottish actor who was born in Aberdeen but raised in Nigeria during his early childhood. His career began in 2007, and he predominantly worked in theater for most of his career. In television, he is known for playing Joe Bailey in 'Nearly Famous' and Hugo Scott in 'Shetland'.
Alex Saxon
The role of Ace is played by Alex Saxon. Ace is the dishwasher at The Claw, and he has a secret to hide. Saxon became an actor in 2011. Since then, he has played many roles in both television and film. In television, he is best known for playing Max in 'Finding Carter' and Wyatt in 'The Fosters'. His films include 'Compound Fracture', 'Chapman', and 'The Olivia Experiment'. Saxon is originally from Liberty in Missouri.
Alvina August
Alvina August is an actress who has only worked in the entertainment industry since 2017. Her first role was in 'The Good Doctor'. In 2019, she has had roles in both 'Nancy Drew' and 'The Boys'. Her character in 'Nancy Drew' is Detective Karen Hart, who is an investigator with the Horseshoe Bay police department. She is also dating Nancy's father Carson.
Riley Smith
A handsome and affluent socialite called Ryan Hudson is played by Riley Smith. This character is the husband of the murder victim Tiffany Hudson. Smith is a television and film actor who is originally from Iowa but now lives in Los Angeles. He is known for his recurring roles in television series including 'The Messengers', 'Joan of Arcadia, '24′, 'True Blood', and '90210′. However, he is better known for his starring roles in 'Frequency' and 'Drive'.
Scott Wolf
Criminal defense attorney Carson Drew is Nancy's widowed father, and he has problems with connecting with his daughter since his wife's death. This character is portrayed by Scott Wolf, who is an American actor from Massachusetts. His best-known roles include Chad Decker in 'V', Jake Hartman in 'Everwood', and Bailey Salinger in 'Party of Five'. Wolf married Kelley Marie Limp in 2004. Their two sons were born in 2009 and 2012, and a daughter born in 2014. The family lived briefly in Santa Monica, California, but they now reside in Park City, Utah.
Pamela Sue Martin
Pamela Sue Martin is one of the guest cast members of the series, and she is playing a medium called Harriet Grosset. Martin has previously played the role of Nancy Drew in the 1970s version of the television of the series, which was called 'The Hardy Boys/ Nancy Drew Mysteries'. She is also known for playing the role of Fallon Carrington Coby in the ABC soap opera 'Dynasty'. She is passionate about the environment and issues relating to wildlife, which led to her appearing in a public service announcement to save pink dolphins in the Amazon River. The ad was directed by her 'The Hardy Boys/ Nancy Drew Mysteries' co-star Clyde Lucas.
Sara Canning
Another guest star in this series is Sara Canning who appears in flashback scenes as Nancy's mother Katherine Drew who died from pancreatic cancer a year earlier. Canning has had many roles in both film and television. The television roles for which she is best known include Jenna Sommers in 'The Vampire Diaries', Dylan Weir in 'Primeval: New World', Dr. Melissa Conner on 'Remedy', and Jacquelyn Scieszka in the Netflix series 'A Series of Unfortunate Events'. Two of her best-known films are 'Black Field' and 'War for the Planet of the Apes'. This Canadian actress moved to Atlanta, Georgia, when she was filming 'The Vampire Diaries'. Although she found the culture very different, she said that it had become her second home. She has since returned to live in Vancouver, British Columbia.